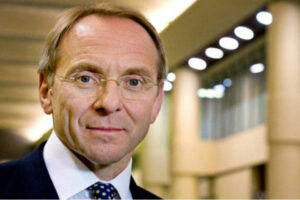 Welcome to this, the 17th edition of Civil Service Quarterly.
Since becoming Chief Executive of the Civil Service in 2014, I've spoken often about the role of functions in providing more efficient and effective government. They serve to deepen the experience of our teams in all aspects of delivery and implementation, and enhance collaboration across our established organisational boundaries.
Developing functional leadership across government is one of the priorities I set for transforming the the Civil Service in a fundamental and lasting way.
Over the last four years, the importance of functions in helping us to deliver the Government's programme while tackling a range of tests has only increased. To add to financial constraints, an ageing population, and advances in digital technology that citizens take for granted as 21st-century consumers - and expect government to match - we now have the challenge of Brexit.
Reflecting the centrality of strong, cross-government functions to the changes and improvements we must make to meet those challenges, this edition of CSQ looks at developments in some key functional areas.
Core functions
We currently have 10 core functions, which we are developing to build up the experience we need in areas essential to delivering policy and services: Commercial, Communications, Digital, Finance, Human Resources, Internal Audit, Legal, Major Project Delivery, Property and Security. These are  complemented by  professional networks connecting civil servants right across government.
Essentially, functions are about having the right professional expertise in the right place at the right time. The network of interconnections they create makes it easier to collaborate across government, share good practice, set consistent standards, raise capability and, as a result, support the delivery of better services.
It was the network of commercial professionals working as a function in many departments that enabled us to protect public services after the collapse of government supplier Carillion earlier this year. Government Chief Commercial Officer Gareth Rhys Williams makes this episode the focus of his article on the development of the Commercial Function, which he leads.
Effective collaboration across departmental and public service boundaries also typified the complex response to the chemical agent attack in Salisbury, as Stephen Lovegrove, Permanent Secretary at the Ministry of Defence, recounts.
Jon Whitfield, Head of Government Internal Audit (GIAA), looks at the growth of the Government Internal Audit Agency. GIAA was established as an agency of HM Treasury in 2015 to provide a single audit and assurance practice for government. It now covers around three-quarters of central government, providing assurance on how well its customers are managing the key risks to achieving their business objectives.
A new approach to recruitment
You can't have great functions without great people. From the HR perspective, Rupert McNeil, Service Chief People Officer, introduces Success Profiles. This new approach to recruitment and promotion in the Civil Service, reflecting a broader perspective on experience and leadership qualities, is designed to ensure we identify the best people, most-suited to the job and with the potential to move up and be our future leaders.
The Civil Service Fast Stream too is working to open the flagship graduate recruitment scheme to talented people from a wider range of backgrounds, as Deputy Director Greg Hobbs explains.
Biggest profession
The Operational Delivery Profession (ODP) is the biggest in government. Its 230,000 members are the beating heart of the Civil Service, delivering the public services that millions of people depend on every day. ODP head Jon Thompson introduces an overview of the profession, why it was formed and how it is supporting its members to tackle the challenges ahead.
We also celebrate a century since the establishment of the first central government communications function. Government Communication Service member Simon Holder looks at how the official attitude to public communication has changed and how it has adapted to new media and changes in society.
International impact
You will also find an article by Dr Christian Schneider, Director of the National Institute for Biological Standards and Control. He explains how this important but little-known body works to protect and improve public health, playing a crucial role in the international response to the Ebola outbreak in West Africa.
We close with an interview with Harriet Matthews, Director of Policy for the Commonwealth Heads of Government Meeting (CHOGM). Harriet oversaw work with departments across Whitehall and member countries to develop policy proposals for discussion at the hugely successful CHOGM in April.
I hope you enjoy this edition of Civil Service Quarterly. Like previous editions, it highlights the many and varied roles available in the Civil Service, each making an important contribution to tackling the often complex problems we face as a country. More than that, it shows how we are working to create an attractive, inclusive offer for new talent with a range of experience and interests. This is an offer with clear career paths that encourage and support breadth of experience and depth of expertise, building a pipeline for our future leadership.
You can give us your views and comments on the Civil Service Quarterly blog (https://quarterly.blog.gov.uk/), by email (csq@cabinetoffice.gov.uk), or via #CSQuarterly on Twitter. If you would like to submit an idea for a feature in a future edition, please get in touch.
We will publish each of the articles in the latest edition of Civil Service Quarterly (CSQ 17) as a blog post. If you would like to see the full publication, you can download it as a PDF here.