Over the last 100 years, UK Government communicators have dealt with some of the most significant events in our history. From world wars and the retreat from Empire, to closer ties with Europe and, now, EU withdrawal and the prospect of a new global role for the country.
Government communications have helped to shape modern Britain and have themselves been shaped by the changing media landscape and changes in society.
But what's the value and purpose of government communications? How have they changed in the last century? And what have we learned?
Leaps forward
Historical breakthroughs in technology have made it possible to reach more and more people; and for more and more people to publicise their own opinions.
The impact of a previous giant leap forward, the invention of the printing press, happened almost in slow motion compared with that of the rapid advances in digital technology during the last 20 to 30 years. These have been accompanied by massive changes in the speed and reach of communications. Keeping up with this rate of change is one of the major challenges for government communicators.
In an era when the spread of social media and the proliferation of digital information sources makes us question the very nature of news and what constitutes a 'fact', it is worth remembering two things. First, we have been here before: communications can, often deliberately, distort and mislead. A royal proclamation in 1688 specifically referred to tackling the spread of 'false news' (echoing the 'fake news' of today). And, second, at their best - honest, open, informative and effective - communications can help to shape, improve and even save lives.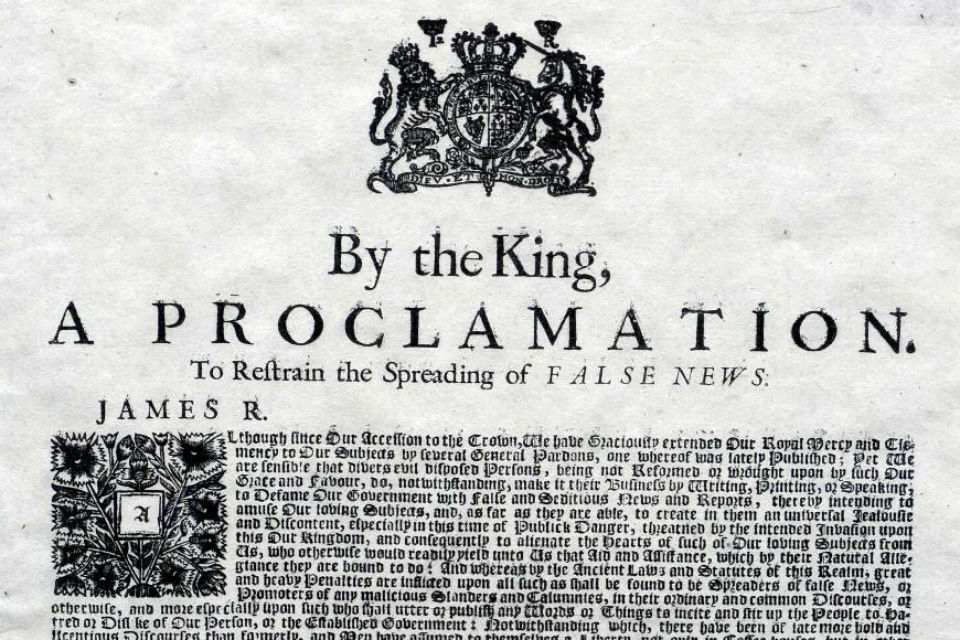 First campaigns
The last 100 years are full of examples of the beneficial use of government communications. Public information campaigns in areas like public health, military recruitment and voter registration have relied on brilliant marketing activity. Some of the best material from the last century is available in the Online Museum of Government Communications.
Some of the first formal government communications were to do with behaviour change. In the 1860s, handbills and newspaper advertisements sought to persuade working people to save for retirement or ill-health. Influencing people to do things differently in their own interests remains a preoccupation of modern government communicators.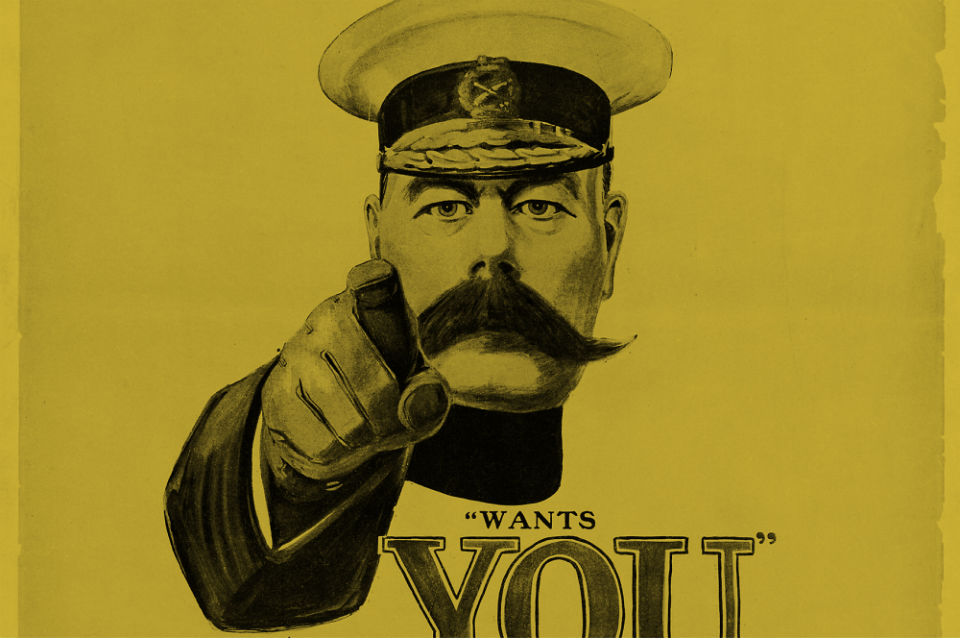 The first Whitehall press office was established in the Foreign Office in 1914; and the first major centralised communications campaign was for the recruitment of a volunteer army of over 2 million men in 1914 and 1915. From the Empire Marketing Board in the late 1920s to the GREAT campaign in this decade, the projection of Britain overseas has also been a key role for government communicators, while the core task of explaining the Government's policies and programmes has been continuous.
The first central government communications function was created in 1917, when defeat in the First World War was still a possibility. A year later, the Ministry of Information was established - but was abolished at the end of the war. For much of the next century, the UK Government's communication capacity grew at similar moments of national crisis, and shrank again when the crisis had passed, suggesting a lack of strategic clarity on what government comms were actually for. It is only in the last couple of decades that the cycle of expansion and contraction has been broken.
Informed and targeted
However, the organisation of government communication has continued to evolve.
During the Second World War, the Ministry of Information recognised the value of government listening. Minister of Information Brendan Bracken was a leader in gathering insight and getting the Government to understand what the British people actually thought and felt. This made it possible to move communication with the public from exhortation to engagement, from declamation to more of a dialogue.
This model for informed and targeted communication remains the goal for good government communications to this day.
The experience of the war years increased government knowledge, experience and understanding of the role and importance of communication in delivering policy. So, having abolished the Ministry of Information in 1946 - but having decided to retain information and communication at the centre of government - the Government created the Central Office of Information (COI).
COI concentrated expertise in one place and benefited from centralised purchasing of marketing and advertising for government departments.
In 1931 there were only 45 people working wholly or partially on government publicity. In 1946, COI employed over 1,600 people, while a further 800 worked on communications in departments.
In the post-war period, the COI produced an ever-growing list of campaigns. Road safety was prominent among them, including iconic campaigns such as the Green Cross Code.
COI was responsible for poster advertising, exhibitions, photographs, publications and films, and provided a central channel for the distribution of news from departments. This, more or less, was the arrangement for government comms for over 60 years.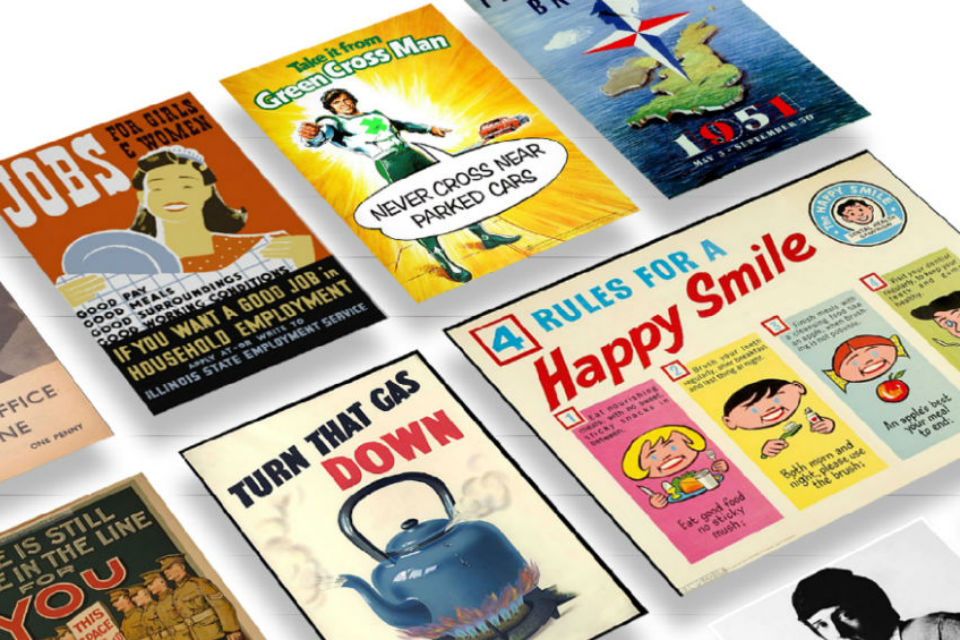 Overhaul
The decision in 1957 to expand communications after the Suez debacle was the next milestone. Again it illustrates how international events and national crises have spurred the development of government comms.
The perceived failure of government communications during the Suez crisis led to an overhaul of domestic communications. Overseen by minister Dr Charles Hill, COI began the practice of regular meetings of departmental Chief Information Officers to coordinate comms that continues in weekly Heads of News meetings today.
Increasingly, in the latter half of the 20th century, government comms had to react to more pervasive media: first the newspapers, then radio, TV and finally the internet and digital revolution.
Official reviews
The 1997 Mountfield Report on a government comms function battling with technological change and the volume of information, restated the need for communications to be: a two-way process of engagement with the public; more proactive; and to take a longer, more strategic view. Other recommendations included establishing a central 24-hour news monitoring function, and the creation of the first strategic communications unit in No. 10.
By the early 2000s, questions were being asked about central government comms and whether it deserved its increasing share of public expenditure.
The 2003 Phillis Review spoke of restoring "trust in, and the credibility of, government communications". It emphasised engagement and coordination across departments and the use of channels other than national media ones. For the first time the Cabinet Office would have a major communications role. Phillis also recommended the creation of a single government website for government information and public services. GOV.UK arrived eight years later. It now receives 3.6 million daily visits, with a staggering 14 billion page views to date.
A communications profession
The Government Communication Service (GCS) was established in 2014, recognising the status of comms as one of the four main levers of government, alongside legislation, regulation and taxation. GCS identifies its purpose as supporting communications professionals in helping the public understand the Government's vision and priorities; explaining requirements such as tax returns; encouraging people to lead safe, healthy lives; informing people about public services; and promoting UK interests internationally.
There is a huge public appetite for government information. This means not only from official sources for immediate guidance during a possible public health emergency or terrorist incident, for example. It also means having factual information that helps people make life choices: where to live, which school to send their children to, which hospital to be treated in, how to register to vote or, for employers, knowing about workplace legislation, such as why they need to set up workplace pensions and how.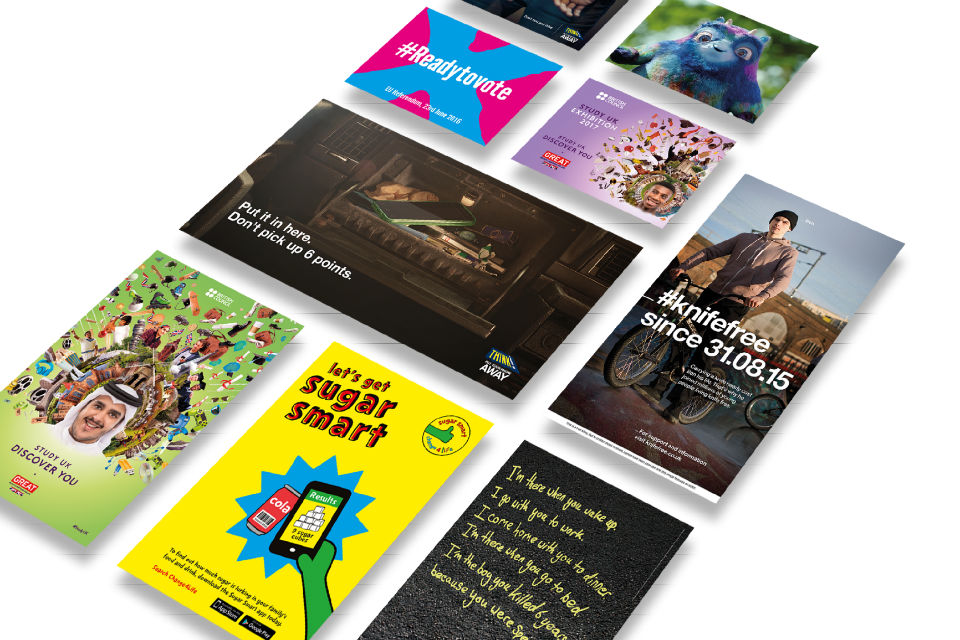 Lessons
What are the lessons of 100 years of government comms?
First, that it's not enough simply to put information out there, you have to explain why you are doing it, what you are asking people to do, and what options there may be.
Second, the need to put listening, responding and understanding at the centre of communications, alongside providing information.
Third, the value to ministers of the daily input from professional communicators of advice and information on media matters, and the developing range of communication tools – from behavioural 'nudges' to the support of partners and regional tours.
Lastly, that government communications need to be quick on their feet to adapt to the regular disruption caused by technological change. Over time, government communicators have embraced and harnessed the new, whether in terms of film, mass advertising, TV, the internet or social media. Rebuttal of inaccurate media reporting and misinformation can now be rapid, almost instantaneous.
With technology advancing at a hugely accelerated rate, the proliferation of media channels offers an unprecedented opportunity to get government messages across in different ways, to different groups. We can use insights from our world-leading behavioural science capability - supported by cutting-edge data science techniques - to tailor effective messages and nudges to action for specific audiences. At its best, this translates into modern communications supporting the best modern services, based on the evidence of what people really need to be healthy, safe and secure. For example, following analysis of road accident statistics, police correspondence with drivers caught speeding in the West Midlands included a single-sided explanation of why and how speeding limits are set. This led to a 20% reduction in reoffending in the ensuing six months. 
Evaluation
As well as the skills in digital and IT to use the advances in technology to best advantage, we need the capability to measure our effectiveness as communicators. As George Bernard Shaw observed, "The single biggest problem in communication is the illusion that it has taken place." We have to be able to show that it has and to what effect.
To meet this requirement, the GCS made evaluation a central plank of its Modern Communications Operating Model. This model is based on the best advice for organising effective communications teams that are integrated, digital by default and use data and audience insight to produce comms with real and demonstrable impact. It is supported by a new Evaluation Framework, with a core set of metrics to help communicators prove that the comms they produce are delivering the desired results. As well as showing what does work, these metrics will show more clearly what doesn't.
Understanding and trust
As we continue to listen, we are more likely to act appropriately on what people are telling us about what they need - and earn their trust - if we understand the public we serve. The Civil Service's ambition to be the most diverse and inclusive employer in the UK by 2020 supports this aspiration.
Excellent communication that people trust is essential to a properly functioning democracy. That trust, built on the dialogue between public and state, is the touchstone of modern government communications.
Eight challenges for government comms

The GCS set out eight challenges for government comms in 2018, arising from advances in how information is processed and shared and changes in audience behaviour.

1. Enhance two-way communications, using active listening to build trust and to better all major government campaigns.

2. Build a rapid response social media capability to deal quickly with disinformation and reclaim a fact-based public debate with a new team to lead this work in the Cabinet Office.

3. Raise standards by ending opaque digital marketing, with a focus on value, safety and transparency, creating greater accountability for the Government.

4. Maximise the role of government comms in challenging declining trust in institutions through honest, relevant and responsive campaigns.

5. Demonstrate the role of communication as a valuable strategic tool that can deliver cost-effective public policy solutions.

6. Work harder to master the techniques of behavioural science and start considering audiences by personality as well as demographic.

7. Create engaging content that will be shared and owned by audiences - pictures, videos and facts.

8. Transform the mass of data we have about audiences into actionable insight, which will be used to improve government campaigns.