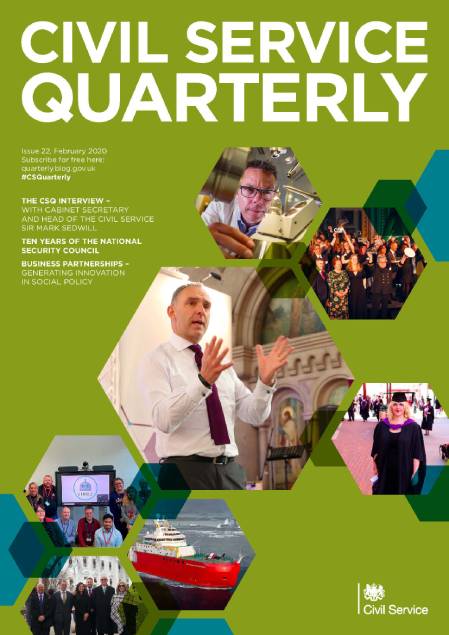 Welcome to this, the 22nd edition of Civil Service Quarterly, which is also my last as chair of the CSQ Editorial Board.
Regular readers will recall that Civil Service Quarterly was the brainchild of the late Jeremy, Lord Heywood. His vision was of a publication that not only showcased the very best of Civil Service policy-making and analysis, and shared its innovations, but opened it up to challenge and new ideas. In October 2014, having chaired the editorial board for its first five issues, he invited me to take over, from my vantage point as head of the Government Policy Profession. The time is now right for someone else to take the reins, both as head of the profession and chair of the board, and I'm delighted to be passing both batons on to Jonathan Slater, Permanent Secretary at the Department for Education.
Jeremy was a great champion of policy making, and I hope that in the seven and a half years I've been Head of Profession, we have moved policy-making forward. I am particularly proud of the work we have done to improve the training and development offer for policy making, including the development of our Masters programme with the LSE, and the recent addition of a flexible, modular, postgraduate programme, building to a postgraduate diploma with King's College London. But policy-making has to continuously evolve and improve, and the profession will not only have to step up to new challenges, but also seize the opportunity for how we work, brought about by advances in science, technology and data.
Honouring Lord Heywood's original conception, this edition of CSQ features a familiar breadth of subject matter, showing policy becoming practice. In each case, it offers an examination of how government is addressing a specific policy-related challenge, while adapting to rapid political, cultural and technological change in the world at large. This issue opens with a new in-depth interview with Cabinet Secretary and Head of the Civil Service Mark Sedwill. Now in post for over a year, he offers his reflections on his combined role and, as Brexit is delivered, he sets out the immediate and long-term challenges he sees for the service and the way it works.
As Darragh McElroy notes, the first responsibility of every government is often seen to be the security of the country and the safety of its citizens. It was only ten years ago that a single, high-powered, central body was given the authority to co-ordinate strategy to ensure that security. Darragh charts the creation of the National Security Council and describes the main challenges it faces today.
A striking development in recent years has been the spread of automated processes to improve the efficiency of both public services and back-office functions. The Department for Education now benefits from the Government Communication Service's very first robot, ARNOLD. You will have to read Gemmaine Walsh's article to discover what that stands for, but ARNOLD is making a huge difference to the speed and effectiveness of communications between DfE and the public.
Fraud is among the commonest crimes, affecting the public sector no less than other parts of the economy. We have looked previously at government initiatives to counter this menace, and the time is right for an update on progress. Mark Cheeseman, Deputy Director of the Counter Fraud Centre of Expertise in Cabinet Office, writes that in its professionalisation of counter fraud in the public sector, the UK is establishing itself as a world leader.
Shevaun Haviland, from the Government's Business Partnerships Team, explains how building long-term partnerships between business and government can help us to tackle the UK's biggest social and economic challenges, and create a fairer, more inclusive, society.
The funding of research is big business and supports vital innovation in areas from medicine to climate change, and from the arts and humanities to engineering. To maintain the UK's reputation for excellence and effectiveness in this field, arrangements for funding previously managed by seven separate UK research councils have been brought together under a single body, UK Research and Innovation. UKRI's Emma Lindsell and Isobel Stephen describe how this works and the benefits it will bring.
During my seven and a half years as head of the Policy Profession, the training and development of policy professionals to help them shape policy in an increasingly complex world has been a top priority. The introduction of an Executive Masters in Public Policy programme, which the Civil Service co-designed and -delivers with the London School of Economics, is a signal innovation, bringing together leading practitioners and academics on key policy challenges. We asked Della McVay, a recent graduate of the programme, to describe her experience and what it has taught her.
Part of Jeremy's thinking in creating Civil Service Quarterly was that, as much as the Civil Service needed to open itself up to new ideas, it also had much to be proud of and shouldn't be afraid to shout about it. So, I am delighted that, in this, my last edition as chair, we make room to celebrate some of the winners of the 2019 Civil Service Awards and their brilliant work.
It has been a pleasure and honour to chair the Civil Service Quarterly Board, and I'd like to take this opportunity to thank both my fellow board members and the excellent team at the Cabinet Office who do the hard work of putting Civil Service Quarterly together. The best bit of chairing the board is that you get to learn about the amazing work that different parts of the Civil Service do, and I will look forward to continuing to read about them in future editions of Civil Service Quarterly.
You can give us your views and comments on the Civil Service Quarterly blog, on email at csq@cabinetoffice.gov.uk, or via #CSQuarterly on Twitter. If you would like to submit an idea for a feature in a future edition, please get in touch.
As usual, we are publishing each of the articles in the latest edition of Civil Service Quarterly (CSQ 22) as a post on the CSQ blog. If you would like to see the full publication, you can download it here as a PDF.