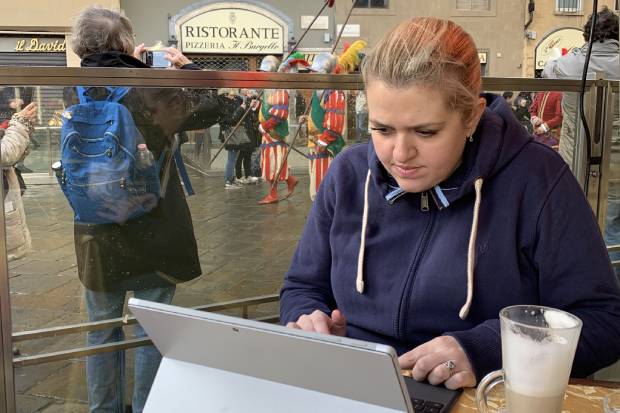 The Executive Master of Public Policy (EMPP) qualification offered by the Government Policy Profession is co-designed and delivered by the Civil Service and the London School of Economics. Its aim is to equip talented civil servants to deliver effective policy in an increasingly complex world.
Over a period of 19 months, participants study part-time and attend lectures at the LSE campus. So far, 111 candidates have completed the programme. A fifth cohort of students began their courses in December.
We asked recent graduate Della McVay to give us her reflections on the course.
Writing this on a Sunday afternoon brings to mind when a significant proportion of my weekends was spent writing essays or sitting exams for the EMPP. I have a tenuous claim to fame for writing essays on a plane, on the Trans-Siberian Express and in Italy, Cambodia, Russia and China.
I take huge personal satisfaction from completing the EMPP. I've chosen two areas that I believe had the most transformative effect in making me a more confident leader and ready to take on new challenges.
1. Confidence in engaging with evidence
Seeking this was one of the key drivers for my applying for the EMPP. It has made me a more intelligent commissioner, consumer and analyser of empirical evidence.
The EMPP international development module helped me to develop a framework for reading academic papers, understanding them and being able to identify problems in the evidence. I can now work out the motivation, conceptual structure, identifying assumptions, and effects of research behind a policy, its implications and suitability for wider implementation.
Further, I recognise that you don't need to be an expert in a particular field to be an effective policy-maker, and believe that the empirical skills I have gained would enable me to work effectively in any policy role, including my aspiration to work in international policy-making.
I was proudest of my essay for the empirical methods class, and of creating a Randomised Control Trial research design.
I also used this work to challenge arguments for legislation requiring a policy intervention in my own work area. I suspected this intervention would be both costly and not beneficial to an individual's welfare, and helped to design a trial of its effectiveness. Building an evidence base put a persuasive counter-argument and created the possibility of better outcomes through alternative interventions.
2. Confidence in presenting evidence and making compelling policy recommendations
I realised that a humanities degree and a decade as a civil servant had led to some bad habits: particularly, too much focus on navigating the political landscape, and a misconception of Civil Service neutrality.
A large part of my role had been to smooth the passage of policies already decided, rather than helping to shape new ones and challenge those presented to us by ministers. I'm here to help ministers achieve their goals, but this does not mean my advice should be overly safe.
My approach had been to provide supporting evidence for all sides of an argument. This objectivity, laudable in itself, lacked rigour and failed to present ministers with clear, workable policy choices.
The EMPP has given me the confidence and skills to source evidence, analyse it, consider the policy implications and craft a paper that is neutral but compelling in the options it offers. I can now help my teams frame advice to ministers that genuinely influences and challenges policy development, rather than simply offering implementation advice. It has also given me the conviction to challenge evidence that is misleading or flawed in its methodology.
Four tips for negotiating the EMPP
The first few months are the toughest. Block out as much time as you can and try not to leave essay writing until the last minute, otherwise your grades (and your holidays) will suffer.

Get to grips with the structure of effective essay writing as soon as possible. Narrow your focus in essays as much as possible. Choose something that interests you and that you can argue strongly. Even better, if you can, form an argument against some of the academic material by using examples from your work.

Don't be scared to test ideas with the academic staff. It can be difficult to understand where you're not quite hitting the mark. So, ask for more feedback to help you adapt to the very specific style expected at LSE.

Participate as fully as possible. This is an incredible opportunity, not just to learn new things but to meet new people with different perspectives and make connections, including with other civil servants and the cohort of predominantly international students on the sister programme (Executive Master of Public Administration)
For more information, please email: policy.profession@ policyprofession.gov.uk