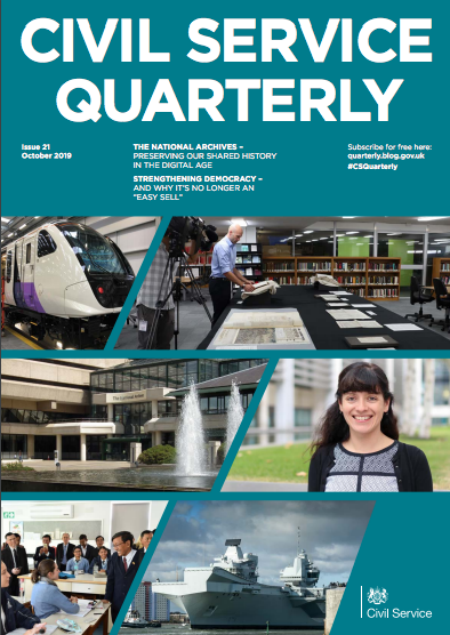 Welcome to the 21st edition of Civil Service Quarterly.
Articles in this issue range far and wide, but share a focus on some of the pre-eminent challenges facing 21st-century government, from effective policy-making and use of statistics, to supporting democracy, and measuring and improving productivity in a modern economy.
The National Archives is the home of the UK Government's corporate memory and of our shared history, preserved in an astonishingly varied collection, from parchment to websites. Among the 14 million records in its catalogue are treasures including Domesday, the confessions of Guy Fawkes, and the last telegram sent from the Titanic. John Sheridan, TNA's Digital Director, examines how the archives are tackling the urgent issue of managing the shift to digital records and the risks to preserving them.
From the body responsible for safeguarding the record of the UK's political past and the historical development of its democratic institutions, to a group working to establish and preserve democracy around the world. The Westminster Foundation for Democracy (WFD) is the UK Government's democracy-support agency for developing countries. WFD CEO Anthony Smith looks at how the foundation is promoting democracy when, as he writes, it is no longer an easy sell in any country, no matter how mature its democratic institutions.
It is nearly a decade since another body set up by the UK Government became the first in the world dedicated to applying behavioural science to public policy issues. Behavioural Insights Team CEO David Halpern identifies the policy 'unicorns' – the successful 'nudges' prompted by behavioural insights, including in health, welfare and education – and suggests the policy areas where the next generation of mythical beasts may show themselves.
As CEO of the Infrastructure and Projects Authority, Nick Smallwood oversees the Government Major Projects Portfolio. All these projects are designed to transform services for citizens, improving government efficiency and implementing new policy. However, such projects are inherently complex, and – as recent history shows – things do, inevitably, go wrong. Although analysis shows that the causes of such failures are different, as Nick writes, there are shared features that it is important to learn from and apply to future projects.
This issue's Spotlight feature trains its beam on progress towards a truly inclusive Civil Service. Thirty years into her career as a civil servant, Permanent Secretary Melanie Dawes says she has seen considerable change for the better. Now, as the organisation's Champion for Diversity and Inclusion, she is aware of the scale of the task that remains to realise the Civil Service's ambition of being the UK's most inclusive employer. She introduces two civil servants from underrepresented groups who describe their experience, and she pinpoints five ways in which we can all help to turn ambition into reality.
Improving productivity is another major preoccupation of successive governments. An equally abiding question is how to measure it in the first place. In Defence, says Major Dom Prtak, the problem is twofold, involving the hypothetical nature of Defence outputs, when military action is purposely avoided, compounded by the fact that deterrence is itself a key outcome. He explains how the MOD is approaching the problem of measuring effectiveness in an area we all hope will never be tested in earnest.
To close this edition, we interview John Pullinger, who retired this year as UK National Statistician. In an age of proliferating data and statistics, he says the statistician's job is at the heart of democracy, helping us to gain insights into how we live and to make sure everyone is able to make good decisions for themselves and wider society. He also gives his views on subjects including fake news, the proper sharing of data, and the level of statistical literacy in public life.
You can give us your views and comments on the Civil Service Quarterly blog, by email, or via #CSQuarterly on Twitter. If you would like to submit an idea for a feature in a future edition, please get in touch.

We will publish each of the articles in the latest edition of Civil Service Quarterly (CSQ 21) as a blog post. If you would like to see the full publication, you can download it here as a PDF.