The Civil Service Policy Profession believes that the best learning experiences are delivered by practitioners (across all professions) who have lived and breathed the work and values of the Civil Service. To help them tell their stories, the profession has established a range of internal knowledge-sharing platforms. Internal learning happens both in a formal communal environment, such as our annual Civil Service Live event, and in pockets within departments and teams.
So, what is the evidence for how such knowledge networks help civil servants learn; and how can we create the right spaces and opportunity for knowledge to be spread further and wider than it currently is?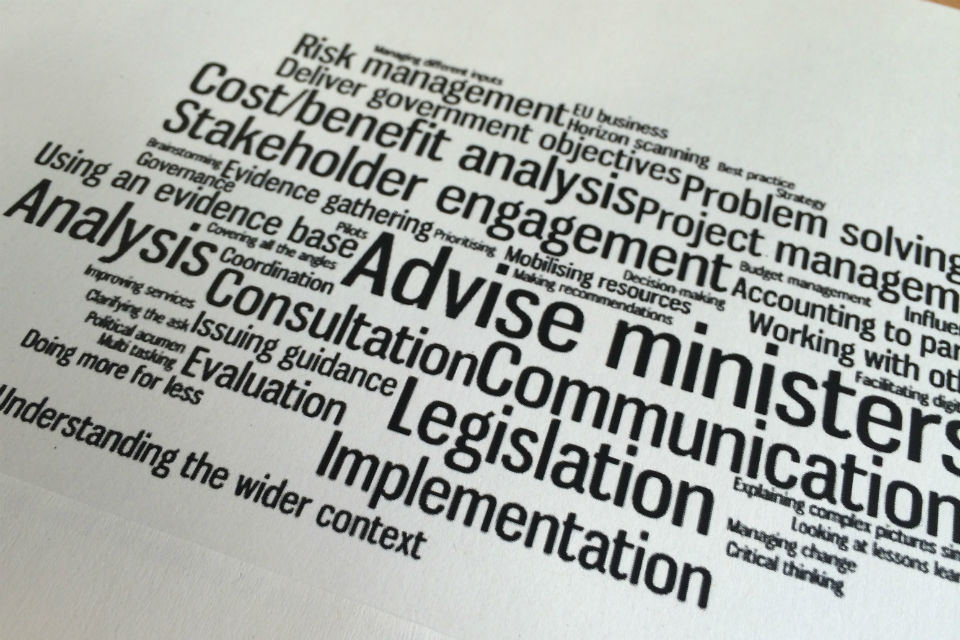 Evidence
The Policy Profession has spent the last five years thinking about how civil servants like to learn.
In 2014, as part of a research paper into building policy capability, we asked 350 policy officials (mainly at Grade 6/7) how they like to learn. Their answers showed a preference for learning 'on the job' and from experts. Each answer was 'chunked' into a specific area of interest for policy officials, ranging from understanding economics to engaging with stakeholders
We then worked with ethnographers to understand the environment in which policy professionals work and how they preferred to learn and develop. One of the recommendations was to "recognise that the expertise embodied in the work of a good policy-maker involves skills, knowledge and understanding, attitudes and behaviours. This includes judgement and the ability to form and sustain relationships and networks."
Evidence from the 2017 three-day Policy Profession Fast Stream programme suggests new arrivals to the Civil Service want to hear from leaders. Everyone who completed the post-programme survey agreed or strongly agreed that the speakers/facilitators made the course engaging. One said it was "punctuated with insight, real-world application and hindsight".
We know that civil servants want to learn the specifics of working in government from credible doers, not just theorists. Today, this means other civil servants sharing knowledge of how we can support the Government to exit the EU and that this requires in terms of skills and knowledge of parliamentary working and devolution.
Efficiency
The Civil Service must take account of continuing downward pressures on budgets and numbers; but also of the need to address complex, long-term challenges: exiting the EU; our more interconnected world; the possibilities opened up by big data; transparency; social media; digital delivery; the wider role of the public sector as a funder and regulator of public service as well as a provider. To deliver the right learning, the Civil Service should look externally, but only if it lacks what's required internally.
The growth of departmental policy schools is an example of how civil servants are learning from each other at a fraction of the cost of external courses, and greater quality and relevance. Begun in the Communities department, this - and similar initiatives - harnesses the talents and energies of current civil servants.
Building knowledge networks and uncovering expertise in-house can generate a culture of sharing. And there are secondary benefits – such as making connections on a human level and building support. It is about being a more networked Civil Service that enables interesting and creative responses to day-to-day issues. Sharing the hard-won experiences, as well as the successes, will connect us in a way that dusty textbooks never could.
Internal events are free, with the administration (venue, catering and AV) covered by funds from Heads of Policy in departments. The small events team in Civil Service Learning (CSL) can support between 20 and 50 events a year. These events (including one for Policy, Operational, GDS and Statistics in November 2016 and another in June this year) have continued to grow, bringing together professions and developing our communities of practice.
Can we scale this up?
Civil Service Live 2017, the biggest learning event of the year for civil servants, was the best-attended ever. Now in its tenth year, CS Live recognises and harnesses the wealth of expertise in the Civil Service – people from all departments giving their time to benefit others.
To help map a career path through the Civil Service it is useful to know what others have done. Within those personal leadership journeys are nuggets of knowledge based on real experience of working and building relationships. The twists and turns of the day job are part of the story but can be overlooked when we try to sum up a leadership journey. This is recognised by the new Civil Service Leadership Academy, especially the immersive workshops underpinned by real Civil Service case studies and led by Defra Permanent Secretary Clare Moriarty.
Ethnography commissioned by the Policy Profession in 2014 showed that there are 'badges of experience' that everyone understands. For example, 'he worked at No. 10", or "she worked on a bill... or in private office". These become more important the higher the grade.  
The Policy Profession has developed a framework outlining the necessary skills and learning to help policy professionals identify and fill their personal gaps. But only so much of this career journey can be codified and it is useful to understand the personal experiences that have helped our leaders develop in their own careers. CSL's events programme offers opportunities to impart this kind of knowledge, specifically the Leader Teaching Leaders series, where the Permanent Secretary leading each event describes the challenges they have overcome and how.
Opening up the Civil Service
Work within the UK Civil Service has excited interest elsewhere, particularly in the academic world and in other governments. It needs to recognise the world-leading brains within its ranks and invite others in. This is about blurring the academic boundaries and generating more opportunities for the cross-pollination of knowledge.
But this is not just about academics downloading knowledge. This is about civil servants being clearer about what it means to be effective within government and sharing stories that encapsulate the nuance and networks involved. As an organisation, it needs actively to explain itself and make the Civil Service a more welcoming place.
A great example of sustainable sharing of expertise is the Department for Education Policy Fellows programme  
We are not the only Civil Service wrestling with this problem. Andrew Kibblewhite, Head of the Policy Profession in New Zealand, believes that if civil servants work together, "…as part of a connected and coherent policy ecosystem, we will be closer to a powerful policy culture, characterised by innovation, continuous improvement and sharing good practice [and] we will be better placed to articulate, tackle and solve the big problems facing our country".
Value
In April 2016, the Public Administration and Constitutional Affairs Select Committee (PACAC) launched a fresh inquiry into the future of Whitehall. One focus is the effectiveness of policy delivery and the Civil Service's ability to "learn from success and failure".
In November 2014, the Policy Profession Board looked at assessing policies as an opportunity to learn from the past and enhance current policy work. Rather than assigning praise or blame, the aim was to explore the cultural and systemic issues affecting policy outcomes. The board concluded that a degree of peer-to-peer scrutiny of policy case studies was inherent in the Leaders Teaching Leaders series, effectively inviting further reflections on policy making.
Institutional memory
It is recognised that each time someone leaves a job, they take a chunk of the organisation's memory with them. How, then, can the Civil Service support government, managing complex systems and delivering long-term projects, without avoiding past mistakes?
Sir Nicholas Macpherson, Permanent Secretary at HM Treasury from 2005 to 2016, was acutely aware of this during the the 2008-09 banking crisis. He realised that "the vast majority of Treasury staff had never been through even a recession, let alone a banking crisis". Institutionalising the handing on of knowledge is something the Knowledge and Information Management Profession have been looking at, but it depends on individuals and the business understanding its value.
Learning is not a one-way process. It also directly benefits those sharing their knowledge, supporting personal, professional and organisational self-confidence.
"Speaking at these events is one of the ways I am able to crystallise my thinking… Speaking provides visibility and is a very real and practical demonstration of sharing knowledge."
David Prout, former Director-General, HS2 Group, Department for Transport
"Looking at the policy world through the eyes of others has been excellent in highlighting where practice diverges from theory, and as a stimulus to continue to improve and develop."
Anna Paige, former Deputy Director, Home Office
The offer
The Policy Profession Support Team have been building knowledge-sharing platforms for many years. It sees the value of civil servants learning from one another. It aims to  'take the pain away' - making the business of learning as simple as possible by managing 1) admin and; 2) supporting development of effective delivery approaches for sharing knowledge. This means arranging events where leaders at all levels can share their experiences. These testimonies and views are invaluable, because they are personally authentic.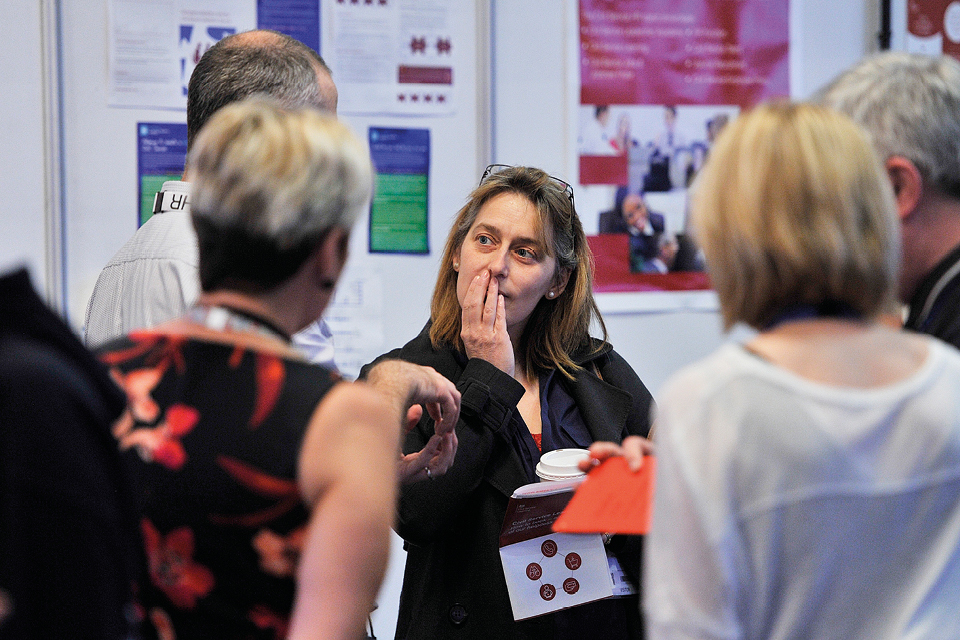 Events include the annual Policy Excellence event for DGs/Directors; the annual 4 Nations event; the quarterly Leaders Teaching Leaders; the Knowledge Series; and the Fast Stream Policy Base Camp. Developing events include: Universities in Westminster series (Blavatnik, LSE and King's College London); the Parliamentary Programme of Learning; and Permanent-Secretary-led Masterclasses.
The emphasis is on creating a safe space where leaders can be honest and open. Events have been well-received but getting people together can be costly, and there are other ways to share knowledge.
In June 2014 the profession published Policy Excellence, showcasing examples of successful policy-making. In June 2015, steered by David Prout, Policy Profession Knowledge Management lead, this was followed by Leading a Connected Profession, a collection of knowledge-sharing best practice adopted by departments and designed specifically for the policy profession. It is important for policy officials to have options, but the ones they select (and adapt) will differ from department to department – one size does not fit all. 'Steal with Pride' is the mantra.