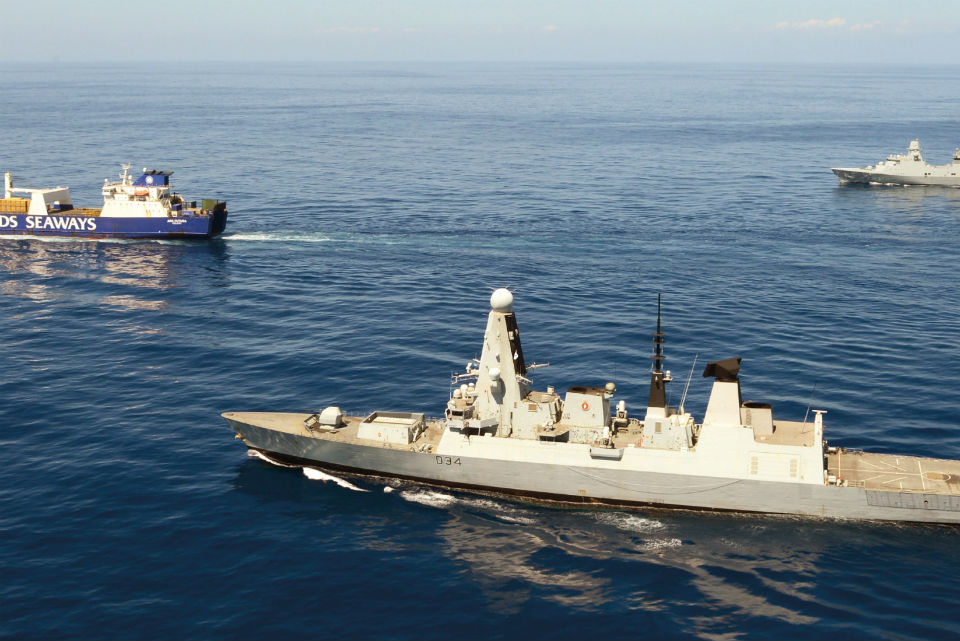 In less than 12 months, 97% of Syria's declared chemical weapons programme has been destroyed. Ben Merrick, Head of Arms Control and Proliferation in the Ministry of Defence, explains how outstanding cross-governmental co-operation made this possible.
Amid the gloom of the Middle East over the past few years, one of the many dark moments was the use of sarin by the Assad regime in Damascus in August 2013. This caused some 1400 deaths, mainly of civilians.
But, largely as a result of this action, the international community has been able to achieve one undoubted success: the destruction – now largely complete – of Syria's declared chemical weapons programme. In less than 12 months, of the 1300 tonnes of chemical weapons that Syria admitted to possessing, more than 97% was destroyed, as well as the associated munitions and production equipment. This has reduced the risks that these weapons will be used again to cause large scale casualties in the region, and has further strengthened the international ban on chemical weapons: only six states have yet to accept the ban.
This outcome required an exceptional international effort, involving the UN and other international organisations, national governments, and their armed forces, scientists and industry. The UK contribution has been called "A triumph of cross-government co-operation and a signal achievement in the fight against WMD.  An exemplary partnership" by Rear Admiral John Gower, Assistant Chief of Defence Staff, MOD, and has seen the cross Departmental Syria Chemical Weapons Team short-listed for the Civil Service International Award.
But there have been significant challenges to be overcome along the way.
Gathering evidence
 Whilst never admitted by Syria, the existence of Syria's chemical weapons programme had been strongly suspected for many years. The outbreak of civil unrest in Syria in early 2011 raised concerns that the Assad regime might use chemical weapons against its own population, and that security failures could lead to these weapons falling into the hands of terrorist groups in the region. But at this stage there was no international agreement to take any action to deal with these risks. The task of UK analysts and policy, military, scientific and technical staff was therefore to assess potential options for reducing these risks, including political messaging to deter Syria from using chemical weapons, and technical options for destroying these weapons.
During 2012-13, increasingly credible reports were received that Syria was using chemical weapons on a small scale against the opposition. When soil analysis by the Defence Science and Technology Laboratory (Dstl) confirmed these reports, the UK led pressure for an international investigation. After the subsequent UN investigation obtained conclusive evidence that the Assad regime had used sarin in Damascus in August 2013, the international community had little option but to consider military action against Syria.
Syria and the Chemical Weapons Convention
The threat of military force led Syria to a very rapid decision to join the Chemical Weapons Convention (CWC). In September 2014, the UN Security Council and the Executive Council of the Organisation for the Prohibition of Chemical Weapons (OPCW) – the international body responsible for implementing the Convention– unanimously agreed that Syria would have to destroy its entire chemical weapon programme against a series of deadlines. The weapons themselves were to be destroyed by 30 June 2014.
Other states have taken up to 20 years or more to destroy their chemical weapon stockpiles. But the short timescale imposed on Syria reflected unprecedented circumstances: it had an active chemical weapons programme up to the moment of joining the Convention, had only just used chemical weapons, and was still in the midst of a bitter civil war.
Planned destruction
A new and urgent phase of UK and international activity then began. Syria provided detailed information ("declarations") about its chemical weapon agent, munitions and production, and OPCW began planning inspections of storage and production facilities, and the destruction of all associated chemicals, munitions and equipment.
Within a few months, chemical weapon production equipment and unfilled munitions were destroyed inside Syria, with on-site monitoring by OPCW inspectors. However, the security situation and the pressing destruction deadlines meant that most of the 1300 tonnes of declared chemicals needed to be destroyed outside Syria.
The UK role in this process was significant: HMG deployed a military officer to support OPCW planning, provided armoured 4x4 vehicles to enable the OPCW to carry out their mission in Syria, and contributed £2M to an international Trust Fund. UK analysts assessed the Syrian declarations for accuracy, while technical experts assessed the options for destroying the declared chemical weapon agent and precursors.
Implementing removal and destruction of chemical weapons
Unusually, the chemical weapon stockpile that Syria declared comprised almost entirely precursor chemicals (rather than immediately usable warfare agent). This meant that the chemicals could be removed from Syria and destroyed in commercial incineration or other facilities, although there were nonetheless security, safety and environmental concerns which had to be addressed. The removal operation was completed over a period of several months by an international maritime task force, which included the Royal Navy.
The US committed to destroying about half of the chemicals removed from Syria: the small quantity of intact chemical warfare agent and the other most proliferation sensitive chemical. The UK provided essential equipment to aid this, and in December 2013 also took responsibility for destroying 150 tonnes of priority precursor chemicals.
Later on, the UK committed, at very short notice, to destroy an additional 50 tonnes of chemicals to minimise risks and costs to the international community. The timeframe was so short that the contract for destruction of the final set of chemicals was signed just hours before they were landed at the MOD port at Marchwood in July 2014, following completion of negotiations overnight.
It was essential to ensure that the process of importing and destroying Syrian chemicals met UK public safety requirements, and that the public understood that these requirements were met. Ministers regularly updated MPs with a constituency interest,  to ensure that they were adequately able to reassure the public about the safety and security of the process.
The UK had destroyed most its chemicals by the beginning of August. By September 2014 over 97% of the declared Syrian stockpile had been destroyed, with the remainder to be destroyed by around the end of the year.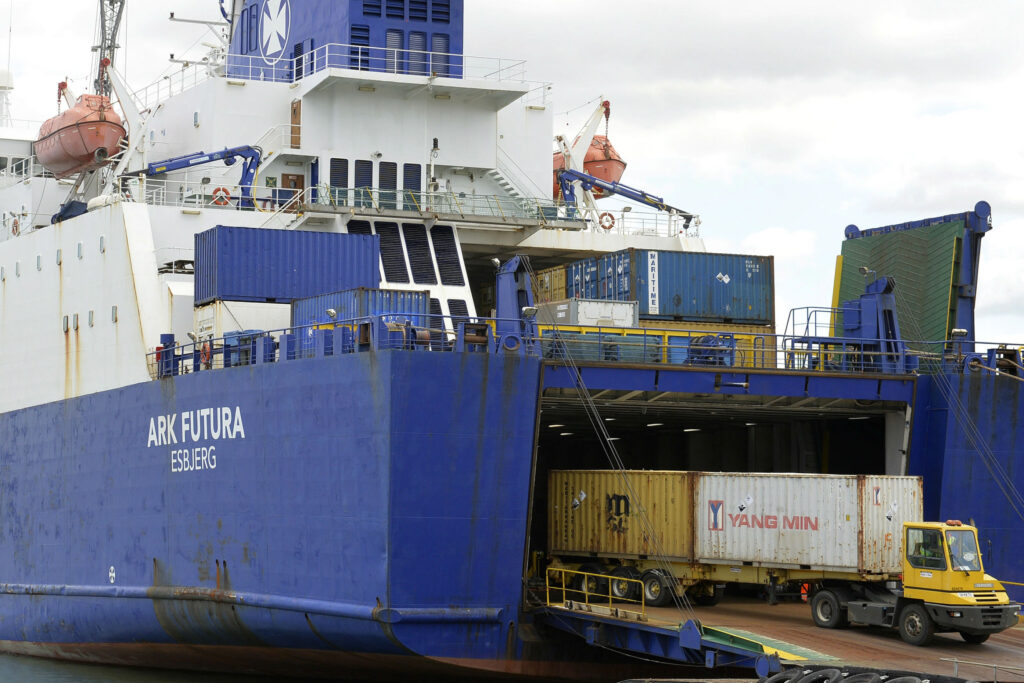 "An exemplary partnership"
 "Outstanding cross-Governmental work on a matter of great importance. The team worked seamlessly to grip, assert UK leadership and see a process through" - Peter Jones, Director Defence and International Security, FCO.
The UK has played an important part in this international success, which has depended on effective co-operation both amongst UK diplomats, policy officials, scientists, analysts, military and commercial staffs, and between the UK and international counterparts. The core team has consisted of staff from Cabinet Office, FCO and MOD, but with important contributions from a range of other government departments and agencies at various stages, including Dstl, Department for Energy and Climate Change, Home Office, Department for Environment, Food and Rural Affairs, Environment Agency, Department for Transport, Health and Security Executive, Department of Health, Public Health England, as well as the civil police and industry, who have had responsibility for completing destruction of the chemicals safely and effectively.
Key lessons
 Existing cross-departmental and international structures for coordination on counter-proliferation and Chemical Weapons Convention issues proved an invaluable basis for developing and implementing policy.
The cross-departmental policy and decision-making groups had to be flexible to respond to evolving priorities. The frequency and make-up of meetings – including the chair and the seniority of attendees – was varied to ensure that there was appropriate authority and expertise for the specific task.
Cross-Departmental funding mechanisms, such as the Conflict Pool, were invaluable in providing funds to meet high priority, short notice, cross-Departmental requirements, which no single Department could readily meet.
Policies, plans and activities relating to chemical weapons had to be firmly linked to HMG's overall Syria policy, and not addressed by experts in isolation.
The integrated civil-military relationships within MOD and close cooperation across government enabled expert advice on political-military, technical and other issues to be quickly shared, resulting in timely, coordinated and well-informed decision-making.
International collaboration was key, and the extensive networks of the FCO (including overseas FCO posts and regional expertise) and MOD were of huge support to the task. The FCO's long-established close working relationship with the US Department of State, and MOD's with the US Department of Defense were especially important.
Overall, success depended crucially on the willingness of dozens of staff across departments to work flexibly and cooperatively across boundaries, take on additional tasks and work extra hours unpaid to deliver within urgent, real-world deadlines.
 Continuing challenges
In addition to completing the destruction of chemical weapon production facilities in Syria, other challenges remain. An OPCW Fact Finding Mission is investigating compelling evidence that the Assad regime is continuing to use chlorine as a chemical weapon. Moreover, there are still concerns about gaps in the information that Syria has provided about its programme, which could allow it to retain chemical weapons or reconstitute the programme in future.
The core HMG team is therefore continuing to work closely together and with international partners to ensure that Syria provides full transparency of its chemical weapons programme, and that it is completely destroyed, as required by the UN Security Council.
The Syrian chemicals and destruction in the UK
The declared Syrian stockpile included only a small quantity of actual chemical weapon agent – some 20 tonnes of mustard. All the rest comprised a range of "precursor" chemicals: these varied from basic chemicals such as hydrochloric acid, used in early stages of the manufacture of chemical weapons, to more complex chemicals which could be used in the very final stages of manufacturing agent for immediate use on the battlefield. The US destroyed the mustard and one key precursor for nerve agent on board a specially adapted vessel, using equipment and technology developed for destruction of their own chemical weapons. The precursor chemicals brought to the UK all have application in commercial processes and are routinely produced or used in the UK. Most of the chemicals were destroyed by incineration at the Veolia plant in Ellesmere Port, in accordance with its existing environmental permits with the remainder; a small volume of hydrogen fluoride, is being mixed with calcium hydroxide to form calcium fluoride and disposed of as land fill in accordance with environmental regulations.