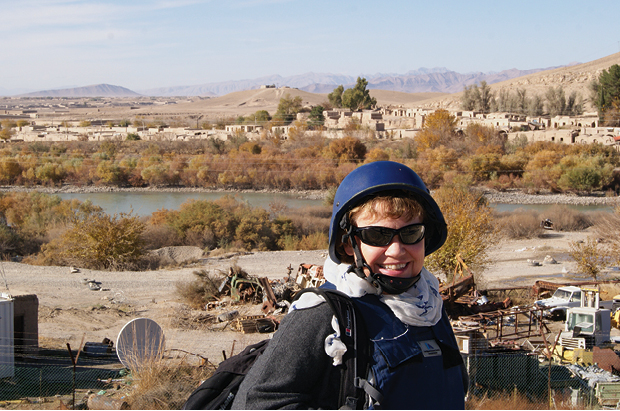 The UK presence in Afghanistan has been about more than just military action. Catriona Laing, Head of Mission of the Helmand Province Reconstruction Team, talked to James Mortimer about her experiences there.
Q1. What is the Helmand Province Reconstruction Team (HPRT), and what role do Civil Servants play?
The HPRT is a multi-national, multi-functional team that aims to build on the improvements in security and stability gained by the joint Afghan-NATO military operation, creating the foundations for a lasting peace in Helmand Province. Our underlying strategy recognises that peace and development is possible in Helmand, but it will only be sustainable if ordinary Helmandis have a meaningful stake in their government and society. So the HPRT works with contractors, police, and military colleagues drawn from the UK, USA, Denmark, and Estonia, as well as very talented local Afghan staff, to bring development and good governance to Helmand Province in Afghanistan.
Civil servants are the core of the HPRT, which has been UK-led since 2006. It includes people from a range of different departments: not just the Foreign and Commonwealth Office (FCO), Department for International Development (DFID), Ministry of Defence (MoD), but also staff from the Cabinet Office (CO), Ministry of Justice (MoJ) and HM Revenue and Customs (HMRC). As the FCO and NATO civilian representative in Helmand I head up the team. We are located on a UK military base on the outskirts of the provincial capital Lashkar Gah. At its peak the HPRT had 220 staff; we are now reducing in size in line with the planned handover to Afghans in 2014.
Q2. What issues has Helmand Province faced?
As the heartland of the Taliban insurgency it is one of Afghanistan's most challenging provinces, and is where most British troops have been deployed. Helmand's infrastructure has suffered decades of war and neglect; it is one of the largest opium producing areas in the world and suffers endemic corruption, plus has a complex and subtle political, tribal, and social system.
Q3. What practical steps has the HPRT taken to achieve its aims?
In the early days we focused on 'bricks and mortar' type projects, such as building roads, schools, health clinics and police stations. This was necessary to ensure Helmandis had the infrastructure on which a functional society could be built. Subsequently, during my 18 months as Head of Mission, our efforts have concentrated on the human elements: training, mentoring and advising the Afghans to do the job for themselves. We've been working with the senior levels of the provincial government to strategically plan sustainable development. A key element of this is ensuring provincial officials develop good links with central government in Kabul; this enables them to access long term funding. We've helped them with budgeting, managing and developing staff, maintaining and running buildings and facilities – all the things that are needed for a local government to function effectively. Our role is to support Provincial Governor Naeem in running Helmand and last year the UK spent over £30 million supporting projects in the province.
Q4. You've said that Helmand suffers endemic corruption – isn't corruption and a lack of accountability in provincial government going to undermine your efforts?
These are some of the most significant challenges, but there's been real progress. One of the reasons the Taliban was able to establish a stronghold in Helmand was because government was perceived as offering nothing or – even worse – preying on the population. Rebuilding trust and confidence is vital to our long term aim of a stable and secure Afghanistan. One of the other great challenges we've faced is helping to extend accountable government across the province, thereby giving ordinary people a voice. My governance team, working closely with the Afghan authorities, has done pioneering work in this area. Together they have established directly-elected district level councils, which deal with everything from development to justice. Over 40,000 people have now voted to elect 275 councillors to represent them. This has been a huge success, and Helmand's experience is now shaping the national debate in Afghanistan around local democracy.
Our Rule of Law Team has also helped to facilitate Afghan-led courses in community-based dispute resolution for village elders. The aim of these courses is to help bridge the gap between traditional village-level justice and the formal justice system. This complements the excellent work done by our police mentors in building a professional, effective, and increasingly respected police force in Helmand. The improvements in Helmand policing have been achieved from a low starting point. In 2006 police in Helmand were untrained, undisciplined and unprofessional. They were feared by the public who had very little confidence in their ability to provide basic core policing services. There is some way left to go but remarkable advances have been made. As with all our most successful projects, the solutions have been Afghan-led, often working with structures that are already there.
Q5. How do you measure whether your efforts have been successful?
We measure a whole range of different variables to judge our effectiveness. For example, the number of children enrolled in school has increased from 54,000 in 2007 to 130,000 in 2013 including 30,000 girls, up from zero in 2001. Today almost 80 percent of the population has access to healthcare within 10km of their home. We also track attitudes through a quarterly survey, conducted by Afghans with heads of Helmandi households. One critical statistic which gives us cause for optimism is that support for a Taliban return to power in Afghanistan has fallen in Helmand from 18 percent in 2011 to just five percent now.
People in Helmand are no different to anyone else: they want peace, security, justice, decent services and the opportunity to make a living. It was desperation caused by the failing state that drove many to the Taliban.
Q6. What happens when the UK withdraws its personnel in 2014?
Helmand province has come on a huge amount since we arrived seven years ago. Afghans are relying on our support less and less. So it is natural that the work of the HPRT is changing. We are stepping back from providing direct support and advice, and helping the Afghans to lock in the gains we have made over the last few years. Ultimately the HPRT is due to close next year, but this is not the end of our support. UK funding will continue to be provided through central government in Kabul or through international organisations. We have supported the Provincial Governor to get the United Nations established in Helmand and they will set up shop by the end of this year.
Q7. What is it like to work in Helmand? Can you describe some of the difficulties you and your team face?
It is definitely one of the wilder places for a British civil servant to be working. The biggest concern is the security of the team. There are regular insurgent attacks on Lashkar Gah, and there is a constant threat of attacks on our base, and on our transport. We have to travel to meetings in armoured vehicles wearing bullet-proof vests and helmets. We rely on careful monitoring and analysis of the threat, and on our highly dedicated G4S security teams, to keep us safe. The threats include crude but deadly roadside bombs, and suicide bombers driving vehicles rigged with explosives.
Helmand is also a very tough natural environment. The summer temperatures are oppressive, sometimes close to 50 degrees, but it can be freezing cold in winter. Dust storms are a regular occurrence and extremely unpleasant. Our location is remote: getting here involves a three-hour flight from Dubai to the main UK military base in Camp Bastion, and then a military helicopter to our base in Lashkar Gah. From bad weather to helicopters being diverted for operations, plenty can go wrong to add hours or days to the journey.
Q8. How have you found leading such a mixed team?
Leading a team with staff from 15 different organisations ranging from US marines to the Danish aid agency DANIDA isn't always easy. There can be competing departmental agendas, and different organisational and national cultures. Though formally I count as a two-star General, I don't give orders. The top team here relies on 'soft power' and persuasion to get things done. At the heart of our approach is a clear plan which we all work to. Physically sharing offices helps too. Communication isn't just something that happens in formal meetings, we are constantly discussing what we are doing, bouncing ideas off each other and drawing on each other's experiences. We all live together in a series of rooms and converted shipping containers on the base. Every day we share meals, play sport and socialise – this creates a real camaraderie and team bond. This is essential for a team to get things done in a tough environment like Lashkar Gar.
Q9. So what do you do in your down time?
People said to me on arrival the days would be long and the weeks short, and I agree with that. It's not unusual for staff to work 12-hour days, six days a week. But that pace means that the weeks fly by. We work flat out for six weeks and then have a two week 'breather break' to recharge our batteries.
Sport and exercise is a major part of life here and I have never been fitter, with a mixture of running round the camp, Thai boxing with my body guard Andre, and the latest US fitness craze to hit Helmand: Insanity, a full-on interval training programme. We also have wonderful yoga classes under the desert stars and a weekly volleyball match. Thursday evenings we open our club house for a few hours to socialise together. We have had some great mixed events such as a celebration of the Queen's Jubilee and an Iftar (Ramadan fast-breaking) dinner for our Afghan colleagues. My iPad mini has been a life-saver and I read a bit most evenings – usually detective novels to relax.
Q10. What will you personally take away from your experience working in Helmand?
Three things: the importance of innovation, admiration for the brave women of Helmand who put their lives on the line to make a difference, and respect for the military.
I am a big fan of the book Adapt by Tim Harford, which argues for the need to adapt ideas through trial and error, and to learn from what has worked less well. I am very proud of how we have applied this in Helmand and others have also been impressed. When Oliver Letwin, Cabinet Office Minister for Government Policy, visited in November 2012 he was very struck with our localism agenda and reported back to Cabinet that the HPRT was engaged in truly inspiring work.
Helmand is a very conservative society based on the Pashtunwali code. Women in positions of power and influence are rare but we are seeing the start of a generational change. For example, elections were held recently for the municipal council. When these were last held three years ago only a handful of women registered to vote; this year 880 registered and five stood for the four seats reserved for women. This is a huge breakthrough. I have such admiration for the women who are willing to do this because they risk their own security. I have made female political empowerment one of my top priorities and I speak at a number of women-only events to encourage women to participate in political life.
I have developed an enormous respect for the military too. The best British commanders are incredibly impressive, not just at the tactic of military operations but also at grasping the wider context of our deployment in Helmand. The way they motivate their troops is truly inspiring. On the US marine side the strength of their bond with their motto "Semper Fidelis" or "always faithful" is moving. Living and working on a military base means life is generally very male dominated. I have got used to being the only woman present at the senior command briefs in a sea of male uniforms. I have learned how to make sure my voice is heard by my military colleagues through adopting their language and keeping interventions as crisp as possible.
Above all, the experience has tested my leadership capabilities. While I have learned a lot from my military colleagues about leadership, I do think they need to be more willing to challenge up the chain of command. Overall I would say we have learned from each other. I have tried to bring the best of both cultures to bear on what is the most challenging job I have faced in my career so far.
I have become much more resilient as a person and better able to keep things in perspective. Attending deeply moving memorial vigils for soldiers killed in action was all too frequent in the first part of my time here. The sacrifice that our young soldiers have made in Helmand is a constant reminder for me of the importance of the legacy we leave behind. I am confident that we have done everything we can to leave Helmand with the best possible chance for the future. That future is in Afghan hands, though with our continuing support and goodwill.
After 18 months in post I will soon be leaving. I will be visiting capitals of partner countries to set out my reflections and the lessons we have learnt from this demanding experience. On his most recent visit in July, the Prime Minister made it very clear that we have an important responsibility to capture these lessons to inform those engaged in conflicts of the future. We are doing just that.
Don't forget to sign up for email alerts from CSQ
---
Other CSQ articles you may be interested in: