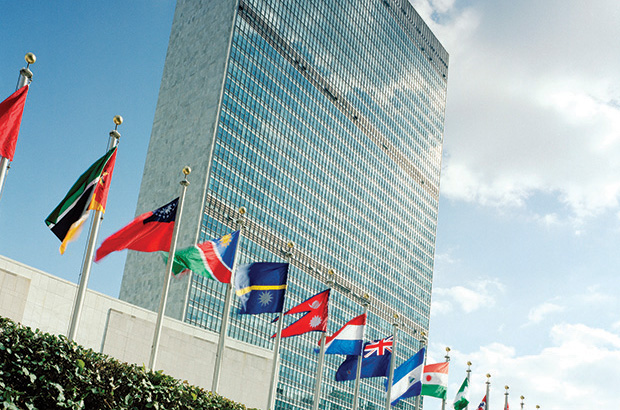 Diplomatic leadership means building support in difficult circumstances. The UK's role in securing approval for the UN Arms Trade Treaty showed new aspects of diplomacy at work.
This is a victory for the world's people…The Arms Trade Treaty will make it more difficult for deadly weapons to be diverted into the illicit market and it will help to keep warlords, pirates, terrorists, criminals and their like from acquiring deadly arms. It will be a powerful new tool in our efforts to prevent grave human rights abuses or violations of international humanitarian law. And it will provide much-needed momentum for other global disarmament and non-proliferation efforts.
(UN Secretary-General Ban Ki-moon, New York, 2 April 2013.)
The UK played a key role in securing final approval for the UN Arms Trade Treaty signed this June, setting clear and internationally-agreed standards for the global trade in arms. The final vote was accompanied by loud cheering in the UN assembly chamber for what was a historic moment. This was a seven-year process for the UK negotiating team, helping to achieve what many had failed to do in the previous decades.
The Treaty represents the success of a non-traditional diplomacy, unparalleled in recent times, where the careful building of 'coalitions of interest' was fundamental, and where social media began to shape the way diplomacy works. This article describes how the UK worked with what Foreign Secretary William Hague has termed "the networked world" to bring about change.
No 'coalition of the powerful'
Attempts to regulate the international arms trade have had a long and difficult history. The earliest efforts to regulate trade in conventional weapons predate World War I. More recently, in 1991 the five permanent members of the UN Security Council (China, Russia, France, the UK and USA) agreed the "Guidelines for Conventional Arms Transfers".
Within two years cooperation had foundered. However, progress was achieved at regional level. By 1995 the Wassenaar Arrangement on Export Controls for Conventional Arms and Dual-Use Goods and Technologies had been established. Comprising 41 countries, including the major European and American suppliers and Russia (but not China) it would promote "transparency and greater responsibility in transfers of conventional arms and dual-use goods and technologies". Then in 2008 the EU Code of Conduct on Arms Exports (which had been established in 1998) became legally binding.
This patchwork of regional agreements was ill-suited to regulating a highly mobile manufacturing industry that often involved extensive global supply chains. The unscrupulous were able to circumvent controls by moving to countries where regulation was less onerous (or nonexistent) – echoing the challenge facing efforts to combat money laundering – and companies engaged in legitimate trade faced evermore complex regulatory hurdles, leading to increased costs.
Traditionally the UK, as an economically and militarily powerful nation, has aligned itself with other powerful nations in order to achieve its diplomatic goals. However the experience of the failed 1991 "Guidelines for Conventional Arms Transfers" indicated a new approach was required.
Building a coalition of interest
In 2003 the community of Non-Governmental Organisations (NGOs) began advocating for a new Arms Trade Treaty. They were supported by Nobel Peace Prize laureates led by Óscar Arias, and including Elie Wiesel, Betty Williams, the Dalai Lama, and José Ramos-Horta, They found little support among the world's powerful nations or the traditional arms manufacturers.
Despite the public support of the Foreign Secretary at the time, Jack Straw, the UK was unable to build a coalition with these nations. As part of a wider strategic objective to revitalise and reenergise international institutions, the UK negotiating team drawn from the Foreign and Commonwealth Office (FCO), the Department for Business, Innovation and Skills (BIS), the Ministry of Defence (MoD), and the Department for International Development (DFID), led by the UK Delegation to the Conference on Disarmament (UKDis) based in Geneva, formed a plan to get the UN General Assembly to act.
The General Assembly is a deliberative forum based in New York with representation from all UN member states, both large and small. Each member has a single vote in the Assembly. As a body, it has been criticised for favouring rhetorical declarations and seeking consensus at the expense of action.
In order to galvanise the Assembly and encourage it to take responsibility for this issue, the UK sought to build a broad coalition of support: nations serious about regulation of the international arms trade. The central task was to create momentum and ownership, to the point where the idea of failure was no longer an option.
Defining the UK position
To build support with other nations it was necessary to galvanise relevant interest groups across UK society. For example, the negotiating team spoke with NGOs, business leaders, and others such as faith groups to understand their perspectives and their willingness and ability to help.
Forming a coalition with NGOs and industry was a challenge, given that there has often been more tension than cooperation between the two over the arms trade. But the task of government is to represent all sectors of society, not just the most vocal.
NGOs are undoubtedly effective campaigners. They can reach out to influence public debate, both domestically and internationally, in ways that government cannot, generating public support and building initial momentum to a high pitch. But NGOs are rarely 'deal makers'; a fundamental part of their value is their unbending commitment to their key goals, and compromise can be perceived as failure.
Industry's perspective is as important as that of NGOs. The defence industry alone is worth £22 billion annually to the UK and supports more than 100,000 jobs. It represents not only the interests of large multinationals such as BAe Systems, but also a multitude of small-and-medium-sized enterprises (SMEs) that make up the extensive supply chains of modern manufacturing. Their views provided an essential degree of balance and helped the negotiating team understand how an arms treaty might operate as a new industry standard for 'responsible' exporters in the global market place.
The team created two focus groups to develop an agreed UK position. The first comprised leading NGOs (Amnesty International, Oxfam and Saferworld) and the second a cross-section of industry and trade associations (BAe Systems, Rolls-Royce, the Society of British Aerospace Companies and smaller SMEs) with FCO officials facilitating discussion with group members and Whitehall counterparts.
Having reached this position, the UK team set up a campaigning partnership with a major NGO (Oxfam) and a major aerospace and defence business (Rolls-Royce) both to advise the UK team and to engage on the UK's behalf at the UN and in their own constituencies. The ability of these seemingly opposing groups to work together was a powerful symbol of what the UK was trying to achieve with the Treaty.
Building and maintaining a core group of nations
With the UK position developing coherence, the team began a similar process of focus groups with 30 member states and other international organisations.
Focus groups
Running a successful focus group process means posing a problem, asking what others think the issues are, and what they think the solutions should be. Then it is necessary to synthesise the views of stakeholders with the views of the negotiating team's position to form a coherent narrative. This was a difficult but necessary process, crucial to avoiding a perception that the UK Government was imposing a solution.
Eventually a core group of seven supporters for the Treaty (Australia, Argentina, Costa Rica, Finland, Kenya and Japan) was forged from outside the traditional power groupings. These states acted as multipliers within their own regions, helping build support in the General Assembly and outside in the wider world.
As momentum built behind the proposed Treaty during 2010, larger, traditionally more powerful nations (notably France and the USA) aligned themselves with the UK. This in turn presented a major challenge. To disempower the core group by reverting to old-style power diplomacy at this stage would risk undoing the hard work that had already been achieved. Instead, the UK managed two separate coalitions of support, acting as the co-ordinating link and ensuring both groups felt part of the process.
Linking groups of the powerful and a wider constituency of those who shared the UK's ambitions was a somewhat unusual approach, but it was a role for which the UK was well-suited, given our unique network of global and personal relationships, ranging from historic associations in the Commonwealth, through our membership of the EU, G8, G20, and a matrix of military, defence, and intelligence relationships.
Any such international negotiation relies heavily on the skill of the Chair to help bridge the policy divide and produce a draft treaty text that reflects the highest common factor of views expressed. The Treaty process was particularly well served by Argentina's Ambassador Garcia Moritan and Australia's Ambassador Woolcott, who chaired the two final negotiating conferences, although UK experts were closely involved with the drafting throughout. Nonetheless, delivering the final votes – 153 in favour with three against (Iran, North Korea, Syria) and 23 abstentions – required a huge last minute lobbying effort. Ministers and senior officials across the FCO worldwide network often called their counterparts in person to underline the importance of what was likely to be a historic vote.
The role of social media
If diplomacy is a process of building influence and relationships, during the development of the Treaty it became increasingly clear that social media would now have a substantial impact on the way modern diplomats carried out their tasks. For example, online debate between opponents of the Treaty, such as the USA's National Rifle Association, and supporters from NGOs and governments, was held through social media channels. This is true not only for the international audience, but also in the UK domestic context where parliamentarians and civil society follow the online debate closely.
At one level, social media platforms were a central part of information gathering. When constructing the UK position for the Treaty the team frequently drew on facts and figures from think tanks and the business community that had been put out through social media. It would not have been possible to attend the many conferences and workshops around the issues, but because links to the latest papers (e.g. on the impact of the arms trade on economic aid) were promoted via Twitter, policy makers were able to find detailed, relevant information.
At another level, having the right followers on Twitter or other platforms can save time and help make diplomats, groups, and organisations influential. If the press corps and news editors are among them, a tweet from the negotiating floor in the UN will be picked up by the media and quoted from Dallas to New Delhi without the need for a press conference.
But social media platforms such as Twitter, Facebook, LinkedIn and YouTube were not designed for international diplomacy. Powerful tools though they are, that power can be difficult for governments to understand and required the team to adopt new attitudes and practices.
The speed and breadth of the information flow online is such that diplomats and their governments can no longer hold power by holding on to knowledge. This knowledge should be thought of as less of a commodity or a power to be safeguarded; but rather as power multiplied and distributed through sharing.
The decision-makers and people that officials want to influence – political advisers, journalists, and so on – increasingly get their information from the internet and tend to be very active on social media. Most policy advisers use blogs as a source of policy information. Online news sources have overtaken traditional broadsheet newspapers.
So when NGOs or other groups mount a campaign through social media channels, it is very important that government engages with them. Like it or not, the first report of an event will start to shape opinions. Governments need to move quickly to get their views back to their stakeholders before they are swamped by the views of opponents or commentators. Officials need to be at the same speed as the information flow; and if they are not, then they will be pushing at perceptions that have already been established. Civil servants and diplomats must be present online.
New possibilities
The UK led the campaign for the UN Arms Trade Treaty in a new way, and in changing times. Empowering the General Assembly to act rather than relying on traditional groupings of powerful nations placed a new emphasis on carefully managing a shared narrative. Similarly, opening up the wider negotiating team by bringing NGOs and business together was a powerful symbol of collaboration, and a new force for change. And the seemingly inexorable rise of social media during the Treaty process offered new tools for listening and shaping influential messages that reach out to opinion formers, decision makers and the wider public. The Treaty has been a historic success, and points the way for future diplomacy.
Don't forget to sign up for email alerts from CSQ
---
Other CSQ articles you may be interested in:

Alex Ellis talks about his experience improving policy making in the FCO