https://quarterly.blog.gov.uk/download-a-pdf-of-civil-service-quarterly-18/
Download a PDF of Civil Service Quarterly 18
This page contains a PDF version of Civil Service Quarterly 18.
Download the full October 2018 edition here.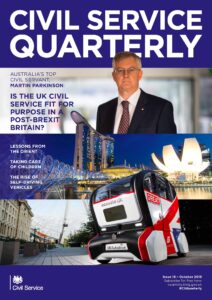 Each article will also be published as a blog post. If you would prefer the blog versions, which may be easier to read on some computers, click on the individual titles below, where the articles will appear as they are published.
The future of transport - putting the UK in the driving seat – Iain Forbes, Head of the Centre for Connected and Autonomous Vehicles, Department for Transport and Department for Business, Energy & Industrial Strategy
Delivering justice in a digital world – Susan Acland-Hood, CEO, HM Courts & Tribunals Service, Ministry of Justice
Spotlight: Developing the leaders of tomorrow – Fiona Linnard, Government Digital Service; Rob Kent-Smith, UK Statistics Authority
Dodging the icebergs - how to make government more agile – Charlene Chang, Senior Director, Transformation, and Jalees Mohammed, Senior Assistant Director, Transformation, Public Service Division, Singapore Government
In Conversation - Dr Martin Parkinson, Secretary, Department of the Prime Minister and Cabinet, Australian Government