The Government Estate is made up of hundreds of thousands of assets, from railways, ports, prisons and power stations, to schools, hospitals and health surgeries, job centres, administrative offices, and many more, spread all the around the UK.
The 2018 Government Estate Strategy, published this July, will transform how we use these assets. It contains commitments that not only deliver value for money, but that consider property as a platform for the delivery of government's wider objectives, including delivering the best possible public services, releasing surplus land for housing, reducing the state's carbon footprint, and boosting growth across the UK.
Reducing costs
In the past, such strategies have concentrated on minimising the expense of running the estate, and been principally concerned with how to reduce costs, an approach that has brought great success.
Since 2014 we have reduced the Government Estate by over 1,000 properties, raising £2 billion in building sales and saving a further £300 million per annum in operating costs. Furthermore, vacant space has been reduced across the central Government Estate by 73%, and is now just a fifth of the average private sector vacancy rate, at 1.5% (private sector average: 7.5%). Additionally, our more modern, sustainable estate now supports the government's wider environmental commitments, with carbon emissions reduced by 33% and paper consumption by 50%.
Focus on efficiency
The latest Government Estate Strategy continues to encourage a smarter, leaner, more fit-for-purpose estate, with a focus on efficiency. This includes introducing a new framework for assessing the whole-life cost of property – from planning and design, through to construction, operation and decommission – and embedding a new property model through the Government Property Agency (GPA).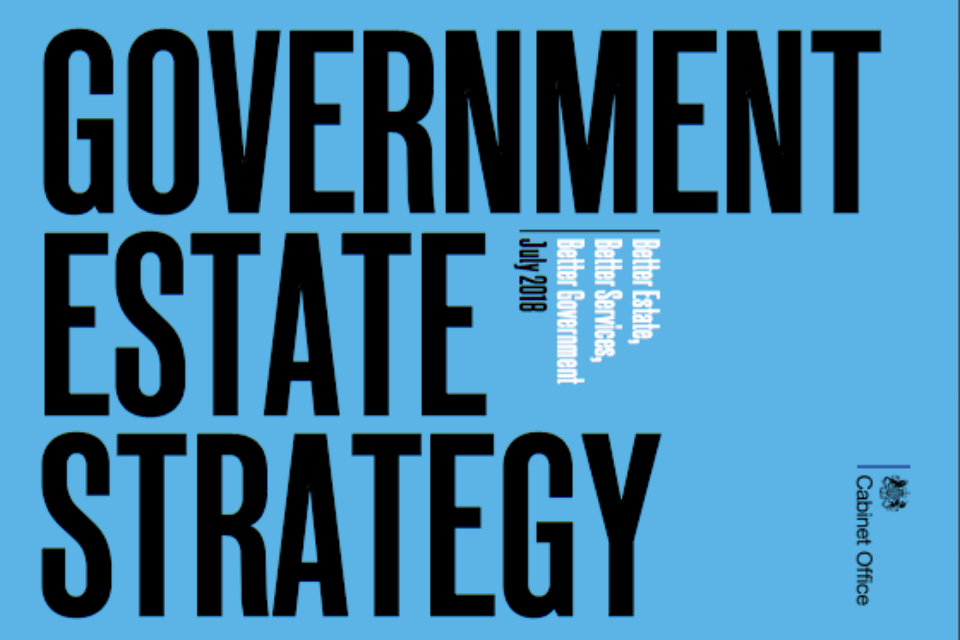 The GPA is a new executive agency of the Cabinet Office, set up to provide professional property asset management services across central government's general purpose estate. It will make the administrative estate operate more effectively by replacing older, less efficient, buildings with purpose-built offices. This will reduce the number of office buildings in which central government operates from 800 to around 200, while enabling the Civil Service to work more effectively together, with Government Hubs housing a number of departments under one roof. This model is expected to deliver £3.6 billion of savings over 20 years, of which £2.5 billion is expected to be delivered by the Hubs programme.
Transforming how government works
However, the value of our estate lies in more than bricks and mortar, and plans for it aim to deliver more than simply greater efficiency. The strategy shows how the estate can be a powerful catalyst for transforming, for the better, the way that government works – both in how its services reach the public, and in how its own civil servants work. It also sets out how we can use the power of our estate to energise the housing market, create supportive infrastructure and release surplus land for house building.
The estate exists to support government activity – much of which involves public-facing services. The way in which we deliver these services is changing, thanks to new technology, changing lifestyles and the evolving needs of the population. Our estate itself needs to change to reflect this. For example, the NHS Five Year Forward View set out plans to ease pressure on A&E and acute hospital services by providing more services in the community. Changes to the NHS estate to house such services are fundamental to making that happen. Elsewhere, introducing technology and online services into our justice system means we will be less reliant on physical court buildings in the future. And the introduction of Universal Credit means Jobcentres are increasingly co-locating with councils to deliver a more integrated service for customers.
Boosting local growth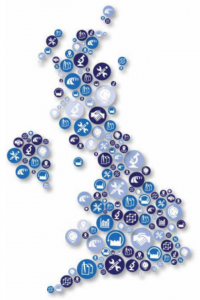 Decisions on where to locate government land, buildings and civil servants, and the type of working environment we offer, also have the power to transform places and services, and boost local growth, creating great places to work and helping deliver a Brilliant Civil Service.
The Civil Service is too London-centric. We plan to tackle this through the Places for Growth Programme. The programme will work with departments and public bodies to relocate up to a thousand public sector posts out of London and South East England to all of the nations and regions of the United Kingdom by 2022. This will be followed by thousands more posts, including at senior grades, by 2030.
As outlined in the Industrial Strategy White Paper, we want jobs to go to cities that have the existing skills and capacity to enable both organisations and the destination locations to flourish and better connect the relevant parts of government with local economies. This will help boost local growth and use our estate as a driver to ensure that the Civil Service more closely reflects and connects with the people and communities it serves. We will support the development of at least three specialist clusters in cities across the UK by 2022.
Becoming less London-centric
In relocating roles across the whole of the UK, properly clustered around the required skills and similar roles, we will also help to ensure the creation of sustainable career paths for civil servants, and offer career progression into senior roles, without their having to be based in London.
By the end of this Parliament, under the Government Hubs scheme, the GPA will establish a network of around 20 multi-agency hubs across the UK. For example, New Waverley, in Edinburgh, will bring together around 2,900 UK Government civil servants who work in Scotland, consolidating the UK Government estate in modern office space with ministerial and press facilities. In Wales, Central Square, Cardiff, will accommodate over 4,000 public servants from several different UK Government departments. And in Northern Ireland, Erskine House, Belfast, will ensure that the UK Government remains one of the largest employers in the city.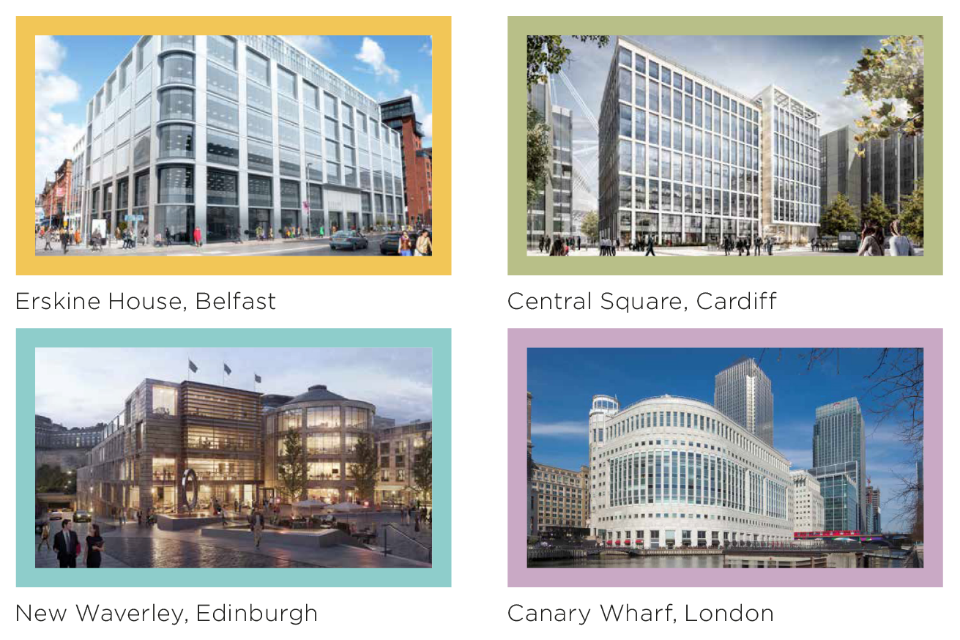 Smarter working – enabling people
The hubs will move thousands of civil servants into new, fit-or-purpose offices, helping us to both make the working experience of civil servants better and improve service delivery. The hubs will also take advantage of a profound shift in the way the Civil Service will work in the future, in environments that embrace smarter working practices and technology that equip and enable the person, rather than the office. This in turn will allow for greater diversity in our workforce and career paths – and a focus on cross-department collaboration in activities such as analysis, communications and business support.
These policies will also help deliver our longer-term ambition of a Whitehall Campus of no more than 20 efficient, fit-for purpose buildings (reduced from 65 now). We see this operating as a single entity, with flexible space, shared services and – where possible – integrated security systems, including a common access pass. We will also work with government partners to enhance the experience of the many thousands each year who visit and work in Whitehall, making it more welcoming, more secure and more accessible for all.
We are aware that the future is hard to predict. Overall Civil Service numbers, having fallen in recent years, have risen again as part of our preparations for exiting the European Union, which will also see us repatriating jobs from Brussels and creating new jobs in the UK. This is why it is critical that we continue to manage the overall asset portfolio efficiently and flexibly, so that we can contract or expand the supply of property as demand changes.
More joined-up services
And we're not just focusing on the Government Estate. The public wants to see more joined-up public services. Through the One Public Estate programme we are supporting bodies across the public sector to collaborate on ambitious property-led schemes. This programme, delivered in partnership with the Local Government Association, supports government and local bodies to bring services together under one roof. This will drive better collaboration and support the delivery of £615 million in capital receipts, a target of £158 million in running-cost savings, land for 25,000 homes, and 44,000 jobs by 2020. This is both more cost-efficient and works to break down organisational barriers and provide a more integrated, accessible service to the public.
It has long been our ambition to create a 'digital estate' – a complete and secure public data record of our property assets that is open and transparent and can be used to promote more strategic decision-making. By the end of this Parliament, this will be made possible through the creation of a Digital National Asset Register. This will join up data from hundreds of entities under one geospatial umbrella, providing a strategic view of all public estate data, and helping to ensure that public services are provided where they are most needed.
We will also continue to drive efficiency by expanding reporting of key performance metrics in the annual State of The Estate Report. For the first time, this will include laboratories, job centres, courts and storage buildings.
We cannot fulfil our commitments without a highly motivated, skilled and diverse Government Property Profession (GPP). The 5,000 people working in government property play a major role in policies that impact on the delivery of government priorities. The strategy will ensure that the GPP gives them the support they need to flourish in their careers.
An estate that works for everyone
As custodians of the strategy, the OGP in the Cabinet Office will work with departments, their arms-length bodies and other cross-government functions, to ensure their plans dovetail with the strategy – enabling service delivery while still serving as a vehicle for change. This, alongside the work of the GPA, will allow a greater commercial focus and more consistent and professional management across the estate.
To deliver the best possible services we need an estate that is fit for purpose and built around the service need. The commitments in the Estate Strategy are designed to deliver a Government are designed to deliver a Government Estate that truly works for everyone – a Public Estate for Public Benefit.
MoJ National

Successive programmes run by the Ministry of Justice (MoJ) to maximise the efficiency of its estate have resulted in the disposal of over half of its office estate and a saving of around £50 million per annum in running costs and £100 million in capital receipts. In line with the Government Estate Strategy, the department has continued to transform not just its estate but the way it works. Under 'MoJ National' it has moved away from a single London HQ and adopted a four-headquarters model (102 Petty France, Canary Wharf, Croydon and Leeds) all operating a desk ratio of 6 desks to every 10 FTE (full-time equivalent) employees.

The goal of MoJ National is to become a de-centralised, yet connected, national organisation. This will be achieved by maximising the efficiency of the space it retains through modern workplace design and technology, and smarter working principles. It is also reducing the pressure on its workspaces, and creating an attractive offer for employees, by providing places to work closer to home through a commuter hubs programme.

In reducing its Petty France footprint, the MoJ has created a multi-tenant government hub, which already includes the Office for Budget Responsibility, the Charities Commission and the Crown Prosecution Service. This has helped to unlock a complex property chain and enable government to generate estimated annual savings of £65 million, through the release of seven central London properties.