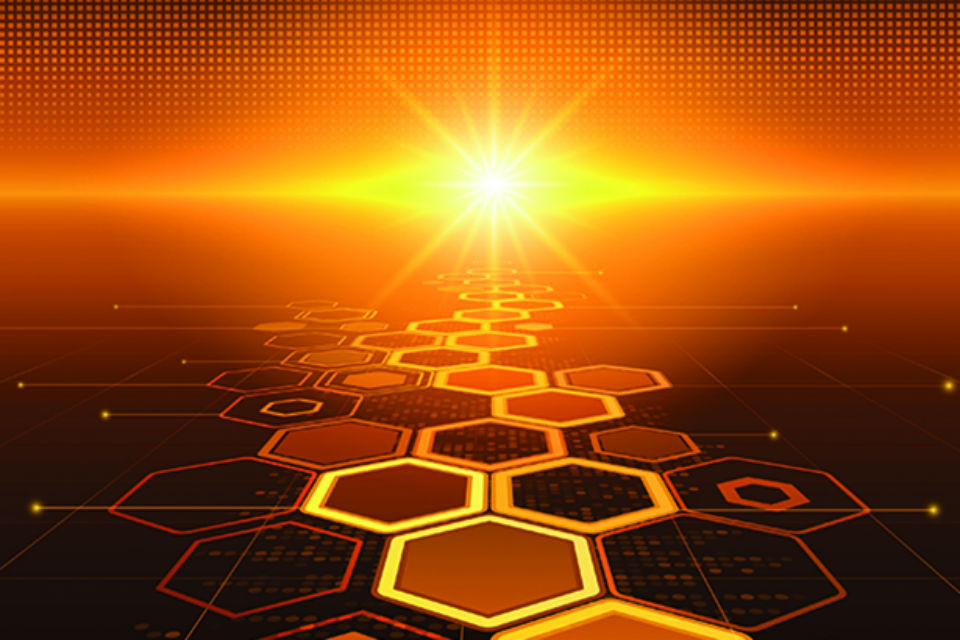 The future. In sci-fi films, it's living with cyborgs in a sleek metropolis or a rust-coloured sandscape and violent struggles for dwindling resources. In technology magazines, it's gadgets and gizmos. For our ancestors, it was a mystery only revealed to seers and fortune-tellers. Throughout human existence, the future has given rise to fear and fascination.
But, as civil servants, do we really need a crystal ball to know what's ahead? We actually have a whole range of tools in everyday life to plan for upcoming events and manage risk, from Outlook calendars to car insurance. And, if you've ever opened a savings account or planted a seed, you know it's possible to shape your future as well.
What the future holds
Meanwhile, every decision that Government takes in the present helps to bring about a particular future for the country - a better one, we hope. So it's important that these decisions don't just consider the present, but also think about the different futures they make possible. In the short term, analysts offer projections and forecasts to help determine the best course to follow. But, beyond a certain point, these statistical approaches are limited. If we want to think about the medium to long term we need to be able to manage uncertainty.
The good news is that this isn't difficult. There are a whole range of techniques and approaches we can use. In Government, this is called 'horizon scanning' and every Whitehall department undertakes it in some form.
Since Jon Day's review of horizon scanning across government in 2013, ultimate responsibility for this strategic capability rests with the Cabinet Secretary. The Horizon Scanning Programme team support him, a partnership between Cabinet Office and the Government Office for Science which works with Communities of Interest and other relevant groups to identify emerging issues, trends, risks and opportunities for Government.
In this way, people at the centre of government can be confident they have a cross-Whitehall view of the issues shaping policy.
The work commissioned through these bodies is as diverse and varied as the challenges facing the Government. From working with Department for Work and Pensions and Department for Business, Innovation and Skills to explore the future of work in the UK, to understanding the forces shaping public trust in institutions, each issue that horizon scanners consider is both relevant to policy debates happening now and a crucial force in shaping the future of the UK.
And underpinning all this is a basic set of principles that every civil servant can follow. Let's consider the three most important.
The core principles of horizon scanning
The future is open, not closed
That means that, from our position in the present, there are multiple future possibilities ahead of us, not one pre-determined fate. That's good news for policymakers - it means we can make choices that change the future. And it means that there is always more than one route ahead of us, so the obvious choice isn't the only choice.
Perceptions and assumptions matter
Received wisdom and common-sense ideas about what can or can't happen lead to 'business-as-usual' thinking - even when the wider world is far from 'usual'. So if we want to be able to respond to change and complexity, we need to question our assumptions and set narrow thinking of what's possible to one side.
Speculation without action is a waste of time
By knowing when opportunities to act are approaching and which conversations they need to be in to make change happen, horizon scanners can make sure the policy implications of their work are followed through.
Scanning the future
So, how do we do all this?
There's a bewildering array of techniques available, but they all boil down to two key tasks: understanding the present better and describing the future credibly.
Evidence is vital for building a better picture of the present. Identifying the factors that shape society and using data to understand how these trends are moving, grounds our descriptions of the future in the latest scientific thinking. Of course, forecasts and projections are used every day in the civil service, produced by departmental analysts, government scientists and bodies such as the Office for National Statistics. Examples include the medium-term economic forecasts produced by the Office for Budget Responsibility, demographic projections from the Office for National Statistics, or carbon emissions from the aviation industry generated by the Department for Transport.
These are produced for factors that we know have an influence on policy delivery and for which we have reliable quantitative data. But the job of horizon scanning is to make sure that we identify and consider all important factors - and include issues in our thinking for which quantitative data is not available.
A technique called 'driver analysis' is useful here, for sorting forces driving change by impact and uncertainty. It allows a team to prioritise and assess the relative importance of these driving forces, distinguishing between high-impact, low-uncertainty events (such as an ageing population) and high-impact, high-uncertainty events (such as the impact of automation on our skilled workforce).
Working out how these factors might interact is another vital task for understanding complex policy area. Here, again, horizon scanning can extend the range of evidence analysts can work with, building on techniques such as systems modelling.
These tools help us to think about the different ways trends might interact, which is often useful in itself. But it's even more useful to take what we know about trends to create coherent accounts of different possible futures. Horizon scanners call these 'scenarios'. They help to manage and work with uncertainty, rather than trying to resolve it - which can give policy makers space to consider alternative courses of action and identify new opportunities.
Scenarios can be used in many ways. For policymakers, two of the more frequently-used techniques are 'windtunnelling' and 'backcasting'. Borrowing a metaphor from the automotive industry, windtunnelling involves testing a policy or project in the context of different possible future circumstances. By systematically evaluating how a planned action might perform in different scenarios, policymakers can form an idea of how resilient it is and understand the assumptions that must hold true for it to remain on a safe course.
Backcasting works backwards from a desired future state to map out the actions necessary to bring it about. It's a tool for building consensus around a shared vision and moving towards action. And working backwards from a preferred future can demonstrate that the changes needed to achieve it are not as substantial as people might imagine.
There are many other techniques developed over the years and expert futurists continue to develop new methods, drawing on the power of big data and new technologies.
Doing it yourself
The Horizon Scanning Programme team offers a range of ways for civil servants across government to learn more about horizon scanning and its role in making policy more resilient. Formal training from external experts is available through Civil Service Learning. The team co-ordinates a cross-government network of practitioners, sharing challenges, successes and new ideas. There is a Futures Procurement Framework, administered by UK Shared Business School, to make commissioning work easier. And the team regularly works with individual department teams to develop their horizon scanning capability, through coaching and workshops.
But, of course, you don't need a team of horizon scanners to start thinking about the future. What's coming up for you in 2016? What's fixed? What's uncertain? And what sort of possible futures await?
Horizon scanning in practice
So what does horizon scanning look like in practice? The outputs of this kind of work can have wide-ranging impact, from driving investment in new diagnostic techniques for infectious diseases (Foresight's 'Infectious Diseases' report, 2006) to allocating £35 million to developing new technologies for the 'internet of things' ('The Internet of Things: making the most of the second digital revolution', GO-Science, 2014). Current projects in government are exploring the future of the UK rail network (in the Department for Transport) and the role of machine intelligence in government decision-making (in the Government Office for Science).
For horizon scanning to be able to highlight new opportunities and to challenge established ways of thinking, it needs to draw on a wide range of perspectives, with contributions and expertise from across government. One recent example of this collaborative approach is the Futures Symposium, organised by the Horizon Scanning Programme, the Government Office for Science and Kings College. This two-day hands-on learning event brought together over 100 civil servants from across Whitehall with external futures experts and internationally renowned authorities from (among others) McKinsey Global Institute, OECD and the Economist to think about the future of productivity.
Groups worked with a wide range of evidence using established horizon scanning techniques to develop new policy ideas and perspectives on the challenges set out in the Productivity Plan, before presenting to a panel of senior representatives from HM Treasury and BIS.
Outputs highlighted the need to develop new skills throughout life, changes to the labour market through automation and the demographic pressures of an ageing society. The ideas developed included R&D mutual funds, pooling contributions from self-employed workers to invest in the development of innovative technology, 'OAP au pairs' to offset the costs of caring for older people and create new intergenerational ties, and a data-powered opportunity radar, matching jobs to education and experience.
None of these are likely to become policy, at least in their current form, but they challenge policy-makers to look again at the assumptions that shape their thinking. And colleagues across many departments have a new appreciation of the importance of increasing national productivity.