https://quarterly.blog.gov.uk/download-a-pdf-of-civil-service-quarterly-16/
Download a PDF of Civil Service Quarterly 16
This page contains a PDF version of Civil Service Quarterly 16.
Download the full March 2018 edition here.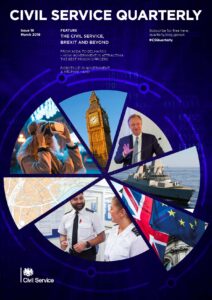 Each article is also published as a blog post. If you would prefer the blog versions, which may be easier to read on some computers, click on the individual titles below, where the articles will appear as they are published.
Brexit, the Civil Service and Beyond, Jeremy Heywood, Cabinet Secretary and Head of the Civil Service
Crossing the 'Valley of Death' - how we can bridge the gap between policy creation and delivery, Tony Meggs, Chief Executive, Infrastructure and Projects Authority
The CSQ Interview, with Dr Andrea Siodmok, Deputy Director, Policy Lab, Cabinet Office
Reflections on the first three years of the New Zealand Policy Project, Andrew Kibblewhite, Head of Policy Profession, New Zealand Government
 Parliament and the Civil Service, Rt Hon. Andrea Leadsom MP, Leader of the House of Commons
From Asda to Belmarsh - how government is attracting the best prison officers, Mark Adam, Prison Officer Recruitment Programme Director, Ministry of Justice
Robots lend government a helping hand, James Merrick-Potter, Head of the Cabinet Office Robotic Automation Unit, and Daniella Chrysochou, Robotic Process Automation Centre of Excellence
Why innovation is the key to growing the UK economy, Mike Biddle, Programme Director, Innovate UK
Location, Location, Location - tapping the economic potential of geospatial data, UKGI Digital Land Team
Accelerating innovation in defence and security, Heather-Fiona Egan, Defence and Security Accelerator (DASA)