The Cabinet Office Technology Transformation programme (COTT) has replaced the old, inflexible system with new technology that has opened up new ways of working. Stefan Czerniawski, Head of Corporate Strategy in Cabinet Office, explains how a user-centred approach is behind the successes of the programme.
I wrote this article on my work laptop linked to the Cabinet Office's wifi without a network cable in sight. It connects to the network instantly and automatically wherever I am in any Cabinet Office building. And I didn't need to be at work – it works just as well wherever I am, connected to the network pretty much wherever there is wifi (and if there isn't any wifi, my phone can link the laptop with the mobile data network). I can choose to share this – or any other document – with people I want to work on it with me and collaborate in real time, not sending comments back and forth, but watching the text change instantly on the screen in front of me.
The right tools for the job
A few years ago, it would have been unimaginable for most civil servants to write that paragraph about the IT they had to support their work. Now it's rapidly becoming unimaginable for many of us to work any other way. This is the story of how we have introduced new – and radically better – IT to the Cabinet Office over the last few months. But it's not really a story about IT. It's a story about an ambition to work differently and better. It's a story about using the explosive pace of change of IT to help us keep improving, breaking away once and for all from the cycle of expensive projects to replace technology that's ten years out of date with technology that's only five years behind the times. And it's a story about creating a modern civil service equipped with the right tools for the job.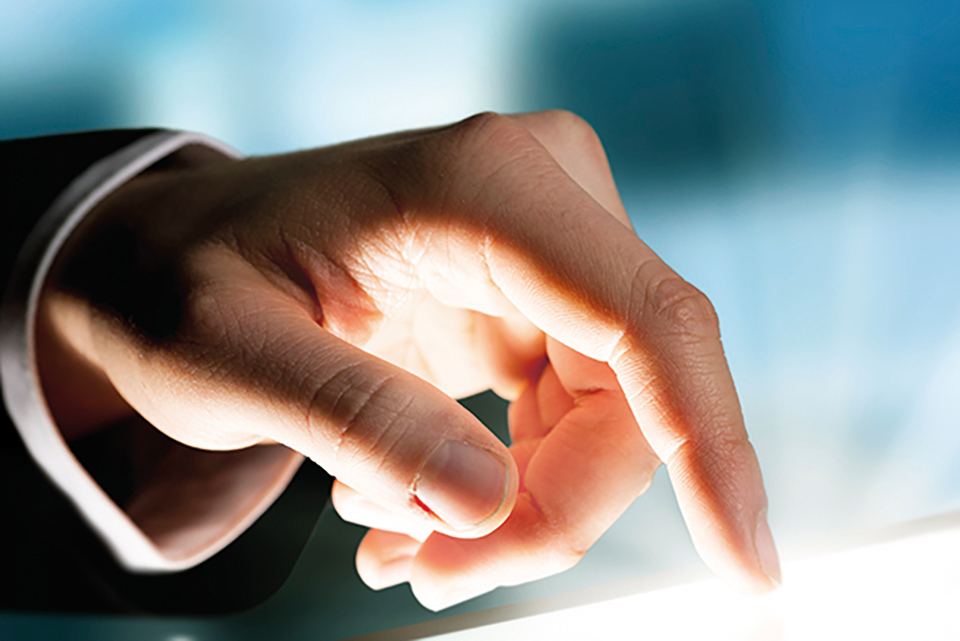 Frustration with inflexible and ineffective IT is not unique to Cabinet Office of course. It's one which many civil servants share. Nobody meant it to be that way, but it was the almost unavoidable result of the intersection of policies on technology, procurement and security. Attempting to define what we needed for years ahead, seeing security as the application of a set of rules rather than an outcome to be achieved, and focusing more on cost than on value, all contributed to a world in which the IT usually just about worked, but rarely seemed to work well enough.
Eighteen months ago, the end of the Cabinet Office outsourcing contract was in sight. There was a fundamental decision to make. We could go through another version of the process which had led to such dissatisfaction last time round. That was safe and relatively simple. Or we could start from the other end of the problem, by working out what people needed and building that in a way which allowed us to adapt quickly to changing requirements and the changing technology landscape. That was more complicated and required the reawakening of skills and capabilities which we had lost – but with the potential for being both cheaper and better in what it delivered.
It turned out that we were lucky in our timing. We were in the right place at the right time to do things differently. The work of GDS on public- facing services, bringing service design based on user needs, developed iteratively through agile techniques had created precedents we could expand and build on. The changes to the security classification system in April 2014 shifted the focus from detailed compliance with restrictive technical standards to understanding risks and threats and ensuring that we had the right level of security to defend against them. And we had strong and sustained personal leadership and commitment from Richard Heaton as permanent secretary.
Understanding users needs
The starting point wasn't the technology at all. Instead we began by talking to users and understanding their needs. What work did they do? Where and how did they want to do it? What sort of things did they actually want to do with technology? What sort of devices would suit them?
The frustrations about the old systems came through loud and clear. But more positively – and more importantly – there were clear messages about what we all wanted to be different:
We wanted much more flexibility in where and how we worked, both within the office and well beyond it.
We wanted to collaborate much more effectively, sharing documents, conversations and information seamlessly and instantly.
We wanted to be treated as adults, not trapped in a locked down world where useful tools and sites were blocked.
We wanted to be ready for the unknown: ways of working are changing fast, and we need our IT to keep up with us, not hold us back.
We set out to turn those ambitions into reality. We needed technical expertise and a deep commitment to meeting users' needs, but crucially we needed to restore our long-lost ability to manage and develop our own working environment. So with the encouragement and strong support of our colleagues at GDS, we set up the Cabinet Office Technology Transformation project – rapidly becoming known as COTT. We started with a single focus on Cabinet Office itself, but soon realised that our close neighbours DCMS and the Crown Commercial Service had very similar needs and that we would all be better off if we worked together on a single solution. Across the three organisations, over three thousand users have moved onto our new system since October last year.
From the outset, we established a series of principles for the project. We would favour short contracts, transparency and flexibility. We would strike the right balance between security and usability. We would never forget that the point of better IT is to help us work better and that we were planning for a future where digital skills are at the heart of the organisation.
Making things simple is hard. We were building not just a system from scratch, but the teams to build and then support and operate it as well. We brought in people who combined deep expertise and experience with boundless enthusiasm and energy to form the core of the project team, and got to work. There were seemingly endless challenges to overcome, big and small. It's not easy to put pervasive wifi into listed buildings. It's harder to keep track of dozens of small procurement exercises than one big one. It's tough to ensure that authentication and security (to say nothing of legality) are robust when using a cloud-based provider (in our case Google Apps for Work) for applications and data. And so it went on.
A flexible and modular system
But the payoff for persevering is huge. We have a system which is much more flexible and much more responsive to people's different needs. We can choose the laptop which best fits our prefered working style – with the choices running roughly half and half between Macs and Windows. We can choose where to work without worrying about network cables – or being in the office at all. We can work with others, not through soul-destroying trails of emails stretching over days but through immediate shared focus on producing work together in real time. We can talk to each other in all the old ways, but just as easily by immediate videoconferencing. Less obviously to users, but at least as importantly, we have designed and built the new system to be flexible and modular. We can change one element or one supplier without changing everything – which means that over time we can change and update the whole without ever needing another big disruptive project to do it.
The journey wasn't always smooth. Rolling out new technology for thousands of busy people is no easy task, and there will always be problems to iron out, as we discovered. But the alternative is to fall further behind and to be trapped in ways of working which just don't let people work efficiently. There are real costs in not changing – and there are some very hard savings from making the switch. We're expecting to see a 40% saving in the cost for each user. Ours will be one of the cheapest IT systems in Whitehall.
Like so many other digital projects around government at the moment, this one boils down to a very simple approach: understand your users, understand their needs, then build something that meets those needs.
Our users happen to be civil servants who want to do their work. Our job was to give them the tools to make that as straightforward and as hassle- free as possible. The old IT was a barrier; the new technology is a toolkit. I'm really excited about what it will help us do.