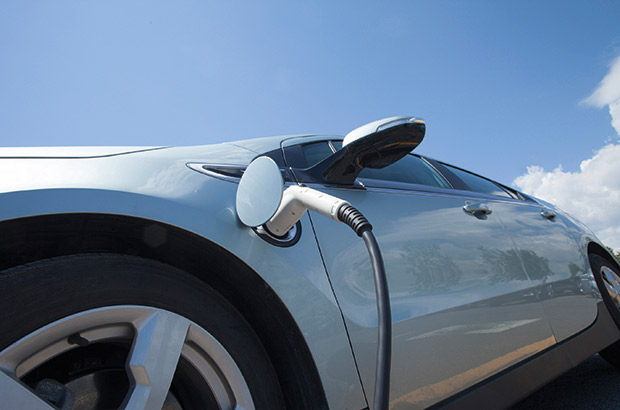 What cars will we be driving tomorrow? Richard Bruce, Head of the Office for Low Emission Vehicles, thinks he knows the answer.
Did you know that for a number of years in the early 20th century New York City had a 1,000 strong fleet of electric taxis? Or that the four stroke internal combustion engine, omnipresent under the bonnets of most of our cars today, uses processes invented by Nikolaus Otto way back in 1876? The early part of the 20th century saw tremendous innovation around personal transportation and, although few may have noticed, we are now well into the early stages of a similar revolution in the technology that powers our vehicles.
My team, the Office for Low Emission Vehicles (OLEV), exists to help make that change happen as fast as possible, and to help deliver the greatest benefits to the UK economy when it does happen.
Ultra-low emission vehicles
If you talk to any major car company, their product plans will show a consistent trend: increasing numbers of hybridised and electrified vehicles. Partly this is due to companies responding to customer desires – such as ever lower running costs. But there's no escaping that the prime driver is regulation: consistent, stiff, global regulation of the emissions from cars. Countries around the world are looking to clean up their cities in the face of burgeoning urbanisation. Poor air quality costs the UK around £15 billion a year and compared to Beijing our air is a paragon of cleanliness. Countries are also looking to reduce their dependence on imported oil and to hit their carbon targets. All are also interested in maximising the benefits to their own economies from this incipient technological revolution.
For the UK, a new generation of ultra-low emission vehicles now offer low or zero emissions at the point of use. And despite what you might hear on Top Gear, this isn't undermined by the fact that the electricity in electric cars may be generated by burning fossil fuels. Electric motors are spectacularly more efficient than equivalent combustion engines, which have overall efficiencies of only around 20–30 percent (so, for every £10 you put in the tank, only around two to three pounds is actually helping you move forward – the rest is lost in heat and noise). You need less total energy to move an electric car because it's so much more efficient and as the power grid in the UK decarbonises, so electrified vehicles will become relatively cleaner and cleaner. The efficiency benefits also mean startlingly low running costs. You can drive 100 miles on electricity for as little as £2.
So, in the context of worldwide pollution targets and regulation, the shift to ultra-low emission vehicles is inevitable. This transition presents huge commercial opportunities for car companies and their suppliers. It is also a significant economic moment for the UK, if we can get ahead of the curve. Nissan currently builds its LEAF electric vehicle in a plant in Sunderland. If the UK market for ultra-low emission vehicles grows ahead of competitor markets, we are more likely to attract inward investment, creating jobs and boosting the UK supply chain. If we can help UK companies develop the technology that will underpin cars for the next 100 years then we can position the UK to fully exploit this transformation with long-term strategic benefits.
The car sales people of Government
Several strands of policy meet here: growth, skills, transport infrastructure, the environment. The cross-cutting nature of this agenda isn't unique in Government, but OLEV has been constituted in a fairly unusual way. Rather than run the risk of the Department for Transport (DfT), the Department for Business, Innovation and Skills (BIS), and the Department of Energy & Climate Change (DECC) pulling in different directions, staff from all three departments make up OLEV. We might physically sit in the DfT, but we also report to a Minister from BIS.
Perhaps the best thing about this arrangement is that our stakeholders, on the whole, love it. We give them a one-stop shop for talking to Government and helping shape policy, rather than making them go from department to department. And this helps us in turn, because our goals and the goals of industry are very closely aligned.
The car companies who invest in research and development and bring the cars to market, have sunk costs in the vehicles and factories. They want to sell as many of these cars as they can. And we want them to sell as many as they can for all the reasons listed above. We're in it together. Every month we peruse the sales of the growing number of ultra-low emission vehicles, looking at steadily increasing demand and pondering which models are going to be the biggest sales hit. It's a pretty unusual civil service role.
Miscalculations and hostile media
The UK Government knows this change is inevitable, and so do car companies. But public awareness is still low and the media remains generally hostile.
OLEV started this Parliament with £400 million to support the move to ultra-low emission vehicles. As recently as mid-February 2014, the Daily Telegraph reported that "A Government drive to boost sales of electric cars is failing as ministers admitted only half of the available subsidies for "plug-in" vehicles are likely to be claimed by motorists".
Initial projections and budgeting were based on the car companies' estimates of how many units they would sell, which turned out to be wildly optimistic. There are other issues as well. For the first few years very few cars were available. If you wanted to buy an estate to fit the dogs in the back, or an a sports utility vehicle you had to buy a petrol or diesel car. That's now changing, with manufacturers bringing a wider range of vehicles to market.
And there have been significant issues with negative media. This is reflected in stories, even if they're apocryphal, of journalists borrowing an electric car, driving it round off-camera to run the battery down, and then filming it running out of battery. But reviews from the specialist press are far more nuanced now, even though they often have a 'But...' at the end. The Tesla Model S has been good for the perception of ultra-low emission vehicles. It's expensive; but can go 300 miles on one charge, is faster than an Aston Martin, and even updates itself over a 3G network.
Charging infrastructure is another issue. All the evidence shows that people will charge their cars at home or at work (99 percent of all car journeys are under 100 miles) but prospective customers have 'range anxiety' and want to know that there is a publicly accessible charging network out there. The 'chicken and egg' question is how much bigger a network is required than the 6,000+ charge points OLEV has funded to date. Plug-hybrid cars, which many manufacturers expect to be best sellers, can have ranges of up to 600 miles, and don't need any public infrastructure to make longer journeys.
But overall, it's clear that this technology will only become normal when people see their neighbours plugging their car in to charge, see their colleagues driving one to work, or their friends booking a test drive. The challenge is getting them in the cars in the first place.
The fact is, when anyone does, they say two things. They say 'It's just a car isn't it?' And they say 'Isn't it smooth, quick, and quiet and nice?' We had a great tweet from someone who runs a taxi firm with electric cars in the North East. Two people he had in the back of his electric taxi liked it so much, they decided to go and buy one themselves.
That's why we sat down with car companies and suggested we collaborate on communications, to address some of the chronic misconceptions about this technology in the minds of both the media and public. Nissan, Toyota, Vauxhall, Renault, and BMW have all contributed large amounts of money to back our new Go Ultra Low campaign. The process of getting five disparate car companies, who have very different brands, who are used to doing their own marketing in their own particular way, to agree on a single campaign has been an interesting challenge and took the best part of a year.
The campaign sees a range of press advertising, radio adverts, digital display and PR activities throughout 2014. This is all supported by a new website – www.GoUltraLow.com – to help car buyers understand what these vehicles are all about, which one is best for them, what innovative technologies the cars use and how they can save them money on running costs.
The tide is turning. We gave out 600 percent more in subsidies for new cars in January 2014 than we did in January 2013. So, despite what the media might suggest, this isn't a failed policy. In fact it's just a long term policy and one whose importance has been recognised in the recent spending review: we were allocated a further £500 million between 2015 and 2020 to maximise the benefits from this transition for the UK.
Cross-departmental working
We're sometimes seen as the poster boys of cross-departmental working. Not many teams are made up of staff from three different departments. But how does it work?
There's a really strong identity and culture in the team. The people here identify with, and are interested in, the agenda, are very motivated by the work and they work really hard. It's a tightly-knit group, and we have a lot of fun together.
If there's a downside to that strong identity, it can be a degree of separation from our departments. Staff tend to feel loyal to OLEV first and foremost; and there's a danger of seeming sealed off from parent departments. Recruitment can also be an issue – some people can be reluctant to leave their home department, physically, because they feel that visibility has a big impact on their career prospects. Personally I don't agree – in my view we should just try to do interesting, good work; if you're interested in your work you'll do a good job; and if you do a good job, people will notice you. But this can be a challenge when we're trying to attract people – we didn't have a staff member from DECC for almost a year, for example. There can also be challenges around departments sometimes downgrading their own efforts on this agenda because of the existence of a joint team and around some of our contributor departments occasionally forgetting that actually we work for them too.
My staff have line managers in their departments, and it's important that they keep going back to their home offices, to stay plugged in (sic). Part of their value to OLEV is that they can access their departmental networks; and if they didn't, then that would a problem. So, for example, our DECC guy makes sure he spends at least one day a week physically with his old team, finding out what's going on and talking to them about what we're doing.
From my perspective, this is the job I joined the civil service to do. I'm really interested in this stuff. Ultimately, if you could work in an area that's going to clean up our towns and cities, help create British jobs, position the UK in the forefront of a coming technological revolution, improve energy security, and help us hit our carbon targets, wouldn't you jump at the chance?
Don't forget to sign up for email alerts from CSQ
---
Other CSQ articles you may be interested in:

Catapulting new technologies from idea to reality
International oil and gas – a new paradigm