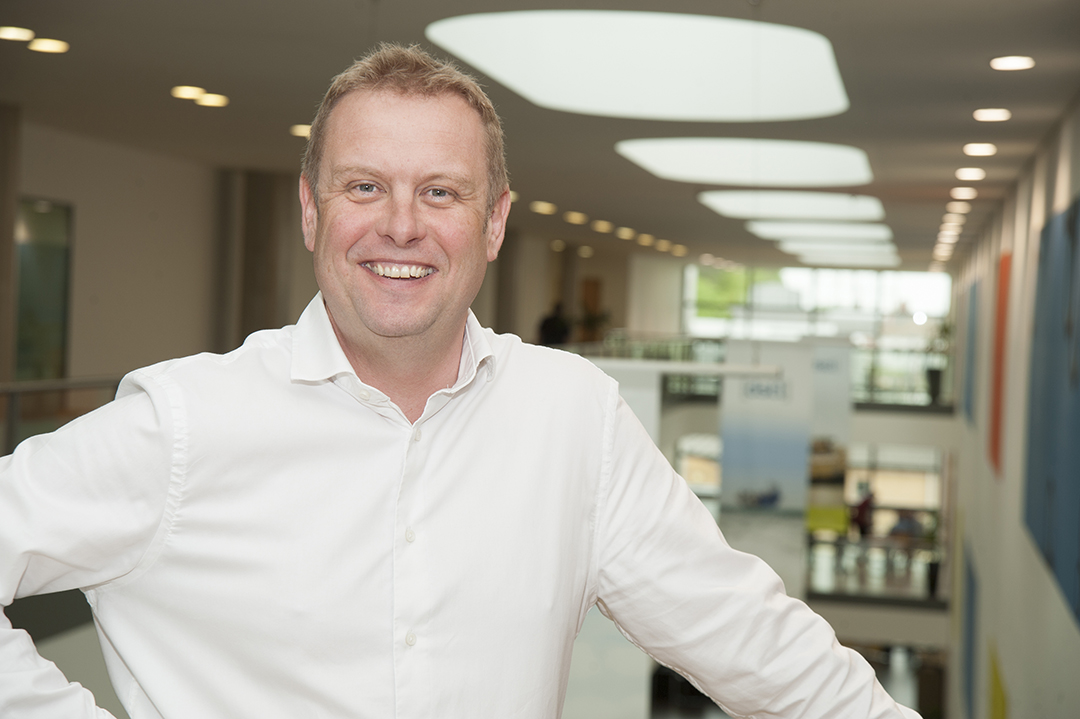 Pete Thompson is Deputy Chief Executive of the Defence Science and Technology Laboratory, a government agency that applies science and technology to the defence and security of the UK. How did he get there?
I've had a varied and interesting career so far. But it could so easily not have happened.
Leaving university in 1992, having just completed the research for a PhD but still struggling to finish the write- up, jobs were hard to come by – or they were if you wanted a career in science and weren't looking to stay in academia.
I got lucky by getting an interview through the "milk round" (a process where graduates left their details with prospective employers at recruitment fairs).
However, having prepared for one type of job in "the Ministry", when I turned up at the interview it seemed they were looking for specific skills in another area. Thinking on my feet, I nodded politely at the point when they check you are at the right interview, then spent the next 45 minutes extolling the virtues of being a broader systems-level thinker and not an expert in "ion mobility spectrometry"! Bingo – that was what they wanted! As I've come to learn over the years, few things in science and technology for defence or security are exactly what they say on the tin.
I spent the next five years applying niche technology ideas to national security challenges, supplying "kit" for use in the field the very next week. Often it would come back broken, which taught me that clever technology is only part of the story.
During that time I worked with some folks who have gone on to do some pretty special things including someone who, in 2013, led the team that provided the key chemical analysis to support the government's policy on Syria.
Malvern and the Mojave
My early career, in what was then the Defence Research Agency, later the Defence Evaluation and Research Agency, was at two of their sites in Dorset – both of which have since closed as government labs. After the Defence Research Agency, I moved to Malvern in Worcestershire to take a promotion, becoming what I would now describe as something between a project manager and programme manager. Not being an expert in remote sensing of the battlefield (spotting tanks under trees using radar, and things like that) I brought little technical background to the area; but found a niche in helping world-class scientists focus on the customers' needs (rather than the sophistication of the science).
By 2000 I found myself in California, assessing sensors on board Predator Remotely- Piloted Air Vehicles - now regularly in use in Afghanistan. Flying alongside one over the Mojave Desert in a four-seat aircraft, possibly one of the first Brits to do so, was one of many memorable events in my career. A year later, following 9/11, I was leading a team trying to bring remote surveillance techniques into service in Afghanistan to help find the perpetrators of the events in New York and Washington. We worked with colleagues in the U.S to get "tech" to the front line quickly, and we succeeded. We got an enormous sense of the impact technology can have if you get it into in the hands of the right user at the right time. As a result of this work the whole team received a Meritorious Citation from the U.S. Government.
Dstl and counter-terrorism
By now the organisation I had joined in the early nineties had become the Defence Science and Technology Laboratory (Dstl) and I moved to take on wider management responsibilities across the organisation. Big Data, as it is known now, was merely medium or maybe slightly- oversized data in 2008; but I became increasingly motivated to apply it to specific security challenges. We wanted to move away from having to ask "Something bad has happened, what do we do?" to stopping the bad thing happening in the first place by making the best use of all kinds of information. This led me to become Head of the Counter Terrorism Science and Technology Centre within MOD. This was an interesting job, as most of the science and technology community in the MOD, as well as the rest of government, were unsure of our role. I had 8 months to turn it round. That doesn't sound very long, but given the quality and drive of most of the people in the Centre it wasn't as difficult as it might sound. We worked out who our 3 or 4 key senior stakeholders were, identified what they wanted from us and then went all-out to give it to them.
We created an innovation lab (Google may have been just ahead of us at the time). This was all about having a different work environment: the soft furnishings and walls you could write on were just part of encouraging a different mind-set to problem solving, and to making breakthroughs on the most difficult issues. For me innovation occurs at the interface between seemingly disconnected disciplines, and enabling those conversations away from the laboratory or computer was a way of achieving that. At our innovation lab we pursued emerging technologies for numerous counter terrorism activities. I remember watching a screen with two of our team "tweeting" messages to each other and tracking them across London, whilst reading what they were saying. Quite advanced for the time.
We also led a transformation of how we approached countering Improvised Explosive Devices (IEDs). Instead of focusing on how best to deal with the device once it was in place and ready to cause injury and damage, we focussed on how to stop it being there in the first place; or, if it was there, how to detect it before we got anywhere near it. This was a real example of making the best use of data and information we had available. We took people who were experts in their field but knew nothing about this subject (I had some previous on this...), and asked them what they would do.
By early 2009 we had taken the IED challenge to as many people inside and outside of government as we could, seeking the inventors in their garage as well as industry experts, leaving no stone unturned in seeking to prevent the deaths of servicemen and women and injuries in action. One team, 12 months, 8 companies contributing 1 technologist each, no Intellectual Property issues or commercial drivers: Dstl scientists and military personnel all working together towards a single goal.
By then I was overseeing Counter-IED Science & Technology across MOD, and leading our Support to Operations activities for Dstl as part of my role as a Programme Director. Support to Operations is a catch-all for the embedded civilian support Dstl provides to the military in times of conflict and crisis. Since 2002, we have deployed 670 posts in the various operations we support. A typical period in the field can be four months, and during that time our scientist will advise the operational Commander, often reaching back to the lab and our wider innovation network (including academia and industry), to provide technical advice in the field within hours. For example, Felicity Brantingham, one of our scientists, has been to Afghanistan three times in different roles, and is keen to go there again. She worked on a project that could only have happened because of the commitment to invest in certain key technologies that we believed would have an impact on operations in the future. The future came a bit quicker than we expected, but with strong international collaboration we were able to rapidly field both smart scientists and technologies that helped to remove many of the precursors to IEDs from the battlefield before they became bombs.
What next?
I spent a hugely informative year in Whitehall, contributing to Defence Reform and leading the science and technology contribution to a White Paper, National Security Through Technology, before taking on my current role as Deputy Chief Executive of Dstl. The current role encompasses organisational and technical strategy for the lab, bringing together technical and people issues, communications, strategic relations, governance and assurance.
The last three years have been a necessary learning curve, as we wrestle with financial challenges, a shrinking Civil Service and our desire to operate successfully at the centre of an innovation "system", working with the best of the best in industry, academia, other government labs and international partners. Working internationally, both to support UK interests abroad as well as accessing technologies and systems not available in the UK is incredibly important and something I am proud to contribute to. It takes me to exotic sounding locations around the globe, but usually only to spend long days in facilities with no windows.
What next? The future is less predictable than ever before, and there will be even greater reliance on technology for Defence and Security. Dstl must be at the centre of that system to meet our customers' needs and access the best technical solutions.
From that first interview in 1992, I've recognised the importance of agility and seizing opportunities as they arise – I will encourage my people to do the same, and will continue to do so myself as I continue to develop my fascinating career as a Senior Civil Servant.
Don't forget to sign up for email alerts from CSQ
---
Other CSQ articles you may be interested in: