The UK is one of the best places to set up and grow a business, says Marian Sudbury, Director of Global Investment Operations at UK Trade & Investment. Working with partners across the private sector, UKTI is spreading that message throughout the world, targeting established entrepreneurs, financiers and the next generation of high fliers.
Britain has a long and proud history as a hothouse for successful entrepreneurs. As well as supporting the country's home-grown business stars to export, UK Trade & Investment (UKTI) is stepping up its efforts to spread the net further through a global hunt for entrepreneurial talent.
At the forefront of these efforts is the Global Entrepreneur Programme (GEP), an initiative launched some nine years ago with the aim of luring early stage technology businesses to the UK.
At the time they are approached the target businesses are typically generating less than US$1 million in sales, are not yet profitable and have fewer than ten employees. What they all have in common is the potential for dynamic growth.
"The GEP was established to broaden the UK's entrepreneurial gene pool and to bring technologies of strategic importance and high growth potential to this country," explains Derek Goodwin, Deputy Director for Investment at UKTI and one of the architects of the programme.
Public/private partnerships
GEP is a genuine partnership between the public and private sectors. Derek's team in UKTI's London headquarters numbers three people, supported by staff located in a network of overseas posts. These civil servants work hand-in-hand with a group of 13 entrepreneurs from the UK corporate sector who act as 'Dealmakers', scouring the world to find suitable entrepreneurs and encouraging them to relocate to the UK.
Derek continues: "When we launched GEP it was an innovative move for Government to try to get involved with entrepreneurs. We knew it was essential that we could speak their language, so we reached out into that community to find people who could become our Dealmakers."
Alpesh Patel is a Dealmaker responsible for India, China, Malaysia and Singapore. He says: "My background is as a barrister turned entrepreneur, establishing my own hedge fund asset management company. The experience of Dealmakers in business, their extensive networks, and their knowledge and experience of raising capital, performing due diligence on investments and closing transactions all add hugely to their work.
"Experience shows that the embedding of private sector specialists in Government can be highly successful."
Successful track record
Bluewater Bio is one of numerous GEP success stories. The company is an ambitious water purification specialist that has established its global headquarters in London. UKTI's ongoing support
helped the company to secure a lucrative contract with the Bahrain government, which in turn prompted a £21 million investment from that country's sovereign wealth fund.
This has been the trigger for a significant expansion in the company's activities: revenues leapt five-fold (to £10 million) in the year to June 2013 and it has expanded elsewhere in the Middle East as well as to South Africa and the USA.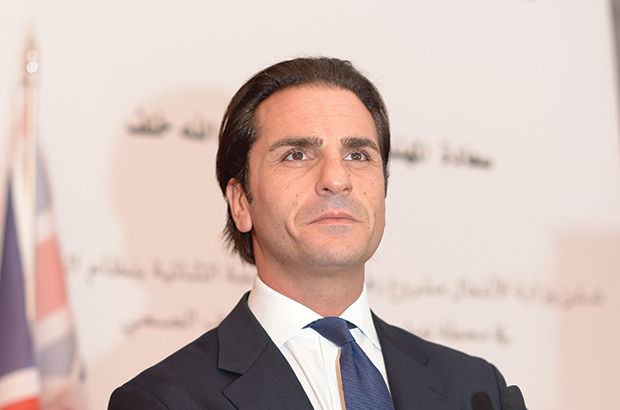 In a letter to Prime Minister David Cameron, Bluewater Bio CEO Daniel Ishag wrote: "The support we have received from UKTI, and in particular the Global Entrepreneurs Programme, in securing high level, relevant commercial introductions, has been crucial in fuelling the growth of my company. We could not have built our business and stakeholder base to such an extent without the UKTI GEP."
To date, more than 320 entrepreneurs have relocated their operations to the UK or expanded them within the country as a direct result of GEP. Of this number, some 250 have done so in the past four years alone – an indication of how the programme is scaling up.
This has delivered major benefits to the UK economy. In total, the GEP has created some 2,000 high-quality jobs, raised more than £1 billion in equity financing and generated substantial – and growing – export revenues.
Beyond the purely financial perspective, the combination of the UK's indigenous entrepreneurs and the overseas arrivals has, Derek believes, created a dynamic eco-system for innovative and disruptive technologies, as well as providing role models for graduates coming out of UK universities who are looking to get into the tech sector.
Nothing ventured
Financial support is absolutely crucial to early stage businesses. The UK is already home to a sizeable venture capital industry, which provides investment finance to high risk, high potential start-up companies.
Now UKTI is aiming to augment the domestic supply of venture capital funding by seeking out additional revenue streams from the United States, Japan and other major centres of venture capital activity.
In order to achieve this, a dedicated Venture Capital Unit has been established within UKTI. Unit Head Chris Hopkins explains that the unit's role is to identify UK start-ups that are suitable for venture capital funding and connect them with potential investors overseas.
As with the GEP, much of this work is done by private sector entrepreneurs, some of whom are focused on the task of finding suitable start-ups and the rest are engaging directly with potential investors around the world.
"It could be thought of as a sophisticated dating service," says Chris. "We also want to tell the broader story of what's happening in the UK venture capital market, in particular educating overseas investors about the new breed of Venture Capital funds run by successful entrepreneurs."
An early success for the Venture Capital Unit is encouraging TechStars, a seed funding and mentoring specialist that bills itself as the world's number one start-up accelerator, to choose London as a base for its first operation outside of the United States. The company brings with it a wealth of experience and smart money which will benefit the UK's tech scene for years to come.
TechStars Founder and CEO David Cohen said of the move: "I've visited London many times over the last four years. Something feels different now. The energy of the start-ups, and the problems they're solving here, is strong. I see mentors working together to help the next generation of start-ups. All of the signs that the start-up community here is starting to come together are present."
A lot of this positivity can be attributed to the stratospheric rise of Tech City, the UKTI- supported technology cluster located in East London that is now home to several thousand tech-related start-ups. A number of these are alumni of the GEP, including London Brand Management, which relocated to Tech City in October 2012 and now employs 20 people. It creates artificial intelligence and mobile communications technology solutions, and counts BMW Group UK among its clients.
Catch 'em young
In September last year a new entrepreneur-hunting initiative was launched by UKTI. Sirius – named after the brightest star in the sky – aims to inspire high potential graduate entrepreneurs to choose the UK as a base from which to develop their first business.
Its centrepiece is a competition that invites young entrepreneurs to submit online business concepts that will be judged by a panel of experts. The winning plans will earn their developer(s) an invitation to join one of the UK's established accelerator programmes. The prize also includes ongoing mentoring and a financial contribution towards living expenses.
The first seven start-ups to gain a place were announced in December 2013. They are made up of 19 young entrepreneurs from 13 countries including India, China, Italy, Germany, Canada, Kenya, New Zealand, and Nigeria.
Their business ideas and inventions include: a one-of- a-kind way of creating green energy by converting waste coffee grounds into biofuel; a low-cost, portable, remote smartphone battery charging solution; and a fraud-reduction device that enables consumers to instantly verify whether a branded product is counterfeit via their mobile phone.
Tim Brown is a former professional footballer and now co-founder of ToBe, one of the start-ups that will launch in the UK as part of the Sirius Programme. He said: "We're delighted ToBe has been chosen as one of the first start- ups to be part of the Sirius Programme. It's the perfect opportunity to help us fulfil ToBe's ambitions. Being based in the UK will enable us to start up and develop alongside like-minded entrepreneurs and gain access to world-class strategic advice and support. We can't wait to meet our Sirius Programme mentors, the accelerator team and to get started."
More than 160 aspiring entrepreneurs from over 30 countries around the globe entered the first round of the programme, a highly satisfactory start, according to Campaign Director Paola Cuneo. She notes: "We're delighted with the success of the first round. This is testament to the effort that's been made to spread the message to our target audience, as well as to the UK's appeal as a destination for ambitious entrepreneurs. Judging is now under way for the second round of entries which closed on 15 January."
Just as pleasing to Paola is the support the initiative has received from the business sector. Representatives from major corporates such as Barclays, Amazon Web Services and Cisco are helping to judge the entries, while the programme's advisory group contains notable entrepreneurs including Neil Ricketts, CEO of advanced materials specialist Versarien, winners of UKTI's Start-up Games in 2012.
The programme has also received strong support from other areas of Whitehall. For example, the UK Border Agency has created a new entrepreneurs visa specifically for use with Sirius, with UKTI endorsing the business plan competition winners for the visa.
The message delivered by all these programmes is clear: the UK is open for business. Working in partnership with the private sector to sow the seeds of success, Sirius, the GEP and the Venture Capital Unit can all play their part in helping to deliver a rich harvest for the UK economy.
Don't forget to sign up for email alerts from CSQ
---
Other CSQ articles you may be interested in:
The Centre for Social Impact Bonds
Alex Ellis talks about his experience improving policy making in the FCO