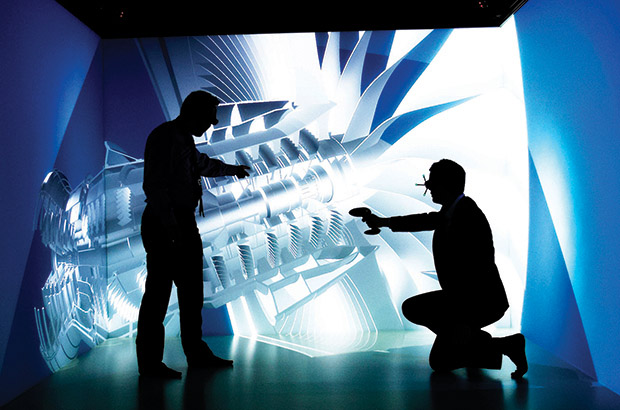 To compete successfully in tomorrow's global knowledge economy, technological innovation is vital. James Easey from the Technology Strategy Board explains how £1.4 billion of public and private investment is helping the emerging network of Catapult centres shape this country's innovation landscape.
"With over £1 billion of private and public sector investment, Catapults are driving jobs and growth across emerging technology areas such as High Value Manufacturing, Cell Therapy and Transport Systems. Through our Industrial Strategy the growing network of Catapults are working alongside businesses, helping them to commercialise new innovations and turn their ideas into reality. That is why we are continuing to invest in them with two new Catapults planned in Stratified Medicine and Energy Storage that will help boost innovation in the UK and beyond."

Vince Cable, Secretary of State for Business, Innovation and Skills
In his influential report published four years ago, The Current and Future Role of Technology and Innovation Centres in the UK, technology entrepreneur and venture capitalist Hermann Hauser argued that there was a gap between business, the research community and Government in the UK. This gap was hindering knowledge exchange and making it harder for interesting new concepts to become commercial successes.
As Hauser so clearly stated: "The UK has a science capability second only to the US: an undoubted source of competitive advantage. However it falls short on translating scientific leads into leading positions in new industries."
The solution that Hauser put forward was investment in an elite group of Technology and Innovation Centres that would exploit the most promising new technologies, where there was genuine potential for the UK to gain a competitive advantage. He pointed to international examples where countries' industrial bases have benefited greatly from similar infrastructure investment, such as Taiwan, Germany, South Korea and the Netherlands. In Taiwan, for example, Hauser says the establishment of the Industrial Technology Research Institute has been inextricably linked with the development of its semiconductor industry.
Catapult centres
The Hauser Report gained widespread acceptance, and new centres were announced by the Prime Minister in 2010 to serve as business-focused intermediaries, intended to bridge the gap between business and universities.
Chief Executive Iain Gray and his team at the BIS-funded Technology Strategy Board, were ready to turn the PM's announcement into reality. "As the UK's innovation agency, we were very keen to drive forward the Catapult initiative, which offered a high degree of synergy with our other activities that stimulate and support innovation for the benefit of UK businesses," said Iain. "From the very start of the process we worked closely with business, academia and researchers to shape the proposals for the new network of elite technology and innovation centres. We engaged more deeply than ever before with these key stakeholders, involving thousands of people in a very short space of time. I believe that these strong partnerships we forged during this period are absolutely critical to the long- term success of this exciting programme."
These 'Catapult centres', so called to express their energy, direction and sense of purpose, are physical centres for innovation, helping to turn great ideas into reality. They provide easy access to the kinds of world- class research and development facilities and expert staff that would otherwise be out of reach for many businesses in the UK. Each Catapult is focused on an area in which the UK has genuine potential to generate growth in strategically important global markets.
The Technology Strategy Board, sponsored by the Department for Innovation and Skills, provides core public funding for long-term investment in infrastructure, expertise and skills development. However this is only one source of investment. Over time the centres expect to receive broadly equal funding from business-funded research and development contracts, won competitively, and from collaborative research and development projects, funded jointly by the public and private sectors, also won competitively. The Catapults programme represents over £1bn of private and public sector investment over the next five years.
This funding model is similar to the well established network of Fraunhofer institutes in Germany, first set up in 1949 and now comprising a network of 60 institutes that play a vital element in Germany's industrial and scientific landscape. There is one clear difference: whereas the Fraunhofers are linked to a single university, with a lead professor in charge, the Catapult centres have been established as independent, business-led organisations with leadership teams drawn primarily from industry.
This important distinction fits the reality of the UK innovation landscape, where the centres are business-focused, with the expertise and capacity to maximise the potential commercial benefits of their technologies, working closely with the UK's world-leading research base.
Sir Andrew Witty's 2013 review of universities and growth delivers a strong message about the role of universities in the economy. Simon Edmonds, Director for the Catapult Programme, comments: "The Catapult network is well placed to help deliver aspects of the Witty Review and the network is committed to stepping up their engagement with the research base.
"We've got an excellent foundation to build on as there is a huge amount of research base collaboration going on already. Each one of the Catapults has top-level representation from the Higher Education/research sector either on their boards, within their teams or advisory groups. Now is the right time to extend and deepen these links as the capabilities in the seven centres continue to increase."
A good example of existing collaboration is the Cell Therapy Catapult's work with Loughborough University. The two organisations are developing robust processes and new manufacturing and delivery techniques, removing the barriers associated with turning cell-based therapies into products, and providing training and skills development. David Williams, Professor of Healthcare Engineering at Loughborough University, said, "The Cell Therapy Catapult is playing an important role in making the UK cell therapy industry a world leader, and the university is pleased to establish this relationship. As new manufacturing technology is developed collaborations like this will help grow the sector and ensure that our research is informed by the needs of the industry, as well as providing training and employment, helping the university and the EPSRC (the main UK government agency for funding research and training in engineering and the physical sciences) meet many of their aims."
High Value Manufacturing Catapult
The most established Catapult is High Value Manufacturing – itself a network of seven technology and innovation centres spread across the UK, employing 1,100 engineers, technicians, scientists and other staff. Its administrative hub is run by a core team of eight full-time and part-time staff, based in Solihull.
Over the last 12 months the Catapult has run 857 projects with 1,087 private sector businesses in areas ranging from development and testing of materials and products to designing and implementing manufacturing process improvements. The Catapult engaged with over 1,600 small and medium-sized enterprises (SMEs) during this period. With an innovation order book in excess of £218m, industry demand for the services of the High Value Manufacturing Catapult is clearly strong.
For example, the Centre for Process Innovation has been helping Plaxica, a spinoff SME from Imperial College London, specialising in the production of bioplastics — plastics made from natural feedstock such as sugar — and cellulosic-based materials. Plaxica's aim is to reduce the reliance upon oil-based products by using processes that are more sustainable and environmentally friendly. The Centre for Process Innovation support included development and scale-up of the production process from bench to pilot- scale, laboratory facilities and extensive technical and analytical support. Plaxica now run two laboratories from the Centre for Process Innovation's Wilton centre and have recently launched their own pilot plant at Wilton.
A joint team from Rolls- Royce and the Manufacturing Technology Centre has also been working to develop a new pre-production process for Advanced Blade Casting. The team has achieved significant productivity improvements and, as a result, an Advanced Blade Casting Facility is currently under construction for Rolls-Royce at the Advanced Manufacturing Park, Rotherham, on the site of the old Orgreave Coke Works. When completed this facility will employ 150 staff and deliver 100,000 castings a year.
Steven Halliday, Rolls-Royce Partnership Co-ordinator, said: "Rolls-Royce were involved in the very earliest stage of the High Value Manufacturing Catapult. We were very strongly supportive of turning the existing UK manufacturing research centres into the first Catapult. We saw the Catapult as a key catalyst for collaboration between business and the research community, and for the growth of the existing UK manufacturing research base. It is important that High Value Manufacturing businesses can access industry- scale equipment and processes away from the pressure of our factories, in an environment where we can research, trial and develop."
Six centres have been established so far in addition to the High Value Manufacturing Catapult: Cell Therapy, Offshore Renewable Energy, Satellite Applications, Connected Digital Economy, Future Cities and Transport Systems. A further two centres will also be created, focusing on energy systems and on diagnostics for stratified medicine, opening in 2015.
The Technology and Strategy Board believes that more and more businesses, large and small, will be able to benefit from access to the Catapult centres in their sectors. The Cell Therapy Catapult has announced significant collaborations with organisations such as ReNeuron, one of the UK's leading cell therapy companies, and with global giants such as GlaxoSmithKline plc. At the other end of the scale, the Satellite Applications Catapult has developed a successful programme of Hackathon events aimed at start-ups, entrepreneurs and existing small businesses.
For the 1,100 staff involved now in the work of Catapults, it is a very exciting journey. There is a shared view that by building a bridge between the UK's world-leading research base and business, the Catapults are helping to drive economic activity for years to come.
Don't forget to sign up for email alerts from CSQ
---
Other CSQ articles you may be interested in:
The Centre for Social Impact Bonds
UKTI's entrepreneur hunters
100,000 genomes