https://quarterly.blog.gov.uk/download-a-pdf-of-civil-service-quarterly-15/
Download a PDF of Civil Service Quarterly 15
This page contains a PDF version of Civil Service Quarterly 15.
Download the full December 2017 edition here.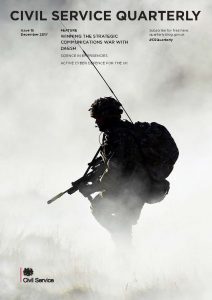 We will be publishing each of the articles in sequence as blog posts over the coming weeks. If you would prefer the blog versions, which may be easier to read on some computers, click on the individual titles below, where the articles will appear as they are published.
Science in emergencies, Professor Christopher J. Whitty, Interim Government Chief Scientific Adviser
From crime scene to court – the science of explosives, Charlie Stansfield, Defence Science and Technology Laboratory
Active cyber defence for the UK, Ciaran Martin, Chief Executive, National Cyber Security Centre
Civil Service transformation,

 John Manzoni, Chief Executive of the Civil Service

Supporting the rise of experimental government, 

Dr Jen Gold, Head, What Works Team, Cabinet Office

Policy Propeller: transforming policymaking in the Department for Transport (DfT), 

Ana Costea and Pauline Reeves, DfT