The challenge
In the summer of 2014, headlines were being made by a terrorist group we have come to call Daesh. They were taking over large swathes of land in Syria and Iraq; looting gold and cash from banks; and commandeering arms and ammunition from the stores of the fleeing Iraqi Security Forces. In part, the secret of their success as a brand was their success on the ground. They had promised to create a caliphate; stand up for Sunni Muslims; and impose a strict form of conservative Islam on their territory – and they were doing it.
But the other reason for the tremendous growth in their global brand – and the reason they were able to attract tens of thousands of people from around the world to join them – was because they put strategic communications at the heart of their operations and had a simple plan to "weaponise the media".
International response
Daesh made the news all over the world with its creatively gruesome methods of murdering innocent people, filmed in high-definition, with slick, multi-angle editing. The media wasted no time in inadvertently amplifying Daesh's propaganda by reporting and publicising their atrocities. They gave the murderers nicknames, and created a sense of power and awe around the organisation. They even granted them a kind of bogus authority and respectability, and gave credence to their aims, by calling them 'Islamic State'. These were the very things that Daesh wanted the public to hear.
Then, of course, there was social media. Daesh systematically created social media accounts and used them to share information and specially designed content across the globe in the blink of an eye. Social media companies were largely unconcerned.
We had to do something.
In the first half of 2015, the international community started to get its act together. The UK was instrumental in creating a global coalition, which had five lines of action to defeat Daesh. One of these was strategic communications – and the UK was one of three countries jointly leading on this strand of work. However, we weren't doing enough to stop Daesh; partly because our systems were not designed for fighting on a virtual battlefield.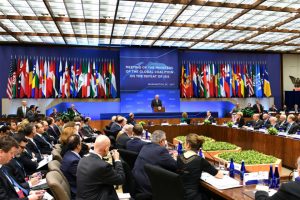 In September 2015, the then Prime Minister, David Cameron, announced to the UN General Assembly that he would establish a Coalition Communications Cell in London. The aim would be to undermine Daesh propaganda and to damage its brand. I was asked to do make this happen.
To succeed, we had to change the global narrative and, in the terminology of the profession, contest the information space, rather than ceding it to Daesh.
The global narrative
I created a team using Conflict, Stability and Security Fund (CSSF) finance. Additional staff and resources were provided by coalition partners (15 secondees from 11 different countries, so far).
Our first task was to change the narrative around Daesh from one of success to one of failure. We needed to damage the Daesh brand by showing that, contrary to its own propaganda, Daesh was failing to win battles, failing to provide services to people in the territory under its control, and failing to live up to its promises.
We started sending a daily media pack around the coalition. This now goes directly, every morning, to well over 1,000 officials in more than 60 partner countries. We give updates on the latest news and suggest how to respond to atrocities. We provide bits of digital content and suggested tweets and retweets. We also run a website and various social media channels, which help coalition countries tell the story of Daesh's failures.
We receive constant positive feedback about the value of this activity, reflected in the fact that our content appears in global media, while the prime ministers of Spain and Australia have used our lines.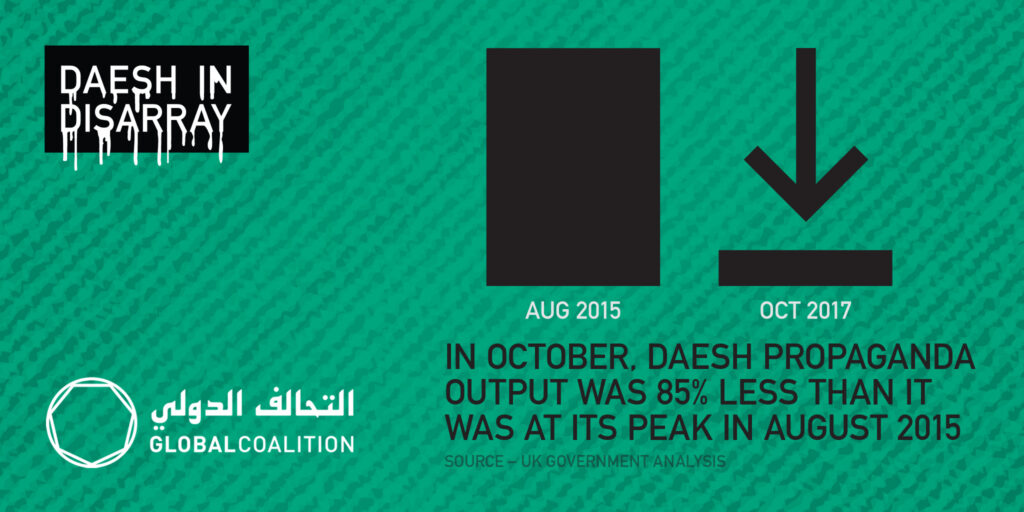 In addition, I co-chaired international working group meetings of over 30 coalition countries every quarter, to encourage consistency in our messaging; to upskill countries with less communications experience; to engage with the private sector; and to share content. This has resulted in numerous partners using strategic comms much more effectively to counter extremism and radicalisation in their own countries.
The narrative has, indeed, changed. Following the fall of Mosul, in Iraq, and Raqqa, in Syria, Daesh has for some time now been seen globally as a failing, disintegrating organisation.
Full spectrum effect
Working to put communications at the heart of HM Government policy to counter Daesh was an important subsidiary objective.
We have worked on a full-spectrum approach across government, with the MOD, Home Office and others involved in tackling various parts of the Daesh propaganda operation. Having an overarching meta-narrative of 'Daesh is failing' has helped us focus this activity and make it complementary.
Impact
Two years on, Daesh, which was considered a threat to the stability of the whole Middle East, has failed to create a state. It is no longer able to recruit thousands or even hundreds of people to join it each month. And its propaganda is a pale shadow of what it previously was. It has resorted to inspiring low-tech attacks aimed at smaller groups of people. While this creates anxiety among the public, the threat to national security is a good deal less than if Daesh had the resources of an entire state at its disposal.
Much of the credit for this failure lies in the military efforts in Iraq, in particular the incredibly courageous efforts of the Iraqi Security Forces. However, the successful end of that battle was undoubtedly hastened and aided by the efforts of communications practitioners in the coalition, and particularly in the UK. We undermined Daesh's narrative, contested the information space and damaged their brand. We did this by making them appear less cool, less credible and less competent. Consequently, they found it more difficult to convince people to join them, both from among the local population in Iraq and from third countries.
Daesh is not yet defeated. As the organisation fragments, so its propaganda becomes less centralised and less consistent. While this diminishes its power, it also makes it more difficult to counter.
Daesh will be defeated eventually, but it will not be the last terrorist group to use Islam as the ideological underpinning for its crimes. This threat is persistent, organic and generational. New organisations will learn from Daesh's media operations, examine their shortcomings and improve on them. They will use the full gamut of communications tools in their efforts to harm us. Our experience with Daesh underlines the need to acknowledge that communication is a key battleground in preserving our nation's security. We need to improve our capabilities and increase our resources in this area if we are to stay safe.
There is much to do.