From fireworks to fuselages, if explosives are involved in a crime, the Defence Science and Technology Laboratory's (Dstl) Forensic Explosives Laboratory (FEL) will be involved in analysing the material. With world-leading facilities, some unique in their capability, run by a team trained in-house, FEL exemplifies what Dstl is here for: delivering high-impact science and technology for the UK's defence, security and prosperity.
The FEL has existed in some form since the 1870s. It is the world's oldest laboratory of its kind and has been around longer even than its current base, Fort Halstead, on the Kentish North Downs, overlooking Sevenoaks.
Today, its experts are being called upon to help in the fight against terrorists and criminals. Every criminal or terrorism case that involves explosives in Great Britain, or involving British nationals overseas, is investigated by FEL's scientists.
FEL is funded by the Office for Security and Counter Terrorism (OSCT) at the Home Office to provide an impartial laboratory that supports the needs of the criminal justice system. Each year the lab investigates around 200 cases, involving around 2,000 pieces of evidence.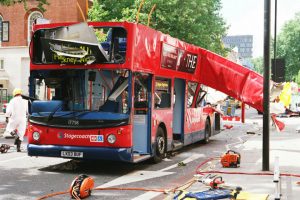 FEL scientists have supported the investigations into terrorist atrocities such as the bombing of Pan Am Flight 103 over Lockerbie in 1988, the London 7/7 bombings in 2005, and the Manchester Arena bombing in May 2017. The range of issues the lab covers also includes the illegal use of fireworks to cause harm to people or damage to property, or people illegally producing explosives in their sheds or kitchens from recipes found on the internet.
Case by case
FEL's work is split into four main categories:
post-explosion scenes

improvised explosives devices

finds and caches of explosives and related materials, and

examination of suspects, property or premises for trace levels of explosives (that is, amounts that cannot be seen by the naked eye, as opposed to bulk levels, which can be seen, handled and weighed)
Work on a post-explosion scene focuses firstly on establishing if it was actually an explosive material that was involved. If yes, what type and how much; what type of device was used and how it was constructed; and where the device was placed before the explosion.
Where a device is found intact, explosive ordnance disposal (EOD) experts will have rendered it safe prior to any assessment by FEL. It is then up to FEL to establish whether the device is actually explosive or an elaborate hoax. If it is real, then we need to determine what the explosive content is; whether the device has functioned (and, if so, to what effect); and whether there is any link with previous devices.
Following a find of explosives or bomb-making materials, FEL looks to determine its significance. What types of explosives are present or could be made from the materials? Does this tie in with any documentation or previous incidents? Is there any evidence of 'new' technologies being employed?
"As well as being able to provide key evidence on the cause of an explosion, traces of high explosives aren't commonly found in the everyday environment and therefore can have forensic significance if we find them. If, for example, we can detect a trace of explosive, no matter how small, on an item of clothing, we can conclude that the person wearing those clothes is likely to have been in an environment contaminated  with explosives. There may be no other evidence linking them to a scene." 

FEL Principal Scientist
World-class technologies
Scientists at FEL have been involved in developing innovative new technologies and procedures. This includes a sample collection kit, so that property of all kinds, from cars to carpets, can be sampled at the scene. That's not to say these kinds of items have never been examined at Fort Halstead – vehicles, doors, and even parts of Hammersmith Bridge have been brought in to be sampled for high explosives.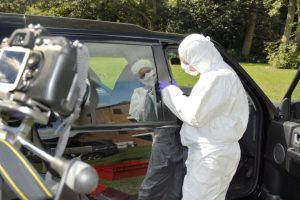 FEL also developed a forensic aid known as a TERK – Trace Explosives Recovery Kit. This is used at crime scenes by police officers to collect material that might otherwise be lost or contaminated. The TERK can gather samples as small as one billionth of a gram; and the laboratories can detect levels 100,000 times less than a single grain of sugar.
This degree of precision is made possible by employing the newest cutting-edge technology in the trace lab – including a mass spectrometer operated using methods developed with support from partners at King's College London.
With this equipment, FEL can confidently separate a sample into its individual parts and provide information about the amounts of each part, even when the sample is vanishingly small. In addition, where most methods require the sample of interest to be compared to a known sample in order to identify the separate components, this technology can look for and identify unknown materials.
Exhibit A: Telltale traces

During a safety search of premises occupied by a suspect, as well as knives, white crystals, small initiators and a respirator, EOD found a device taped to a cabinet. The white crystals tested positive for peroxides; and the precursor chemicals for the high explosive HMTD (hexamethylene triperoxide diamine) were also recovered.

The suspect was apprehended, allowing FEL to sample his clothes for explosives. Traces of HMTD were recovered from his jacket, shirt, belt, watch, scarf and trousers. Further sampling around the wires of small fired initiators and analysis of the white crystals also identified HMTD, firmly connecting the suspect to the materials.

Documents suggested the individual had been testing the effectiveness of small initiators and listed plans for improvements. He was sentenced to two years' imprisonment.
Exhibit B: The 7/7 attacks

On 7 July 2005, four bombers attacked the London transport system, killing 52 people and injuring nearly 800. Teams from FEL attended each of the scenes to determine: where each device had been placed; the explosive used; the size of each device and its possible composition; and whether they were suicide bombs. 

The variety and scale of hazards encountered across the four scenes were beyond anything ever previously experienced in the UK. There were concerns over possible secondary devices, asbestos and a suspected gas leak. The working conditions themselves were challenging – not to mention the traumatic sights at each scene. The train between King's Cross and Russell Square tube stations was particularly difficult, being several hundred metres underground on the Piccadilly line, on a cramped single track, in hot and dark conditions.

The teams recovered trace samples and evidence to analyse at the lab. Thousands more items, including vehicles and trace kits, were also submitted to FEL in the following weeks. One vehicle, used by three of the suspected bombers, was recovered at Luton railway station. It contained components for a device, including packets of nails, as well as several complete devices containing HMTD, which were destroyed at the scene.

FEL scientists were deployed again five days after the attack to assist in a police raid at a property in Leeds, where it was suspected the bombs had been manufactured. They provided safety advice, ensured the right samples for analysis were taken, and prioritised more than 150 items for testing, including buckets containing a mystery yellow-brown substance. FEL analysis showed the substance to be a novel explosive made from hydrogen peroxide and, probably, pepper.

By the end of the operation, more than 2,000 exhibits had been examined by FEL. The team's expert witness statements were used in coroner's court and at a separate trial of the accomplices, who received lengthy prison sentences.
Recruitment and progression
The team covering these roles is about 30-strong, supported by: colleagues who manage the labs within FEL and look after the technical resource; a pair of dedicated professional photographers to document evidence for the courts; and other skilled support staff and permanent researchers.
Most new recruits at FEL are science graduates in subjects such as Chemistry. Although previous experience in forensic science is not a prerequisite for graduate entrants, FEL also recruits experienced forensic scientists from other disciplines who then retrain to gain expertise in explosives. The requirements are: strong scientific ability; the capacity for lots of hard work; and an absolute dedication to applying science rigorously and impartially to support justice.
The progression from graduate entry to becoming a Forensic Case Officer follows a structured path that typically takes at least four years. The entry-level role is that of Forensic Researcher. This involves two years learning the ways of the lab and developing and validating new forensic methods and techniques.
Some FEL staff choose to develop their careers as senior researchers or senior support staff; but for those who choose to become a court reporting scientist, the next stage is to become a Forensic Analyst. It is in this role that the skills of the forensic scientist are developed, working under the tutelage of experienced reporting officers. Once they are considered to have enough experience, Forensic Analysts progress to become Forensic Case Officers, and are assigned their own cases.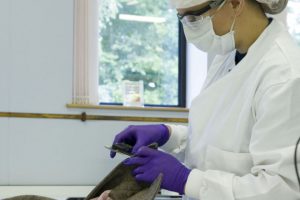 Horizon scanning
As well as analysing samples, giving advice and providing expert witness testimony in court, a crucial part of FEL's role is to constantly improve and stay 'ahead of the game'.
This means FEL staff keeping themselves informed of new explosives and emerging manufacturing methods, on internet forums, for example; and refining sampling and analytical techniques to enhance the lab's capability.
This is ever more important given terrorists' use of homemade explosives. The bomb-makers may be only amateur chemists, with no scientific background, creating explosives that could be unstable or have unexpected properties. Constant research and analysis means fewer surprises and fewer unknown materials; and if something new does emerge, FEL is more likely to have the capability to deal with it.