How is government nurturing the leaders of the future? We feature the views of participants in two talent development programmes: the Government Digital Service Academy, and the UK Statistics Authority's High Potential Programme.
My experience on the GDS Academy Internship: Fiona Linnard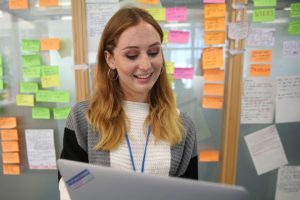 I'm Fiona Linnard, and I'm about to go into the final year of my History degree at the University of Leeds. I'm also one of six interns coming to the end of an 8-week internship with the Government Digital Service (GDS) Academy in Leeds.
One of the things that makes the internship unique, and one of my favourite things about it, is the range of tasks and roles we've been given. After a fortnight in the GDS Academy learning 'Agile' ways of working – an umbrella term, which covers forward-thinking methods of project management – we started a four-week placement with various teams in the Department for Work & Pensions (DWP). For this, I headed upstairs to start with Support for Mortgage Interest (SMI).
With the SMI team, I was fortunate enough to have sessions with everyone from content designers to web developers and product owners, which meant I got to see the mechanics of creating a digital service from every angle.
In many ways, the placement surprised me. Any preconceptions I had of the Civil Service being archaic and using the oldest technology disintegrated. Services were constantly being rethought and improved, and the nature of 'sprints' meant that as often as every few weeks a better, more user-friendly version of the product was produced. Sprints, which come under the 'scrum' framework, were something I'd learnt about in my two weeks at the GDS Academy.
My time with the SMI team has challenged my way of thinking and how I tackle problems in everyday life. Seeing the theory we learnt in the GDS Academy applied in the workplace cemented my understanding, which in turn has made me rethink the traditional 'waterfall' approach to developing projects. I look forward to applying the transferrable skills I acquired in the final project to my university work and beyond.
To find out more about the GDS Academy internships please email gds.academy@digital.cabinet-office.gov.uk. To find out more about GDS Academy courses, please visit their website: gov.uk/gdsacademy.
Why I joined the High Potential Programme: Rob Kent-Smith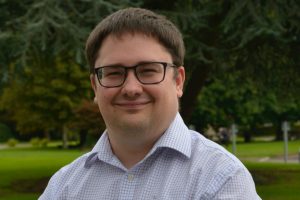 The UK Statistics Authority (UKSA) is transforming, embracing new technology and data sources to help Britain make better decisions.
To do this, it's important that our leaders have the skills to inspire and lead people through change. Improving my skills in this area and building a strong network across the office were fundamental in my decision to apply for the UKSA High Potential Programme (HPP).
The programme, aimed at Grade 7 and Grade 6 staff, had three primary drivers:
Equipping a cohort with the necessary skills to help support our transformation and change agenda.
Growing our leadership capability to achieve transformation.
Promoting diversity of thought.
The pilot programme was delivered with the Whitehall & Industry Group (WIG) and followed a blended learning approach, incorporating: three residential events; two organisational insight visits (to Oracle and Eversheds); masterclasses; mentoring from senior civil servants; and delivery of a business change project.
The formal feedback from the programme was overwhelmingly positive. For me, there is a wide range of tangible changes I can make in my approach as a leader. Above all, I have a greater self-awareness and challenge the way I do things more ('reflexivity', in leadership speak!). This has led me to change how I behave in challenging situations, and in turn has enabled me to build better relationships, both in the workplace and in my personal life.
While sessions with an acting coach were outside the group's comfort zone, we have all benefited from an increase
in our personal presence and effectiveness in delivering challenging messages. This learning has been especially valuable to me, as I am currently leading an SCS 1 post responsible for implementing a once in a generation transformation of our Gross Domestic Product (GDP) statistics.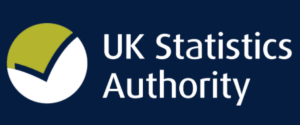 Of course, the most valuable part of the experience has been the diverse network of support I have built up – I don't hesitate to pick up the phone or drop by when I need some advice or a friendly face!