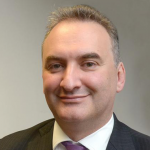 Welcome to this, the 18th edition of Civil Service Quarterly, which takes as its broad theme, public sector efficiency – from major infrastructure projects, to reform of the justice system, to transforming the Government Estate, and measures to counter public sector fraud.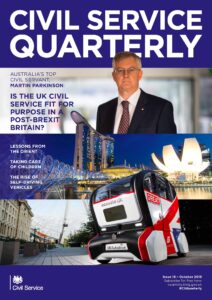 In our lead article, Caroline Low, Director of Heathrow Expansion, recounts the work of the Department for Transport in promoting and gaining agreement to the Government's case for a third runway at Heathrow Airport. This campaign culminated in a favourable vote in the House of Commons in June 2018.
As the Department for Education's Michelle Dyson sets out, the delivery of the Government's manifesto commitment to 30 hours of free childcare for eligible 3- and 4-year-olds in England is an object lesson in successful collaboration between departments.
Public sector fraud comes in many different forms. Mark Cheeseman, Deputy Director, Public Sector Fraud, surveys the fraud landscape and explains the rationale behind the creation of a specialist Government Counter Fraud Profession, which carries a message for would-be fraudsters: "government is not a soft target."
The ambition of the Government Estate Strategy is to provide an estate that works for everyone. James Turner, a deputy director in the Office of Government Property, outlines how the strategy aims to deliver on the Government's responsibility to ensure its estate not only delivers value for money but also acts as an enabler for its wider policy commitments, from releasing land for housing, to improving public services.
The advent of self-driving vehicles is one of the most exciting and, potentially, transformative developments in transport. However, as Iain Forbes, Head of the Centre for Connected and Autonomous Vehicles, knows better than most, it poses an array of questions, legal, moral and technical. Not least of these is, how does government set a regulatory framework for a technology that is not yet fully formed?
The justice system in England and Wales is in the middle of a programme of modernisation to make it more transparent, accessible and efficient. As Susan Acland-Hood, CEO of HM Courts & Tribunals Service, writes, this involves not only structural adjustments and a move to online services and digital tools that cut waste and inconvenience, but a fundamental change in the way the courts and their people work.

How is government nurturing the leaders of the future? We feature the views of participants in two talent development programmes: the Government Digital Service Academy, and the UK Statistics Authority's High Potential Programme.

To close this edition of Civil Service Quarterly, we feature two overseas perspectives on some of the issues and challenges that governments around the world have in common.
Singapore has an international reputation for innovation in government and public policy. We asked Charlene Chang from the Singapore Government to describe its approach to making the 'ship of state' more agile and responsive to changes in society in a turbulent world.

Finally, we present our interview with Martin Parkinson, Australia's equivalent of our Cabinet Secretary. He gives his trenchant views on subjects ranging from the challenges facing the UK after it exits the EU, to bridging the gap between policy development and implementation, and rebuilding the public's trust in the institutions that serve them. 
You can give us your views and comments on the Civil Service Quarterly blog (https://quarterly.blog.gov.uk/), by email (csq@cabinetoffice.gov.uk), or via #CSQuarterly on Twitter. If you would like to submit an idea for a feature in a future edition, please get in touch.
We will publish each of the articles in the latest edition of Civil Service Quarterly (CSQ 18) as a blog post. If you would like to see the full publication, you can download it here as a PDF.