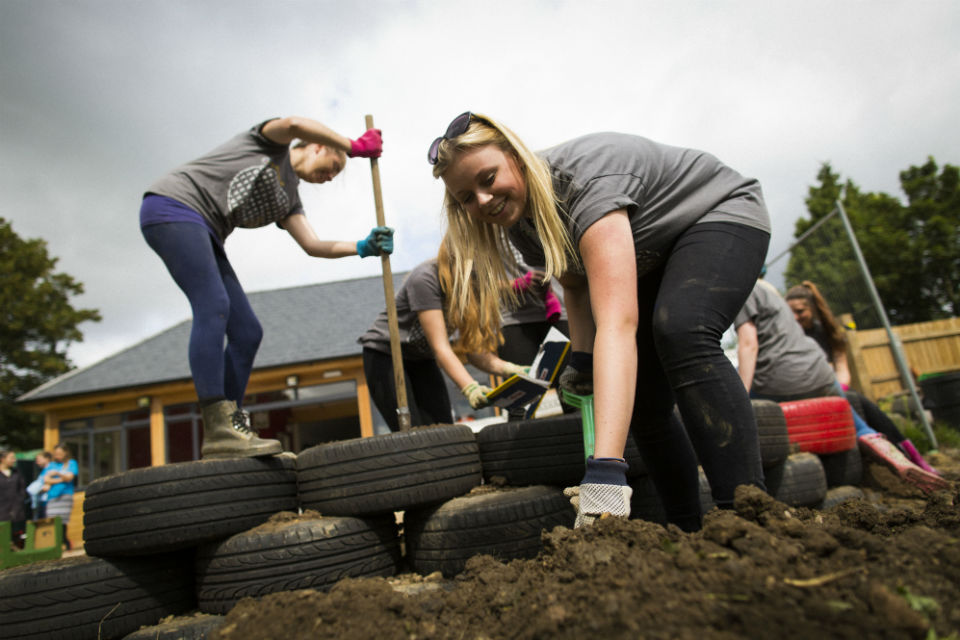 When you were younger, how did you spend your school holidays? Maybe you went away with family, hung out with friends or stayed at home watching TV. You might have found yourself a part-time job or studied hard for upcoming exams. Whatever you did, and however long ago it was, you never really forget just how exciting the start of those precious school-free weeks felt.
Six years ago, the Cabinet Office set out to harness that promise and enthusiasm, giving young people from all walks of life the chance to learn new skills, make new friends and give back to their communities – in their spare time. The Prime Minister stated his ambition for a National Citizen Service (NCS) that would become a rite of passage for all young people and a national institution.
NCS was piloted in 2011 with just 8,000 participants between 15 and 17 years old. In the years since, over 200,000 young people have participated. And in the most recent Spending Review, the Chancellor reiterated this Government's commitment to expanding NCS. He announced funding to provide this opportunity to 300,000 young people in the year 2019/20.
This has helped make NCS the fastest growing youth movement in the UK since the Scouts started a century ago. There will be nearly 80,000 new participants involved in the 2015 programme alone.
Crucially, evidence shows just how much NCS is helping to benefit young people, local communities, and the country as a whole, with its focus on building a more cohesive, responsible, and engaged society.
The NCS journey
Each region has a team of NCS providers, who deliver the programme in their local school holidays. Despite some variations in delivery, the NCS programme is broadly divided into four phases.
In the first phase, new recruits go away to participate in a series of outward-bound activities. This may be the first time away from home for some young people, but it enables them to meet other participants, face new challenges, from hiking to rock climbing, and work as a team with each other.
Teams are carefully balanced with members from diverse social groups. NCS actively recruits across all backgrounds and identities, mixing genders, ethnicities, faiths, sexualities, abilities and socio-economic groups. This team-building phase allows them to establish relationships that cross social divides.
During phase two, these young people stay closer to home, working on a community-based residential course. Here, they learn new skills like photography and journalism and meet with local charities, businesses and other organisations to help design and develop the social action project they will deliver in stage three of the programme.
The scale, scope and objectives of this project are for them to decide. But they must dedicate 30 hours of their time to making a tangible difference in their community. NCS participants have risen to the challenge with a huge range of projects, from organising a fundraising concert to gardening in community spaces and organising care packages for homeless people.
Finally, in part four of the programme, NCS participants graduate with a ceremony to celebrate their achievements and welcome them to the elite NCS graduate network.
Inspiring a national movement
As well as delivering all phases of the programme, providers are also responsible for recruitment. This has been a key challenge for such a fast-growing programme. Each year, there is a whole new year group eligible for NCS. How can we get the word out - not just to young people, but to the people who influence them, such as their parents?
Cabinet Office have worked with the NCS Trust to implement innovative marketing strategies, from YouTube partnerships to the NCS YES LIVE festival to the TV advertisements you may have seen for yourself. Filling places is essential - not just to ensure taxpayer value for money, but also to open this opportunity up to as many young people as possible, so that we all see the benefits.
The results speak for themselves
Independent evaluations have returned overwhelmingly positive outcomes throughout the programme, from parents, teachers, and the young people themselves. And the Cabinet Office has commissioned annual reports to quantify these accurately.
According to the most recent evidence, 90%* of 2014 NCS graduates considered their NCS experience worthwhile. The same number were proud of what they had achieved and wanted to continue to be involved in the programme. Some 80%* believed they had learned something new about themselves.
A lot of this is down to the incredible people who deliver these programmes. Team leaders, assistants, and volunteers work tirelessly to ensure a safe and supportive environment for these young people, helping them to take on the new challenges and opportunities the NCS offers. Around 90%* of NCS participants talk positively about the personal help they received from NCS personnel, especially during their social action projects.
A stronger, fairer society
More widely, NCS is helping to boost the aspirations of these young people and promote social cohesion. It's bringing young people together, who otherwise might never meet, to build ties and give them a powerful, common learning experience.
A core part of this is ensuring NCS is accessible to people from all backgrounds. So bursaries and funding are available to help those who need it to cover the initial £50 sign-up fee and any costs of additional support.
As they go through the programme, participants get to understand each other better. Evidence shows this strengthens their trust in each other and improves attitudes towards other people of all backgrounds and identities. Nine out of ten parents questioned felt that their child had a better understanding of people from different backgrounds after the programme.
In this way, NCS is helping to contribute to stronger communities and a more integrated, cohesive society - just one way the Office for Civil Society fosters a vibrant and independent civil society.
Better skills, better lives
Another important part of NCS is the essential skills that young people learn to help them lead successful lives in the future. This includes teamwork, communication, and leadership. Learning is reinforced with hands-on experience, gained through time spent away from home.
Young volunteers talk about the greater sense of independence and resilience that this gives them. For example, 2014 NCS graduates felt 24%* more confident leading a team, 21%* more confident explaining ideas clearly, and 18%* more confident meeting new people. These are all skills essential to their academic futures and careers.
Delivering their own projects, participants also meet local organisations and learn more about the impact they can have as members of their communities – even after the programme has finished.
And many participants do continue to play an active part in their local communities outside of school and college. This includes a commitment to lead more healthy and productive lives.
More personally, NCS participants build lasting friendships with each other and leave with a strong local network to call on. Together, they are more likely to know how to deal with a problem in their community and feel that they can influence the world around them.
Get involved
As the NCS programme has grown, more departments have become involved, ensuring it supports the Government's ambitions in areas as diverse as health, skills, employment, and social mobility. In the past six years, the reach and impact of NCS has far exceeded original plans.
NCS is estimated to generate a return of up to £4 for every £1* of taxpayer money it spends. More importantly, it is helping to change the prospects of millions of young people across the country.
Going forward
The NCS programme has been a major undertaking, one that we are proud of, but also one the wider Civil Service can learn from, in particular, on the following points:
Ask the experts
Although originally delivered by Cabinet Office, in 2013 the decision was taken to create a new delivering body in the form of the NCS Trust. The NCS Trust is independent, and so able to hire specialists in areas such as youth marketing. Their political neutrality also enables them to build better relationships with the rest of the youth and voluntary sector. These sources of expertise are essential to improved delivery.
Evaluate
It is often difficult to quantify the impact of a social programme like NCS. How can you measure improved wellbeing or greater confidence? However, at Cabinet Office we have found that evidence from regular, rigorous, independent evaluations has been vital in order to prove results and ensure both financial and political support.
Collaborate
Any policy has links and overlaps with others. Sometimes, we have been surprised by the connections, for example, the positive impacts on smoking and drinking habits. An important part of our work in Cabinet Office has been reaching out to other departments to see how we can best work together. It has always been rewarding to hear the ideas and perspectives of other teams, and this has opened up an array of new options.
Be ambitious
It can be very difficult to set realistic targets for a new programme. We have challenging targets around participant numbers, but there are other areas where NCS is succeeding, such as its social mix. NCS shows that, with the right support, you can aspire to start a movement.
Visit www.ipsos-mori.com/researchpublications/publications to see the independent evaluations of the impacts of the NCS programme.
And, if you know a teenager looking to for something to do in their holidays tell them to check out www.ncsyes.co.uk, sign up to NCS and change their lives.
*Based on Standard Summer Impact, National Citizen Service 2014 Evaluation, Ipsos MORI 2015