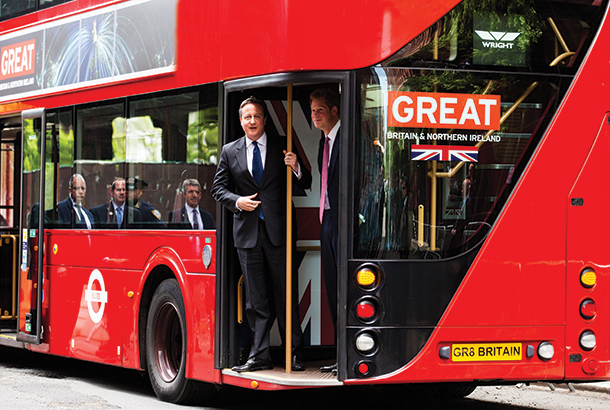 The GREAT campaign is a cross-Government initiative designed to deliver trade and tourism benefits to the UK by harnessing the best that Britain has to offer under a single brand and promoting our strengths to the world. Conrad Bird, Director of the GREAT Britain Campaign tells Civil Service Quarterly about some of its recent successes.
One of the proudest moments of my career as a civil servant was being presented the Civil Service Award for Growth by the Prime Minister at the 2013 Awards at Lancaster House. The award was given to the many teams in London and around the world who had worked so hard for the last two years to generate jobs for the UK with the GREAT Britain campaign. It represented the efforts of hundreds of dedicated civil servants and diplomats across the world working as one team.
The results of these combined efforts to date have been impressive. The campaign has generated a return on investment of over £500 million in the markets where we directly fund activities. This year we are on track to generate a further £600-800 million. It is now being used as business as usual by our delivery partners (the Foreign and Commonwealth Office, UK Trade & Investment, VisitBritain, VisitEngland and the British Council) in 134 markets around the world. All this, from an annual budget of £30 million, which is far less than our international competitors.
The GREAT Britain brand itself has been valued at £100 million, rising to £1.76 billion if we maintain the investment over five to seven years. And most recently, in the Autumn Statement, the Chancellor of the Exchequer announced that the Government will commit to the campaign in the longer term, increasing funding by 50 percent in 2014-15 and 2015-16.
Our vision for the campaign was simple: to make the most of the Olympic opportunity to get the world thinking and feeling differently about Britain, positioning us as a vibrant, inspiring and innovative nation to visit and invest in. The campaign aims to showcase the best Britain has to offer in order to deliver a measurable increase in revenue. It's all about generating real jobs and growth for Britain.
It was then, and still is, the Government's most ambitious international campaign ever. Although other countries have longstanding tourism campaigns and have run specific campaigns round major sporting events, no nation had so far attempted to combine all its international activity under one brand in such a way. So in many ways, GREAT is a great experiment.
It was critical from the start that this wasn't just seen as another Government campaign. We worked with partners from the business and cultural sectors as well as many British celebrities (who are international brands in their own right) to maximise reach and credibility. In the last 18 months, over 190 businesses and celebrities have engaged with us: from British Airways, Virgin, HSBC, PWC and the BBC to Mulberry, Mini, McLaren and Jaguar Land Rover. And many smaller businesses have been involved too.
Iconic celebrities from all walks of British life have given their support for free; David and Victoria Beckham, Lewis Hamilton, Jensen Button, Andy Murray, Sir Richard Branson, Sir Paul Smith and Dame Vivienne Westwood to name (drop) a few. All have been inspired by a sense of patriotism, a sense of common purpose as well as mutual benefit.
So far, so good. But there is so much more to do. We know that brands need to be built over time to create recognition and trust with audiences. As David Haigh, CEO of Brand Finance, stated "a strong brand has become the defining feature of success in the current economic climate. Worldwide hyper competition for business, combined with an increasingly cluttered media environment, means that a clear message carried out by a properly managed brand can provide the crucial leverage to thrive... Nations can adopt similar techniques to capitalise on the economic growth that comes with proper positioning of a nation brand". David went on to praise the GREAT Britain campaign and partially attribute Britain's rise of one place in the world's most valuable nation brands index (to fourth) to it.
We also know that in a time of austerity, GREAT needs to continue to demonstrate real return on investment; the brand needs to remain consistent but also to adapt and flex in an ever-changing world (especially as our international competitors are beginning to take interest). Our challenge is to demonstrate that every pound invested in the campaign is effectively spent and shows real value for the tax payer.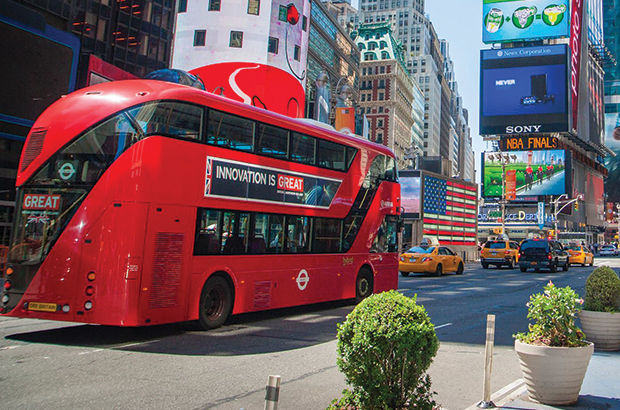 What lessons can be learned from the campaign so far?
First, that hard work and attention to detail pays off. In addition to advertising and digital campaigns, we organise around 500 GREAT events around the world each year. From retail weeks in Malaysia to sponsorship of the global Clipper race to science and healthcare seminars in China. Each of these events has to be worked out in detail, branded correctly and properly evaluated. We have learnt from our mistakes (spelling Brecon Beacons incorrectly on a tourism advert in New York, for instance which was tweeted round the world). But by working hard to get the detail right we can put on events that literally showcase the best of British.
Second, when civil servants work together with Ministers for a common cause, the results can be truly amazing. The campaign has brought together people in London and overseas in an unprecedented way – and the enthusiasm, commitment and long hours of work have been impressive.
Third, that partnership is the key to success. Not just partnerships within Government and its arms-length bodies, but with businesses large and small, cultural organisations and a range of talented individuals. But creating partnerships is hard work and it needs time and effort to cultivate contacts and generate trust. Most of our events are conducted in partnership, whether this be with Formula 1, the British Fashion Council, major companies, or other groups.
Fourth, you don't need lots of resource, but you do need plenty of passion. The core GREAT team is five strong, but the objective and clarity of our mission rallies people from the private sector and other public agencies to our cause. Pride and passion abound in the civil service. Before joining Government, I spent 18 years in the private sector where money was so often the main motivator. Civil servants are driven by wanting to make a difference. And if you empower us to think freely, act energetically and be prepared to take risks – and, yes, make mistakes – we are as good, and often better, than colleagues from the private sector.
Fifth, that evaluation needs to run through our blood stream. Everything we do on the GREAT campaign is carefully measured and assessed. It guides our decision-making, informs the choices we make, teaches us what is successful and we can repeat – and tells us when to stop. Without it, the campaign would have not gained the support and confidence of the Treasury, or won over the many initial doubters and detractors. Evaluation doesn't need to be expensive; it just needs to be ever-present. We can demonstrate that the campaign has generated £500m because we have an evaluation framework that is based on a Treasury model and we track progress and triple check the results – from reporting events on the ground, to regular assessment in London, to independent evaluation.
Finally, we've learned that perseverance pays off. Many people thought that the GREAT campaign was only for 2012 – another short-term Government initiative. We always believed that it should be a long-term campaign measured over decades, rather than a year.
It's taken a lot of convincing, but with funding now secure, we have the chance to create a national asset that will benefit British businesses, universities, tourist destinations and tax payers alike.
Don't forget to sign up for email alerts from CSQ
---
Other CSQ articles you may be interested in: