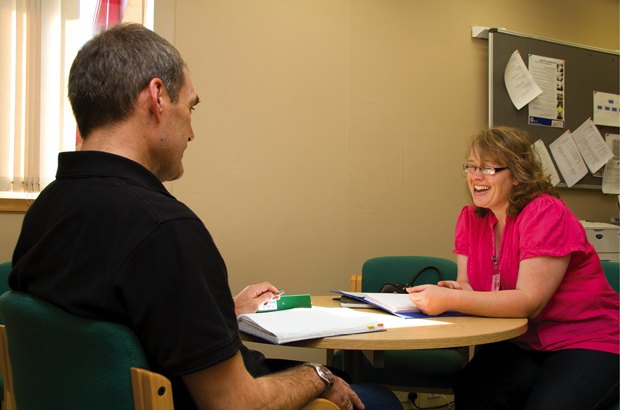 Data sharing between two government departments has had a huge impact on offenders' lives, and points to new ways of working across other areas of government
The Government's Social Justice Strategy aims to provide the most disadvantaged in our society with the support and tools to turn their lives around. It recognises that tackling poverty has to be about more than just using the benefit system to move people over a certain income level. Instead, it needs to genuinely change people's lives, tackling the root causes of poverty: family breakdown; poor educational attainment; worklessness; drug and alcohol addiction; and debt, amongst other issues.
To achieve the goals of the Strategy a new approach was needed, one focused on early intervention and greater collaboration across the public sector. One example of this approach in action is the work analysts in the Department for Work and Pensions (DWP) and the Ministry of Justice (MoJ) have done to inform a new approach to helping those leaving prison find work.
Understanding disadvantage
Many offenders experience a lifetime of social deprivation. They lack the skills to break a cycle of re-offending. For instance, more than half have the reading, writing and numeracy skills of a child of age 11, while just under half of prisoners will re-offend within 12 months of release. There is good evidence to suggest that finding work can help break this cycle of re-offending, benefitting society as a whole and potentially saving significant cost to our justice, benefit and health services.
However, before 2011 the government did not have sufficiently good employment and benefits data on offenders to understand the scale of the problem and help design effective services. There were a number of minor evaluation databases, surveys and administrative datasets including disadvantaged 'markers' but these were unsatisfactory – the coverage was poor and self-reported. Deparments had to become much better at linking the relevant administrative datasets across the public sector.
In 2010, DWP and MoJ began an innovative data sharing project. For the first time this brought together information on 3.6 million offenders in England and Wales and their interactions with benefit system, employment programmes, work and the justice system. This work changed the two departments' understanding of the journeys offenders were likely to make.
The most powerful and influential insights have centred on the different experiences offenders have had in the benefit system compared with other claimants. Prison leavers on Job Seekers Allowance (JSA) have a similar claim pattern compared to other JSA claimants, with around 10 percent remaining on the benefit after 52 weeks. This might be taken to suggest that there is no need for any special provision or early intervention to help those who have recently left prison.
However, the data share also allowed analysts to look at the likelihood of a prison leaver being on any out-of-work benefit in the three years since the start of their initial JSA claim. This would include any broken benefit spells or changes in benefit status. Here a quite different picture emerges, with prison leavers on average spending 57 percent of the three years on one of the main working age benefits, compared to 42 percent by the average JSA claimant. This suggests that prison leavers face a greater set of barriers than the average JSA claimant and that earlier intervention could maximise time in employment and reduce their time on benefits – helping both them and the taxpayer.
As a direct result of this analysis, from 2012 prison leavers who go on to claim JSA are now mandated to the DWP Work Programme on day one of their claim. This enables them to benefit from additional job-seeking support at the earliest opportunity. The effectiveness of this approach will be fully evaluated, with initial results expected in summer 2014.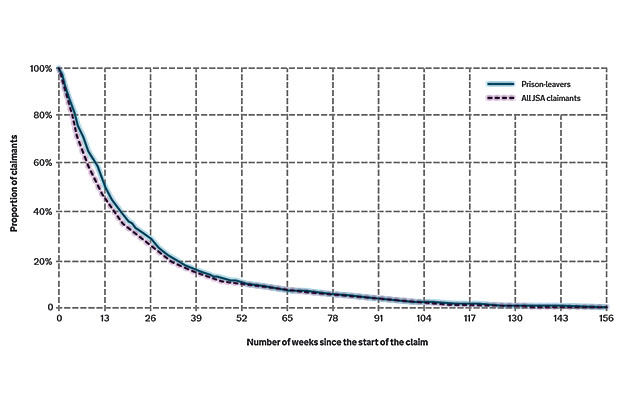 Employment and re-offending
MoJ used the datashare to analyse the impact of employment on re-offending. This compared re-offending rates for those with a P45 record of employment (which shows how much tax someone has paid on their salary in the tax year) in the year following release from prison to a matched comparison group of prison leavers with no P45 employment. Results showed that for prison leavers included in the sample:
Prison leavers with P45 employment in the year after release were less likely to re-offend than similar prisoners who had no P45 employment on release

For custodial sentences of less than one year, the one year proven re-offending rate was 9.4 percentage points lower for those who found P45 employment after release than for the matched comparison group

For sentences lasting one year or more, the one year re-offending rate was 5.6 percentage points lower for those who found P45 employment than for the matched comparison group

The time from release until first re-offence was longer for prison leavers who got P45 employment than for the matched comparison group (who did not get P45 employment).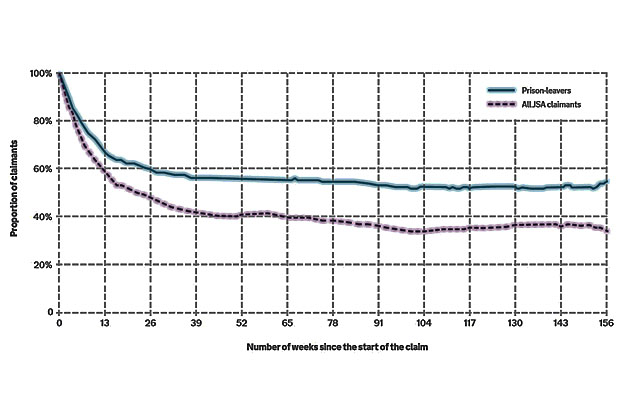 The principle of data sharing
This is a powerful example of how secure sharing of anonymised data across government departments can contribute to service improvements for some of the most disadvantaged people in society. Previously, such information may have been gathered through a specific data collection exercise or survey, which can be costly and time consuming. The project demonstrates the possibilities of joining up data across departments, and this is likely to become an increasingly important and common, yielding new insight at relatively low cost.
The shared data here has been used to inform MoJ's Transforming Rehabilitation strategy which seeks to incentivise providers of rehabilitative services to focus on reforming offenders. We expect to see dynamic responses to the causes of crime, including looking at employment and skills. To build on this success DWP and MoJ are moving to an annual datashare, using the information to evaluate the Work Programme Day One and other Payment by Results initiatives.
Both DWP and MoJ are also actively exploring data sharing opportunities with other departments. Under the Government's Social Justice Strategy, data sharing will be used to inform a complete recovery system for people with alcohol or drug dependencies, to help identify troubled families, to provide financial advice to people at risk of indebtedness, and to provide support to victims of domestic violence. Across government, it is necessary to identify children at risk of harm, to reduce fraud and error, and to increase our understanding of the citizens we serve, allowing for individualised and localised services. Joined-up services require joining up data, allowing smarter evidence bases to be developed.
Don't forget to sign up for email alerts from CSQ
---
Other CSQ articles you may be interested in:

Alex Ellis talks about his experience improving policy making in the FCO