In July 2017, the Government Communication Service (GCS) launched its second Diversity and Inclusion Strategy. We interviewed Selvin Brown, Director, Engagement and Policy, HSE, and GCS Diversity & Inclusion Champion, to put the strategy in context.
What's the background to your involvement in the new GCS D&I Strategy?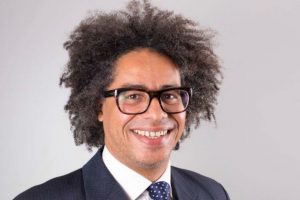 In January I sat down with some friends in the Civil Service to discuss the state of race equality and diversity and inclusion in the organisation. Being a new father (my son Sam is one year old), I was also interested in how my friends' children were getting on. Most were either at university or have just completed their studies and are entering the world of work. I asked how many of them were considering joining the Civil Service, which had provided such great career chances for most of us, and opportunities to serve both our country and our communities. I was very surprised by the answer. Not one of my friends' children had considered joining the Civil Service.
Despite my obvious disappointment I resolved to redouble my personal efforts to help the Civil Service attract, retain and pull through talented colleagues, including colleagues from ethnic minorities.
What do the words 'diversity' and 'inclusion' mean to you?
I believe inclusion is a critical step towards making the Civil Service a great place to work. Part of the challenge comes when 'diversity' and 'inclusion' are put together. They can sometimes be seen to mean the same thing, when in fact they are very different, albeit complementary.
For me diversity in a workforce context is about equal representation. It has its roots in the fairness and open recruitment aspects of our Civil Service tradition and relates to our values, which can be traced back to the Northcote-Trevelyan Civil Service Reforms of 1854. But without inclusion, the crucial connections that attract diverse talent, encourage them to participate, and foster innovation, won't happen.
Those of us who are passionate about Civil Service diversity and inclusion all know the research: creating an inclusive environment helps colleagues bring their best to the work they do. Ethnically diverse companies are 35% more likely to be in the top-performing quartile.
The term 'inclusion' is contested, not because most people argue against it – most agree it's a good thing – but there is a considerable amount of interpretation involved. I think it is important to define 'inclusion' when we communicate around it, and therefore make explicit what we mean when we use the term.
For me 'inclusion' means ensuring that our work reflects and represents the views and expectations of people across the UK regions and nations (my work for HSE involves me working in our HQ in Bootle, Liverpool). Inclusion puts the concept and practice of diversity into action by creating an environment of involvement, respect, and connection – where the richness of ideas, backgrounds and perspectives is harnessed to create value.
Are there trends in society and in perceptions of equality and D&I that the Civil Service can benefit from?
Organisations need both diversity and inclusion to be successful. Without including the new colleagues we are beginning to attract, many of them from a younger generation, we will likely not gain the benefits of our improved recruitment outcomes. A recent study by Deloitte and the Billie Jean King Leadership Initiative found that there were differences between the generations (boomers, gen-Xers and millennials). They found that millennials are refusing to check their identities at the doors of organisations. They strongly believe that these characteristics bring value to organisations' outcomes. 86% of millennials surveyed felt that differences of opinion allow teams to excel.
A more inclusive Civil Service will better represent the full spread of public opinion by bringing different points of view to the centre of decision-making. In my view, this is part of the answer to the 'why bother?' question. When reviewed by independent inquiries, group-think was found to be a critical factor in most public policy failures.
What's the overall aim of the new GCS D&I Strategy
The 2017/18 strategy commits the GCS to recruit, promote, train and support a diverse and inclusive profession.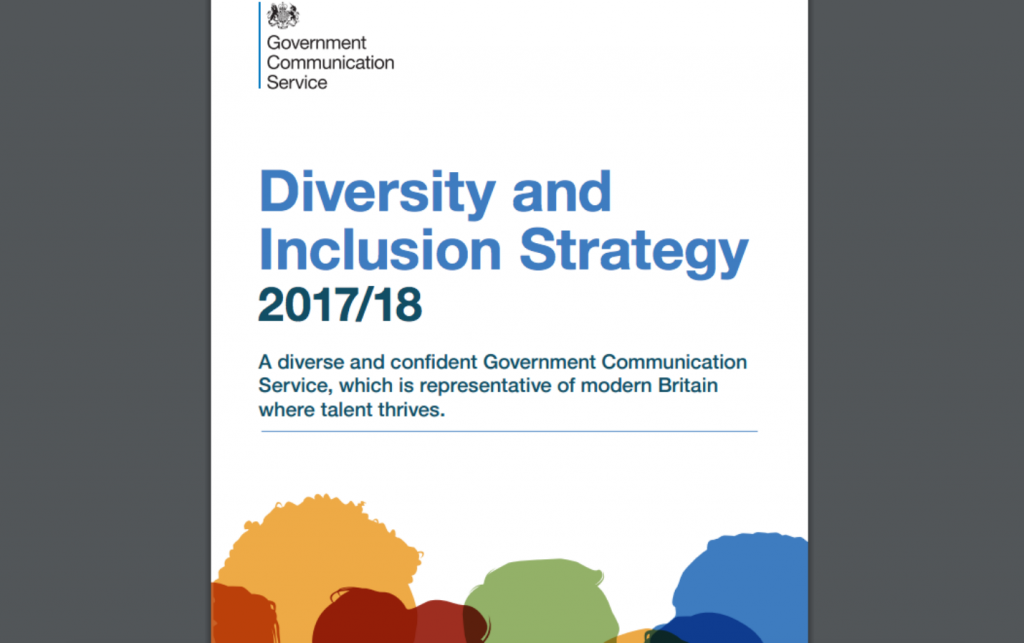 The vision for the GCS is to be a communications profession that is representative of modern Britain, actively supporting talented individuals to succeed, regardless of race, gender or socio-economic background. D&I are central to how we communicate externally – to the people we serve – government policy to make the UK a fairer and more equal place to live and work in. Importantly, this vision is shared by the whole GCS leadership team, comprising all of the Directors of Communication across government.
What new insights have informed the strategy?
This year, for the first time, GCS introduced diversity questions in the annual GCS Skills Survey. This was in direct response to feedback from the newly established Shadow Board (a cross-government group of communicators appointed to shadow the Director of Communications Board and to give us real-time feedback on our challenges and decisions). The aim was to:
establish a baseline of diversity and equality data;

build a better understanding of the link between diversity and self‑assessment of skills in each of the Modern Communications Operating Model

 capabilities; and

investigate whether there is any link between diversity and the self-reported ability to demonstrate the leadership behaviours outlined in the Civil Service Leadership Statement

 [to be Inspiring, Confident, Empowering].
What sort of base does the strategy build on?
It reports on the excellent progress we have made over the last year, since our first diversity and inclusion strategy.
There have been some encouraging results. Our centralised recruitment campaigns attracted over 9,000 applicants, leading to 20% of successful applicants coming from an ethnic minority background. Launching the first profession-led diversity internship resulted in 26 interns across 14 departments and public bodies. And 20 of our 29 apprentices come from either a lower socio-economic or ethnic minority background.
We have been encouraged by this early success and have set ourselves some stretching objectives:
to improve Senior Civil Service diversity to ensure that it represents the society we serve;

to improve ethnic minority and women's representation at all grades;

to attract and retain GCS early talent from lower socio-economic backgrounds.
How will you achieve this?
As set out in the strategy, we aim to do this by:
fostering a culture of inclusion – incorporating flexible working, nurturing personal leadership styles, and learning from others across all regions of the UK;

growing our diverse talent – addressing diversity and inclusion in our talent pipelines by offering a wider range of development;

building home-grown senior and diverse talent – through greater support to reach our top leadership positions, particularly women at Director of Communications level; and

recruiting inclusively – improving the future diversity of our profession by growing the number of apprentices and improving our recruitment practices.  
Accountability is also built into the process, with Alex Aiken, our Head of Profession, holding Directors of Communications to account for their performance via a clear leadership objective and performance reviews.  
Again, as a leadership team, Directors of Communications have made a commitment to improve our approach to inclusion by championing difference, celebrating our role models, and understanding – and acting on – what our colleagues tell us. A great example of this has been the GCS support for a newly created GCS part-time network, which was first proposed by one of our talented female communicators. We launched the network in July, alongside the new strategy.
What are your hopes for the future?
As one of the GCS's diversity and inclusion champions, I'm proud of the work we have begun. In some respects we have been leading the way for the Civil Service professions – if not the Civil Service as a whole – with our forward-thinking and innovative approaches.  
We have some way to go before we can really say we have a fully inclusive culture. When Sam graduates from university in 2040 I hope he will consider joining a truly inclusive Civil Service.