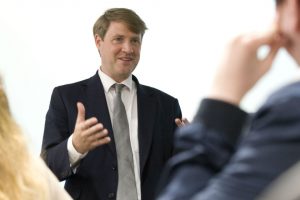 There is no question that we need to have the brightest and best at the helm of our public bodies, particularly as we begin to deliver a smooth and prosperous exit from the European Union. However, we can only be sure that we are appointing the most talented individuals to our public bodies if we can be confident that the appointments process itself is open and accessible to all.
What we have done
Going back to 2013, the Centre for Public Appointments (CPA) committed to improving the system through which public appointments were made, including a focus on how to make this more accessible.
Since then we have freed the application process from reliance on lengthy and complex forms, cutting it down to a simple CV and covering letter. Recruitment campaigns are also now more transparent than ever, with all roles advertised on a central website. Applicants can even track competitions as they progress, with real-time updates.
Getting the nuts and bolts of the application process right has only been part of what's needed to achieve real change in the diversity of our public boards. Over the last few years we have been working to change the culture of how we approach recruiting people with the right skills. Prioritising years of senior board-level experience can often disproportionately impact women or ethnic minority candidates. By shifting the focus from experience to ability, we have opened up opportunities to candidates who may not yet have had significant levels of board experience but could nevertheless provide valuable scrutiny and challenge at board level.
The CPA was established in the Cabinet Office to drive innovation and support departments in the application of the Governance Code for Public Appointments. Now, this has gone even further, with dedicated teams set up in each department to focus on strategically managing the range of their regulated public appointments. 
Where we are now
The Commissioner for Public Appointments, Peter Riddell, found in his recent annual report:
on gender diversity, we set ourselves a target of achieving 50% of new appointments being made to women, and our progress remains steady with 48.5%. Overall, across both new appointments and reappointments, the representation of women has reached 45.5%. In this area, the commissioner was particularly encouraged, reflecting that just 5 years ago this figure was 34%;
the number of candidates from ethnic minority backgrounds appointed or reappointed rose to 9%; this was higher (just over 10%) for new appointments; and
6% of candidates who declared a disability were either newly appointed or reappointed, compared to 4% last year. Encouragingly, across the total number of candidates reaching the interview stage who have declared a disability, we have seen good levels of success, with 43% being appointed.
This is good progress, but we recognise there is still quite some way to go.
Where we are going
The data shows progress but it also highlights new challenges. For example, the appointment and reappointment figures for women candidates are at their highest level and have increased by 5% at chair level. However, the overall percentage of women chair appointments stands at a disappointing 28%.
Improving the quality of our own data will, of course, be important in helping to drill down into where remaining barriers in the process may be and determining the appropriate solutions. I have discussed with the commissioner exploring what further we could do in this area, and the CPA will be working with departments in the coming months.
Awareness
The public appointments process begins well before a candidate submits an application, and there is work to do in drawing applications from under-represented groups. In 2016-17, 30% of applications were from women, 10% from ethnic minority backgrounds, and 5% from those with a declared disability.
One of the biggest challenges we face is the continued lack of awareness and, in reality, trust in the public appointments system, despite all the work we have done to demystify the process. At events I often hear that potential candidates are reluctant to apply because they are daunted by what the process may entail.
As the responsible minister, I believe this is one of the areas where we can make significant strides forward. I have taken the opportunity of the revised Code for Public Appointments having come into force in January to renew our focus on increasing diversity in public appointments and launch a campaign to raise awareness of the benefits of public boards and create a talent pipeline. The campaign has given me the opportunity to meet existing appointees, leaders in the field of diversity and people from the private and public sectors who are already making changes in their respective industries.
If we are to capture the attention of the widest possible range of candidates, we need to continue to think creatively about how we promote public appointments. We must take advantage of what digital technology can bring to the appointments system in making it more open, transparent and accessible. We will build on the success of the central Public Appointments website, explore new social media opportunities, continue to work closely with existing partners, and build new links with networks in order to tap into a truly broad and diverse talent pool.
Achieving change takes leadership and commitment from those with the responsibility for the recruitment of boards to create an inclusive culture. It is important that we work with chairs and board members to showcase their achievements and explore new ways to attract, support and retain new talent at board level.
Where does this fit with wider government?
Whilst the public appointments process can often present unique challenges, I do not see the work we are doing in isolation from the efforts being made elsewhere in government, such as the work we are doing with the private sector. We are encouraging FTSE-level businesses to focus on diversity; to identify and support ethnic minority groups in the workplace; and achieve gender parity on boards (e.g. the Parker Review, the Hampton Alexander Review, and the McGregor Smith Review).
With a concerted effort across all sectors, we can only increase the pipeline of future talent and continue to remove barriers. Be it public or private sector, no one should feel they could not one day progress to board level because of their ethnicity, background or gender, or have the opportunity to serve in some of the most exciting and rewarding roles in the UK.
Public appointments case study: Camilla Poulton

I was appointed a member of the Independent Monitoring Board (IMB) at HM Prison Pentonville in July 2014 and have been Chair of the Board since January 2016. A public appointment like this is made by the Secretary of State (SoS) for Justice, and my role (as part of a team) is to independently monitor how fair, decent and humane the treatment of those in custody is.

IMB members are unpaid volunteers from the local community, who organise themselves such that every week of every year someone is in the prison talking to prisoners and staff about how the regime is working – in other words, monitoring how the prison is run. As a public appointee I have the privilege (and am empowered by law) to spend time in this usually 'hidden' environment so that as a board we can try to ensure that proper standards of care and decency are maintained. We write weekly reports to the Governor about what we find, as well as a formal annual report to the SoS.

I saw the appointment advertised in the Public Appointments monthly newsletter, and applied to join in February 2014. The first part of the selection process was
a tour of the prison. After that, I had a short interview with a panel of three IMB members.

There are many different types of voluntary work but, for me, a public appointment is worth applying for because it is a special kind of opportunity to do good, and one that carries responsibility and weight. Working in a prison won't be for everyone, but I find it totally absorbing, and the IMB colleagues I work with are dedicated and professional, as well as being great fun. I didn't have any experience of prisons when I applied, but I had done different types of voluntary work over the years, including in law centres, Rainbow Guides and being a school governor. A proven interest in helping different types of people and my local community were essential to my success in applying to join the IMB.

If you are interested to learn more about our work, visit the IMB website.