Lucy Geoghegan, former Deputy Head of International Climate Change Strategy at the then Department of Energy and Climate Change, explains the years of dedicated work by UK officials to achieve a global agreement to tackle climate change at the 21st Conference of Parties in Paris in December 2015. The agreement comes into force on 4 November 2016, far earlier than anyone expected.
In a conference centre on the edge of Paris, as French Foreign Minister Laurent Fabius pounded the table with a leaf-shaped gavel, 13 days of intense negotiations and more than 20 years of often fraught debate culminated in the first global, legally binding deal to cut greenhouse gas emissions and help avoid the most dangerous impacts of climate change.
Understandably, the media focused on the last remaining hours of the 21st Conference of Parties (COP) to the United Nations Framework Convention on Climate Change (UNFCCC). There were four official delays to the final announcement, and a last minute tweak to the text, before Fabius brought his gavel down – it was a historic moment. And the credit for it happening should go not to one individual, but to all the many players involved in years of complex negotiations and careful alliance building.
As one of the most challenging issues the world faces, climate change represents more than just a threat to our environment, risking global health, security, poverty and economic stability. It is the most vulnerable developing countries who feel its impacts most severely, and the developed and most advanced developing
countries who are largely responsible, but also wary of commitments that could harm growth and competitiveness. It is a recipe for deep international divisions, inertia and huge obstacles to a global agreement.
Securing the deal
So, how did we reach a deal in Paris? It was partly due to changing political and economic conditions, such as the falling cost of low-carbon energy, major economies decoupling their growth from emissions, growing national concerns about the impact of air pollution, and a burgeoning coalition of investors moving to low-carbon opportunities.
But the UK's strategic engagement also played an important role, and three key lessons stand out for future policy making:
Using 'soft power' over a number of years to build the conditions necessary to ensure major high-emitting countries go to Paris with ambition.

Building alliances to secure progress on priority issues.

Carefully managing 

expectations and communicating through stakeholders.
Sustained political engagement
The International Climate Change team in what is now the Department for Business, Energy and Industrial Strategy (BEIS), which leads on international climate negotiations, works closely with the Foreign & Commonwealth Office (FCO) to ensure that our network of embassies encourage and support low-carbon development. Through this network we have forged climate partnerships with the world's major emitting countries: engaged diplomatically; shared our experiences on energy market reform, the EU Emissions Trading System and carbon budgets; and, in some cases, supported projects through the Prosperity Fund and the International Climate Fund.
This international engagement formed the basis of our strategy to encourage countries to commit to ambitious emission reduction targets ahead of Paris. These pledges were crucial for the negotiations. If they were too low, the world would lose faith in the process and the Paris talks would be dead before they began.
The UK's objective was to push for maximum ambition from the major emitting countries and to resist countries 'low-balling' their offers for fear of showing their hand too early. The UK's engagement with South Korea and Japan was particularly effective – encouraging both countries through sustained engagement and political lobbying to increase their original commitments significantly.
Overall, an unprecedented 187 countries – responsible for over 95% of global emissions – made commitments ahead of Paris. These national commitments don't yet set us on a path consistent with keeping the global temperature rise to below 2ºC. This is the level scientists agree would avoid the most harmful impacts of global climate change. But the commitments could, if fully implemented, limit it to around 2.7ºC. As such, they represent a significant shift from business as usual, which scientists estimate could result in surface temperature rise of more than 5ºC above pre-industrial temperatures by the end of this century. This would cause irreversible changes to climate and have increasingly negative effects on the availability of water, agricultural productivity, human health, infrastructure, economies and markets and the survival of many species.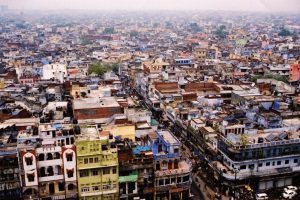 Building alliances
It was a UK priority to build alliances to deliver the deal we wanted, with ambitious mitigation commitments; a review cycle to raise ambition every five years; a strong framework to hold countries to account; and a long-term goal to give a clear signal to investors that governments are committed to a low-carbon future.
The UK negotiates as part of the EU in the UNFCCC, and UK leadership within the EU was vital. In 2014, the UK worked with member states to get the EU to adopt a target of 'at least 40% emission reductions on 1990 levels' – and we were among the first to publish our emissions reduction commitment ahead of Paris.
As one of the EU lead negotiators, Pete Betts, now Director of International Climate and Energy at BEIS, made sure we were integrated within the EU throughout the negotiations, working with the Commission and other influential member states to maintain a united bloc. The then Secretary of State for Energy and Climate Change, Amber Rudd, also played a key role in building alliances, facilitating discussions on climate finance and pre-2020 action and speaking on behalf of the EU at key points during negotiations. The conference itself was opened by the largest gathering of world leaders ever, demonstrating the broad coalition of high-level political backing behind reaching an agreement.
The UK was also instrumental in supporting an alliance of 'progressive' countries that wanted bold global action on climate change. Emerging from the Copenhagen summit, the Cartagena Dialogue brought together a wide group of countries, including those most vulnerable to the impacts of climate change and major emitting countries.
Ahead of Paris, UK officials convened meetings with leading constituents to set the agenda and build common positions around specific issues in the deal, such as a 'Friends of Rules' group that agreed what we wanted from the complex rules framework. A crucial moment in Paris – when negotiations were at risk of falling apart over the historical division between the obligations of 'developed' countries' and those of 'developing' countries – was the formation of the 'High Ambition Coalition' of ministers. This was based around a progressive alliance that resisted efforts to dilute the ambition of the agreement.
Another essential part to the UK's strategy was to strengthen our relationship with the US. This involved both countries working extensively with each other ahead of Paris to build a shared interest in our priorities and 'red-lines' and identify how together we could deliver our objectives. Tackling climate change is an important legacy issue for President Obama, and the US was one of our biggest allies in this process.
Furthermore, the US played an important role in influencing major players in the negotiations, such as China and India. But the UK also worked to hold the US firm to our shared objectives when there was a risk that they might accept less ambitious commitments.
Managing expectations
A primary Paris objective was to send a clear signal to businesses and investors that the world is serious about a zero carbon global economy. This required extensive communications ahead of, during and after the conference targeted at multiple audiences through various outlets. A vital part of this was speaking through other 'influencers' and using different channels such as influential independent reports on the economic case for tackling climate change.
We also partnered with major stakeholders and met journalists in the UK and internationally to outline what we could realistically expect from the agreement. This helped us to manage expectations around the different countries' commitments missing the global goal of below 2ºC, and to communicate the essential point that this agreement marks a genuine departure from the current 'business as usual' trajectory. In essence, it succeeds in setting a robust framework to get countries to come back to the table and raise their ambition in the future.
This work helped to reinforce our narrative about why we were pushing for a strong review mechanism to raise global ambition every five years from 2020 in order to keep the 'below 2ºC' goal within reach.
Conclusion
The success of the Paris COP was due to a number of factors: from the changing economics of low carbon; to global political champions; growing scientific evidence; and our knowledge of how to cut emissions. It was also due to a huge effort from countries like the UK, France, Germany and the US and the commitment of leaders and influencers.
The UK's strategy of early and sustained international diplomatic engagement, the broad alliances we built around our priority issues, communication and the careful management of expectations all contributed to this historic agreement. And we believe this sets a strong foundation to maintain the momentum needed to implement the deal as we turn our attention towards negotiating the detailed framework; supporting countries to implement their emission reduction commitments; ensuring we meet our own commitments; and continuing to build the conditions for the transition to a low-carbon economy to enable further ambition in the future.
We look forward to continuing this work at the next COP in Marrakech, which starts on 7 November.