Clear laws are essential to the economy and society, but people often find them difficult to understand. Recent research has been exploring how to make legislation better and present it in more effective ways, says John Sheridan, Head of Legislation at The National Archives.
It's not news that people want legislation that is simple, accessible and easy to comply with. It isn't always possible: legislation needs to be precise to have the intended legal effect, and precision can be complicated. But alot can be done to improve the accessibility of the law. That's the aim of the Good Law initiative, being led by the Office of the Parliamentary Counsel (OPC), a partnership involving everyone with a role in making, shaping and presenting legislation.
The National Archives manages Legislation.gov.uk, the official home of UK legislation. We are actively involved in the Good Law Initiative, and over the last year we have been working closely with the OPC, who draft Government primary legislation, conducting research that has brought the drafters of legislation much closer to the users, so they can better understand user needs.
What do users think?
The web has transformed public access to legislation. The law is no longer in the hands of those with access to a professional library. Today, you are just a couple of clicks away from reading the text of any UK statute. Around two million people do so every month. They are the users of Legislation.gov.uk. The challenge now is to ensure the needs of this new audience are properly understood and addressed, so they have a fair chance of comprehending the legislation they are reading.
The National Archives, the organisation responsible for Legislation.gov.uk, has been working to develop a deeper understanding of users' experience with the legislation they find online.
We know that people struggle with legislation for three main reasons.
First, there's a lot of it and it interconnects in ways that aren't always straightforward or obvious.
Second, the way legislation works is complex. For example, different elements of an Act can come into force at different times, and extend to different parts of the UK. Commencement Orders, which bring legislation into force, often contain transitional arrangements – rules that are intended to apply before the new law comes fully into force. Transitional arrangements are put in place for very good reasons, but that's not always clear to a non-specialist reader.
And, third, legislation isn't easy to read, with its schedules, sections, and cross references, its legal language and provisions that are divided between primary and secondary legislation. Even lawyers struggle, and too often people are intimidated by legislation.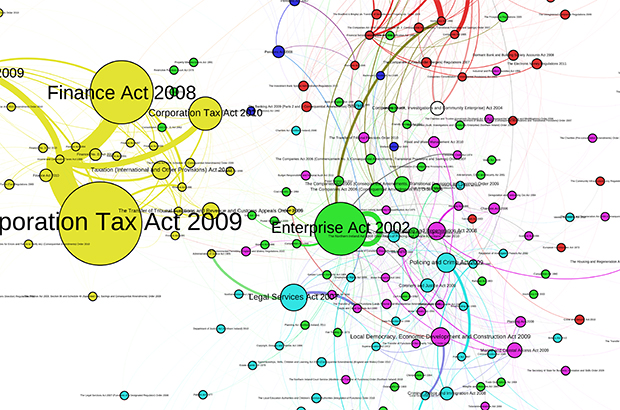 Legislation.gov.uk is mostly used by people at work and for work purposes. The majority of users are
not lawyers and therefore lack access to one of the commercial subscription services. They are drawn from a much wider group of people who need to know, cite or use legislation as part of their job.
For example, imagine someone in the human resources department of a mid-size company, trying to understand the impact of the Pensions Act 2011 on their business. Of course they will read the guidance, but they also want to check the text of the legislation itself. That's a typical Legislation.gov.uk user.
Our regular surveys and studies have given us a great insight into the needs of these non-legally trained users of legislation. Most people assume, when they access legislation, that it is current, in force and applies to where they live – which may not be the case. As a consequence, Legislation.gov.uk has been carefully designed to present legislation on the web so that the content and status of each piece of legislation is clear and accessible.
The website has been designed to provide additional information without cluttering the user interface for more experienced users. This has been done through the status bar which expands to list any unapplied effects and contextual help buttons across the screen. Giving people a 'latest available' version that shows how the legislation is now is very important.
For advanced users there is a timeline which can be turned on to see how the legislation has changed.
Other advanced features include a display of the territorial extent of the legislation, showing where in the UK it is the law. You can also search based on a particular territorial extent or search how legislation stood at a given point in time.
The precise way legislation is named on Legislation.gov.uk also means that people can now cite legislation much more accurately on the wider web. This phenomenon is most apparent on Twitter, where increasingly people use an exact Legislation.gov.uk citation rather than a vague reference to the legislation document when they want to talk about it.
Bringing together drafters and users of legislation
The Good Law initiative has provided an opportunity for The National Archives to work much more closely with the OPC. An example is the new research we recently conducted together to explore how different drafting styles and different approaches to presentation can aid or improve comprehension.
Taking the principle of starting with users' needs, not Government needs, we investigated possible options and strategies for improving legislation. Thousands of users of Legislation.gov.uk took part in an online study, telephone interviews and one-to-one lab testing. It was the first time research of this type has been undertaken by the Government, trying to discover which ways of drafting legislation, and presenting it, best help people comprehend the law. Participants were shown a short provision drafted in one style, then shown alternative versions of the provision drafted in different styles and asked to express a preference for one style. Users were also shown sections of legislation and asked simple questions to check if their understanding of it accurately reflected the law.
Findings showed that people can really struggle to find their way around legislation. Many do not understand common terms such as 'commencement' or 'prescribed', or were puzzled by cross-references such as references to 'subsection (1)' or 'Schedule x makes provision about...'.
These really practical insights have been invaluable. We now know much better what the difficulties are. We are using the findings to develop new ways of presenting legislation on Legislation.gov.uk, as well as developing better support materials to help users find their feet. This work is also impacting on drafting practice. The OPC now have evidence to evolve their guidance for the drafters of legislation and have been working through the findings in detail.
Updating the statute book
All users of legislation want the legislation they access from an official source to be up to date. The challenge is that Parliament passes legislation that makes, on average, around 15,000 changes to other pieces of legislation a year. It is a massive task just to keep up.
To bring the revised legislation on Legislation.gov. uk up to date, The National Archives has an 'expert participation programme', sharing responsibility for curating and managing the Government's legislation database with others, inside and outside Government. We have also developed new editorial tools that streamline and automate our processes of updating legislation as much as possible, as well as allowing expert participants to work remotely. Everyone's work is double checked by reviewers before it is published on legislation.gov.uk, to ensure quality and accuracy.
The expert participation programme has already substantially increased the resources available to update legislation, and new editorial processes and tools have introduced significant efficiencies. The National Archives is working to bring all primary legislation on Legislation.gov.uk up to date by the end of 2015.
The sheer volume of legislation, its piecemeal structure, its level of detail and frequent amendments can seem overwhelming. But difficulties with understanding the law are not inevitable. Getting to grips with new users' needs and working collaboratively with those that have a shared responsibility for promoting and delivering good law is already leading to real change, with much more to come.
You can find out more about the Good Law initiative here.
---
Don't forget to sign up for email alerts from CSQ
---
Other CSQ articles you may be interested in:

The Red Tape Challenge approach to reducing regulation
Iconic design, GOV.UK and agile software development